Live roulette from Playtech's Asian dealer studios
(OLD VERSION )
Live roulette from Playtech's Asian dealer room. Games are European and French roulette. Both single zero games.
Available at:


Bet365
bet365 review | Visit

Dafabet
Dafabet review | Visit
---
Playtech's Asian dealer studio (Makati City, Manila, Philippines) has undergone a major overhaul recently. The old roulette game is reviewed here. While the game range and house rules are unchanged, the upgrade is a massive improvement as regards to look and feel.
Currently 2 live roulette variations are offered, as follows:
European roulette - house rules
Standard single zero roulette with simple interface and table layout. Standard bets and payouts offered:


| | | |
| --- | --- | --- |
| Chip Covers | Term | Pays |
| 1 number | Straight Up | 35 to 1 |
| 2 numbers | Split Bet | 17 to 1 |
| 3 numbers | Street Bet | 11 to 1 |
| 4 numbers | Corner Bet | 8 to 1 |
| 4 numbers | Four Bet | 8 to 1 |
| 6 numbers | Line Bet | 5 to 1 |
| 12 numbers | Dozen Bet or Column Bet | 2 to 1 |
| 18 numbers | Red/Black, Even/Odd or Low/High Bets | 1 to 1 |

French roulette - house rules
French roulette (also single zero) table layout and easy access neighbour and Announced/Call bet panel.
Interface look & feel, playability
If the aim of live online games is to replicate a real (lavish) casino experience then this live roulette game is about a 9 out of 10 (the old version was about a 4!). Right up there with the best live roulette games available.
Video quality, whether playing large or small video mode, is impeccable. Audio is likewise crystal clear (unless you turn off the sound!) The interface is feature rich, yet uncluttered and the dealers are very engaging indeed. Win or lose, lots of entertainment to be had here.
Features
- Chat: to the dealer as you play, dealer audio responses;
- Browser play: play directly from your browser with no download required (Adobe Flash plug-in required);
- History: full bet history available;
- Stats: All roulette provide a recent numbers history. This one adds a 'hot' and 'cold' numbers presentation;
- Time between spins: 40 seconds;
- choose small or large video view;
- Variety of bet ranges: see roulette limits page;
- Intuitive interface.
Demo video

European Roulette played in full-screen video mode
Bet Race Track allowing for placing of neighbour and announced (call) bets is a click-activated popup.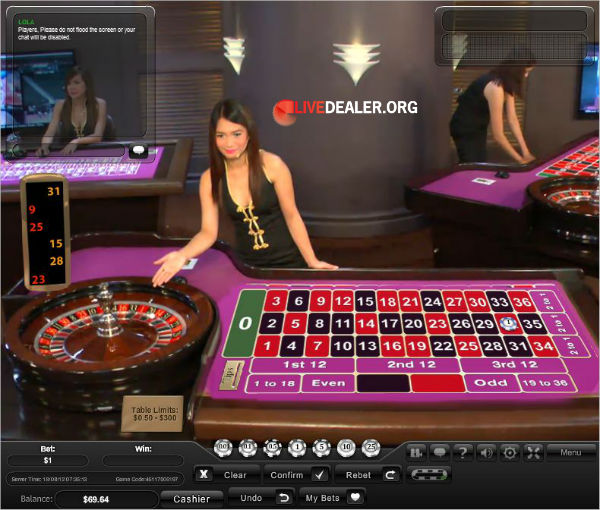 European Roulette played in small-screen video mode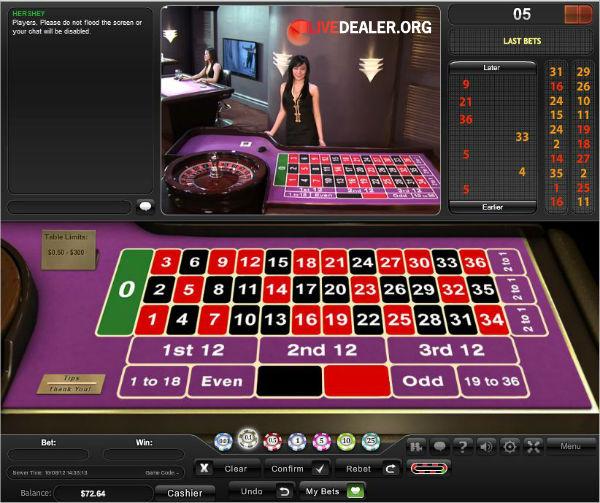 European Roulette played - spin result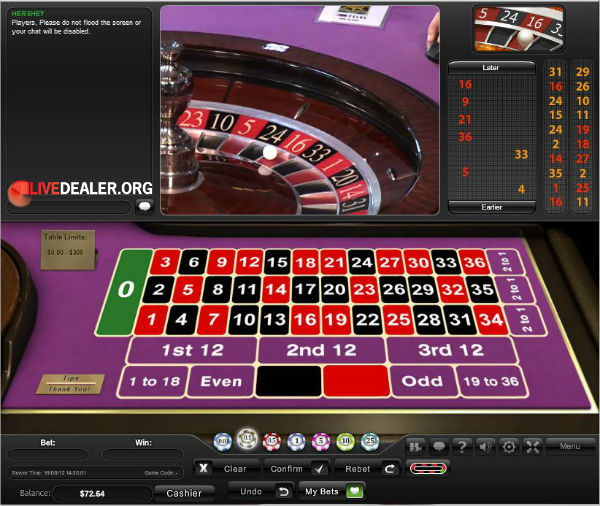 French Roulette
Bet panel allows for easy selection of neighbour & call bets...
- Plein (Straight Up)
- Cheval (Split Bet)
- Transversale Pleine (Street Bet)
- Carré (Corner Bet)
- Transversale de Quatre (Four Bet)
- Transversale Simple (Line Bet)
- Colonne (Column Bet)
- Douzaine (Dozen Bet)
- Rouge/Noir (Red/Black Bet)
- Pair/Impair (Even/Odd Bet)
- Manque (1-18)/Passe (19-36)
Note the 'La Partage' rule applies here... you lose only half of your even-money bets when the spinning result is zero. Full house rules for Playtech's live French Roulette are here.