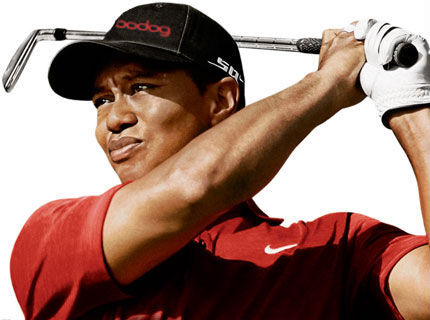 In March this year Paddy Power had the gaming industry abuzz with the news that they had put a lucrative sponsorship offer to Tiger Woods.  The deal was worth around $75 million over five years but was declined by Tiger. Of course the publicity did Paddy's no end of good, and this was probably part of their PR department's grand plan.
Not to be outdone, online gambling stalwart Bodog have now reportedly made Tiger an even bigger offer.  $100,000,000 over five years, and a contract that doesn't have a 'moral judgement clause', so Bodog can't pull the plug if Tiger returns to sinking his on a regular basis with random porn stars and cocktail waitresses.
Again, I suspect this is more a publicity seeking strategy than  genuine intent to give Tiger $20 million a year for the next 5 years, but you never know.
Calvin Ayre, flamboyant founder and owner of Bodogbrand.com, has said that the current offer is his third to Tiger's management company IMG, and that Bodog are one of the only potential sponsors to endorse and encourage the type of off-course behaviour that landed Tiger in hot water recently.  'Playing hard' Ayre calls it.
Playing hard has cost Tiger plenty.  Sponsorship deals with Accenture, AT&T, Gatorade amongst others, and a looming divorce settlement that may see him have to hand over around $300 million to his wife.  While the prospect of earning $100 million from an online gambling company is probably about as attractive as its ever going to get for Tiger, I still just cant see it happening.
For one, signing a sponsorship deal that is publicly known to not have a moral judgement clause is kind of like saying 'OK world, I'm about to get back on the horse (s)'.  The media would have a field day.  Second, if Tiger can manage to keep it in his pants and play some decent golf over the next year or so then the big corporate endorsements will come rolling in again as sure as night follows day.
But in the meantime, Bodog's managed to get some nice press and brand exposure.
As a side note, Bodog88 who operate a live casino based in the Philippines are not part of the Bodog group, but rather pay a license fee for use of the Bodog brand – which may just have gained some value!
https://www.livedealer.org/images/Livedealer-logo.png
0
0
LD
https://www.livedealer.org/images/Livedealer-logo.png
LD
2010-05-17 21:23:26
2010-05-17 21:23:26
First Paddy Power now Bodog with Tiger offer