One way to learn how to play basic strategy blackjack is to have an applicable basic strategy card/chart handy while you're playing.
Here's another way that let's you leave the strategy card in the draw – and it's perhaps a little more enjoyable.
ViG powered casinos (Celtic, Fairway, Castle) offer a game called Live Blackjack with Early Payout.  It's dealt from a 6 deck shoe, Blackjack pays 3:2, dealer stands on soft 17, you can Hit, Stand, Double or Split, and you win if you're closer to 21 than the dealer without busting.  Just like normal blackjack right?
Wrong. There are  a couple of key differences from 'standard' blackjack.  The first is that you get an option at each stage of the deal to take an early payout.  The payout amount is automatically calculated based on your stake and the value of your cards relative to the dealer's up-card (no doubt with a in-built house edge).
The second, and more important difference in the context of learning basic strategy is that at every stage of the deal during this game, the basic strategy play is highlighted to you.  You don't have to take it, but you are certainly made aware of it as it's clearly highlighted in blue (see 'Hit' below) each time you are required to make a decision.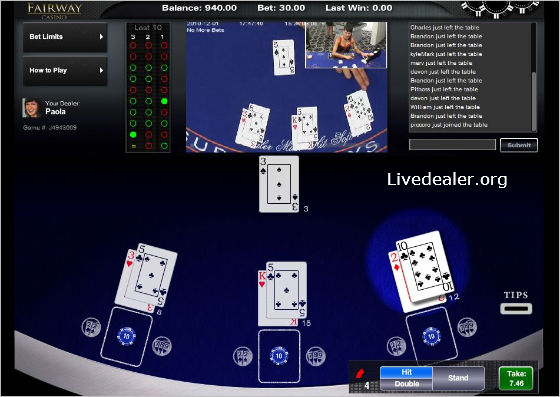 In the case of the in-play hand above (spotlighted), the basic strategy play is to 'Hit'. While for the in-play hand below, the basic strategy play is to 'Stand'.  Again clearly indicated.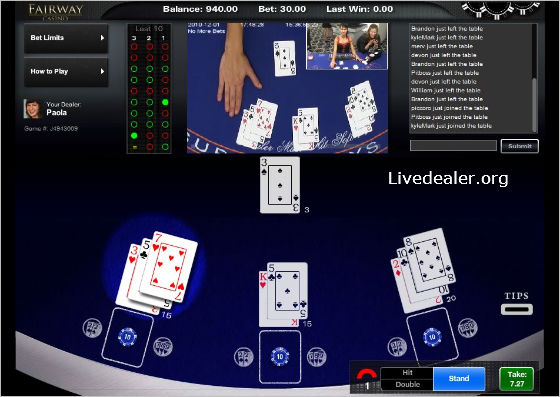 Two more aspects of this game that make it a nice little practice session to hone your basic strategy play:
You can play 3 hands per deal; and
You can play in fun mode.  No depositing or real money is needed.  Play hand after hand after hand for free.
After a few hours playing this game and learning through repetition you'll start to get a good handle on what the right and wrong plays are in blackjack and with a bit of work you'll  be able to go into basic-strategy-auto-pilot when you hit other tables.
Just remember that you are learning basic strategy for the particulars of this blackjack variation (6 deck shoe etc) which will be slightly different to other variations (most other live blackjack games are dealt from an 8 deck shoe for starters).
Below is a short recording of a deal at Fairway Casino.

Hope this helps your blackjack game!
LD
https://www.livedealer.org/images/Livedealer-logo.png
0
0
LD
https://www.livedealer.org/images/Livedealer-logo.png
LD
2010-12-01 17:46:36
2010-12-01 17:46:36
An easy way to learn blackjack basic strategy