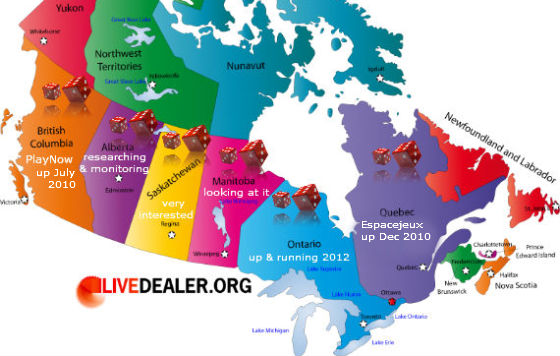 Looks like the online casino debate in Canada is really heating up.  And you can understand why.
In the past six months two provincial governments – BC and Quebec have already launched their own online casinos and the smart money is on just about every other province following suit…and soon.
Already more than a third of Canada's adult population has access to online casino games like blackjack and roulette, served up to them by Canadian crown corporations.  It's conceivable that this could grow to more than 75% before the end of 2011 if Ontario's government can move quickly on stated plans to launch an online casino for its c0nstituents.
It's a worrying state of affairs for the anti-gambling fraternity and new research on problem gamblers has only added fuel to the fire.  A study by Ipsos-Reid contends most problem gamblers have difficulty recognizing their own addictive behaviour.
The study contends that while 92%  of Ontario adults are able to recognize risky gambling behaviour in others, only 20% were able to correctly diagnose themselves as problem gamblers, highlighting a self-perception "blind spot" common to addicted gamblers.
Not exactly a ground-breaking finding I would have thought. Denial is a trait at the foundation of most additions.  This is probably why step one of the Alcoholics Anonymous (and many other programs) 12 step program is recognizing and admitting to one's addition.  Nevertheless it has been latched onto by net gambling opponents.
Dr. Jeff Derevensky of  McGill University's Centre for Youth Gambling Problems and High Risk Behaviours agrees that, "Like other addictions, recognizing your own problem isn't easy."  He goes on to say that, "Online gambling provides exactly what most addicts are looking for — anonymity. Most people want to be left alone, and they can do that on their computers."
The flip side to Derevensky's anonymity argument is that fact that online gambling offers a readily accessible and complete bet history for a player – making problem gambling far easier to identifiable by an online operator than a terrestrial (traditional) one.  Of course whether or not the operator chooses to act on the indicators at hand is another question altogether.  But presumably a Canadian government owned online casino is more likely to do so than one based in Costa Rica.
https://www.livedealer.org/images/Livedealer-logo.png
0
0
LD
https://www.livedealer.org/images/Livedealer-logo.png
LD
2010-12-27 20:51:17
2010-12-27 20:51:17
Online casino debate heats up in Canada