Online gambling heavyweights bet365 are running a massive promotion for the month of April.  Below is their official press release. Below that is some more detail that is well worth a read.
*****************************************************
(PRESS RELEASE) — 1 April 2012. Cars, cash and a cruise are being given away in the bet365 Prize Ladder promotion
A lavish cruise for two, luxury cars, big cash bonuses and tickets to Soccer's Euro 2012 Final, in Ukraine this summer, are among the great prizes to be won in the Casino at bet365 this month.
The spectacular bet365 Prize Ladder promotion means the more casino games you play, the more Comp Points you earn and the higher up the ladder you climb. The further you rise, the better the prize. It's so simple; just play big to win big throughout April.
A Jaguar XJ, a Range Rover Evoque and an Audi A1 Sportback are the cars on offer, or you can land yourself the cruise of a lifetime, 25 nights onboard the Queen Mary 2 – the largest ocean liner ever built – taking in America and Canada.
The Euro 2012 package is also for two people and includes flights to Kiev, a three-night hotel stay, tickets to the Final and £1,500 in spending money.
Get over to the Casino at bet365 now to find out more details and start making your way up the ladder. Place your bets!
*****************************************************
Some important details
True, you need to play big to win big. But it's really not so simple. For a start, not all of their casino games are in play so before you go and turnover a few million with an eye to taking delivery on a new Range Rover, make sure you are playing an eligible game…and to this end the promo terms and conditions are a must read .  Fortunately all live games are in play so if you only intend playing in their live casino for the month then all your bets will count, provided you have:
opted in (ie told bet365 that you're taking part in the promotion…instructions to do this are on the promo page)
deposited at least $200 into your casino account during the month. Presumably if you're planning on hitting any serious heights on the ladder this is will be a given anyway…but just in case you should know this.
The ladders and Comp Points
Simple?  Not really.
What is simple is the notion that your bets on eligible games earn you those all important Comp Points and the more of these you get, the better your prize.
What's not so simple is exactly how many Comp Points you earn for every bet placed and what prize level on the ladder this gets you to, because this will depend on your playing currency and the game you're playing (and your VIP status but that's another consideration altogether).
How bets convert to Comp Points
Every 10 units of currency (USD, EUR, GBP, AUD, CAD, SGD, MYR, JPY, RMB…), bet on live blackjack, roulette or baccarat will get you 1 Comp Point.  If Sic bo is your game, then a 10 unit bet gets you 2 Comp Points.
Currency to point conversion across all game categories is as follows: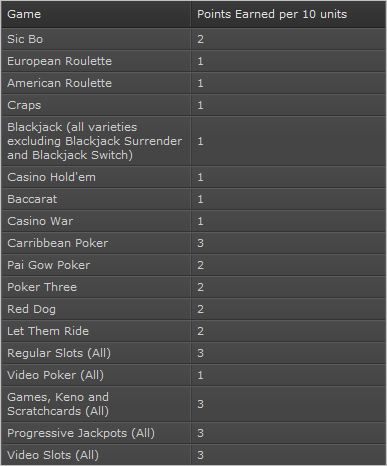 Prize levels and Comp Points required
There are 3 different prize ladders…one for each VIP player category. You get the prize corresponding to the level you finish on at promo's end (30 April) and here they are.
Level
Prize/bonus for Gold/Diamond VIPs
Prize/bonus for Silver VIPs
Prize/bonus for Bronze VIPs
1

$3,000

$600

$50

2

$7,000

$2,000

$200

3

$12,000

$3,000

$600

4
$10,000 or Euro 2012
package

$7,000

$2,000

5

Audi A1 Sportback 1.2 TFSI Sport

$12,000

$3,000

6
Luxury Queen Mary 2
Cruise Package
$20,000 or Euro 2012
package

$7,000

7

Range Rover Evoque Coupé Dynamic

Audi A1 Sportback 1.2 TFSI Sport

$12,000

8
Jaguar XJ 3.0 Diesel
Premium Luxury
Luxury Queen Mary 2
Cruise Package
$20,000 or Euro 2012
package
The number of Comp Points  needed to reach each level depends on the currency you're playing and is set out in the below tables.
For Gold/Diamond VIPs…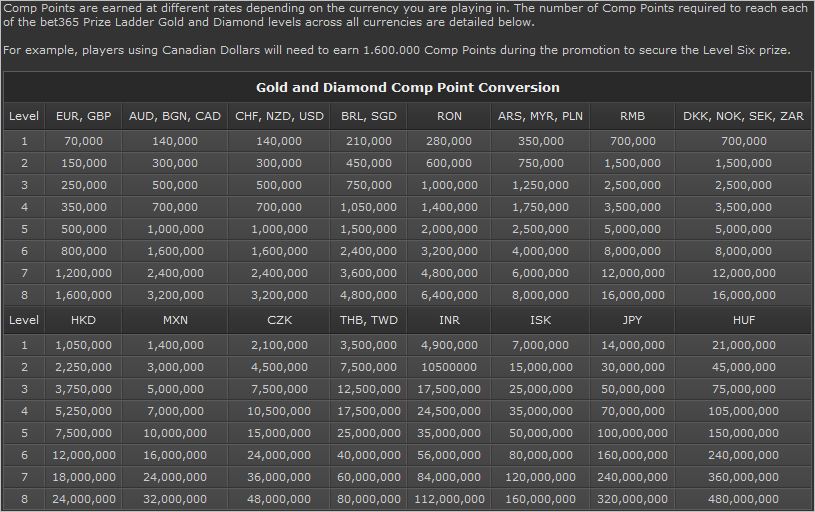 For Silver VIPs…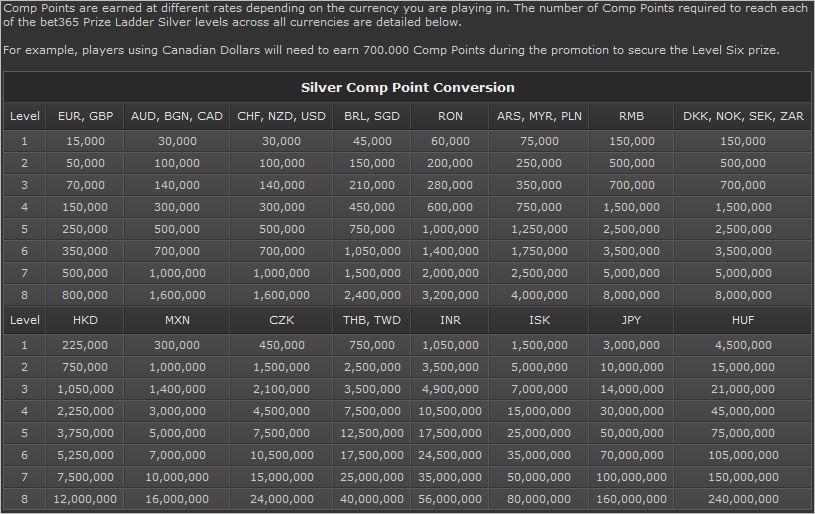 For Bronze VIPs…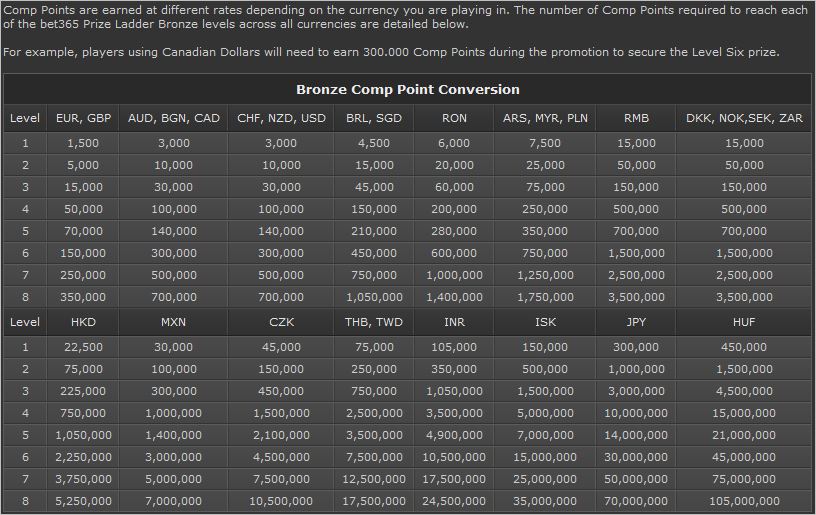 An example
Not so simple after all is it?  But a nice example always helps the penny drop so here goes.
Let's assume:
I'm playing in Euros;
I'm a Bronze VIP (chances are most of you will be as this is the default/starting level)
I play live blackjack, roulette and baccarat only (makes for simple 10:1 point conversion)
I want the Euro 2012 package!
So I'm shooting for level 8 on Bronze prize table. To get there playing in €, I need 350,000 points. To get 350,000 Comp Points playing the above games I need to wager €3.5 million…that's my magic number!
Notice you'll have to wager the same amount as a Silver VIP to win this prize also.
The mathematicians among you would have already looked at the wager requirement and deduced that with a house edge for blackjack around the 0.5% mark (optimal play) and around 1% for baccarat your losses may well cost you more than the value of prize (for bad play…probably considerably more!).  This holds for the higher value prizes also so please don't think of this promotion as a means to acquire the new family car at a bargain price! However, if you are planning on hitting the tables at bet365 during April anyway, this promo offers some ripping prizes in addition to any cash wins or losses that your play brings.
To get amongst it, visit bet365 and opt-in
https://www.livedealer.org/images/Livedealer-logo.png
0
0
LD
https://www.livedealer.org/images/Livedealer-logo.png
LD
2012-04-02 18:51:58
2012-04-02 18:51:58
A prize ladder well worth climbing