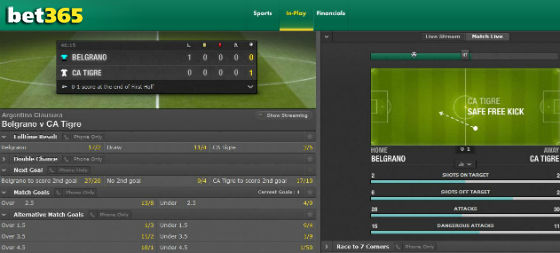 Most avid punters would by now be familiar with the concept of in-play betting. It's taken off like wild fire in the EU/UK and offered by most of the major online bookies. For those that aren't it's simply (as the name suggests) bets offered on events or outcomes during a game.
Which team will kick the next goal? Which player will kick the next goal? Will the next goal come from a penalty? If a penalty is awarded, will it be converted? And of course game result odds are re-framed as the game progresses.
Theoretically, the number of bet opportunities in a given game are endless…limited only by the bookies imagination and their capacity to rapidly calculate odds and communicate them to the punters. Limitations that do exist in reality of course. But the leading bookmakers in this field…crowned the in-play betting kings in a recent Gambling Compliance study, manage to squeeze on around 50 in-play bet opportunities into sporting events they cover…and that's their average.
Imagine big football finals that go into extra time and then a penalty shootout? Imagine how may in-play bet lines were offered during Rafael Nadal and Novak Djokovic's epic six hour Australian Open final!
I'd always wondered about the logistics of offering this service. From the customer point of view its simple (always is)…login, expect a ream of bet lines to be offered along with a live stream of the game you're betting on, and a fresh set of lines and odds every 5 minutes or so, or whenever something significant happens. From a bookmakers point of view offering this service must be a labour intensive, logistical nightmare.
There's a great article in the Daily Mail, (you can read it here) that takes a look behind the scenes at one of the biggest in-play operations in the world – William Hill (yes as well as live dealer games they'e been known to dabble in sports betting…for the last century or so).
On any given Saturday in an office in Leeds, a floor full of young maths graduate types (traders they call them) supervised by more experienced bookies, frame the odds and accept or reject bets on around 70 football games, each with 120 or so markets (in-play bet opportunities).  It's a 24/7 operation  requiring 20 or more traders during busier times.  Over at Ladbrokes it would be a similar story. As for bet365 who currently rank as the most prolific in-play service at the moment the operation is probably larger again.
So who are the maths geniuses assessing the probability of possibly outcomes, taking into account the flow of punter cash and framing dozens of markets every minute as well as keeping an eye on bet anomalies?
At William Hill it's a combination of technology and old fashioned bookie smarts. Their R&D Department has built an algorithm that starts with prices set in the massive Asian betting market and adjusts these based on in-house  probabilities calculated from historical statistics to spit out the William Hill odds. It's then the traders (and bookies)  job to make sure the machine hasn't made any glaring errors…or more importantly, any prices producing large exposures that have been identified by smart punters quick to find good value. In this regard the MSF system helps out also.
Maximum Stake Factor is a bet maximum (not requiring authorization) assigned to every customer. If you're a mug punter you're assigned an enormous MSF and can bet up to £2 million without the bet requiring human approval.  Customers with a history of good form picking winners have their MSF lowered to £25,000, or even less in extreme cases. All in-play bets are then displayed on a real-time ticker board and colour coded according to MSF. Bets from the mug punters are displayed in green, those from the low MSF customers in orange. Red numbers are bets placed by customers assigned the lowest MSF's.
This must be a big board.  William Hill took 24,417 in-play bets during the Cardiff v Liverpool Carling Cup final and there would have been plenty of other games happening at the same time!
An interesting footnote to all this is the question of whether William Hill's traders/bookies themselves have a punt with other services. The answer is yes.  Andy Excell manages their in-play football operation and has accounts with a number of competing online bookmakers but he's pretty sure his past bets would have him placed in the low MSF (or their equivalent of) category.
https://www.livedealer.org/images/Livedealer-logo.png
0
0
LD
https://www.livedealer.org/images/Livedealer-logo.png
LD
2012-04-30 18:20:17
2012-04-30 18:20:17
In play betting - behind the scenes