That's the plan, and it involves PokerStars, Microgaming and London's Hippodrome Casino.
The recently announced 3-way deal goes something like this:
PokerStars will have it's own branded poker room within the Hippodrome Casino. As part of this deal PokerStars have also bought a minority shareholding in the Hippodrome Casino.
Pokerstars will provide the online poker product for a soon to be re-launched Hippodrome online casino.
Microgaming will provide the online casino games for the Hippodrome online casino.
Microgaming CEO Roger Raatgever said of the new arrangement:
"Microgaming is proud to have been selected as the exclusive provider of online gaming software to the iconic London brand The Hippodrome. The convergence of offline and online gaming is a trend that Microgaming has been at the forefront of for some time now and we are delighted to be able to provide a bespoke online casino to The Hippodrome, giving their players a first class cross-platform gaming experience."
Guy Templar's (PokerStars) PR quote was:
"The Hippodrome has dramatically raised the quality bar for the UK casino industry. So together we will give poker players the same great poker experience, live 24/7 in the heart of London that they get from PokerStars online. We are looking forward to unveiling some great new live events for the UK poker market in 2013."
Live poker or live online poker?
With all the talk of live poker and converging offline and online gaming you'd be forgiven for thinking that the poker games inside Hippodrome's new PokerStars poker room will be live streamed and playable online, with the tech wizardry required to do so provided by Microgaming. This is what a number of gaming websites are reporting although I'm not certain that this is the case.
The live poker referred to could be good old fashioned (player inside poker room) live poker, and not the live poker that regular visitors to this site may have in mind.
Hope I'm wrong. In fact I hope the very qualified threesome are going to have a crack at live online player versus player poker.
Now that would be something!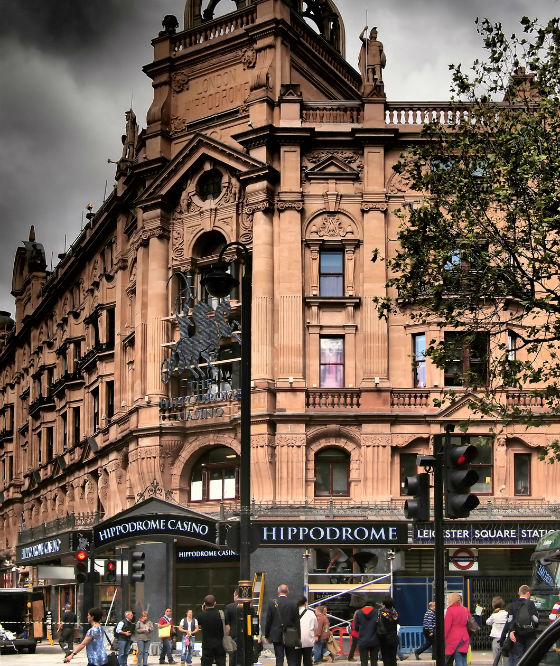 The Hippodrome at Leicester Square. photo courtesy: Zakir Hassan
https://www.livedealer.org/images/Livedealer-logo.png
0
0
LD
https://www.livedealer.org/images/Livedealer-logo.png
LD
2012-10-16 19:19:05
2012-10-16 19:19:05
Live Poker at PokerStars in 2013