The private live room at William Hill (Vegas) just has that high roller feel to it. Logo in platinum, dealers immaculately turned out in gold, suited VIP host calmly strolling the floor, all set in ambient lighting.
I suspect I'd feel a little under dressed if I'd wandered into a room like this in a land based casino wearing jeans, t-shirt and runners.  Probably wouldn't be let in for that matter; instead pointed in the direction of the general public floor to go play among the great unwashed.
Fortunately here it's remote entry so William Hill's security or their private room host won't mind that I'm wearing only Y-fronts (best pair mind-you).
Limits available at William Hill Vegas have always been high (eg  Salle Privée VIP blackjack). Now with their private room in full swing, they've been increased even further.
Roulette limits for high rollers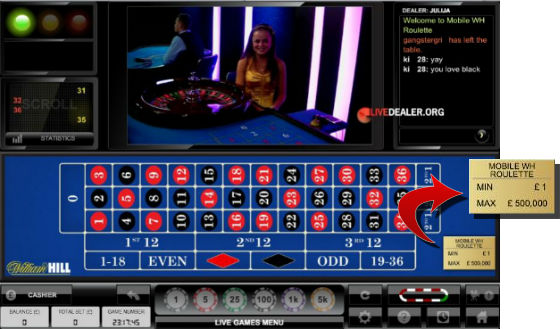 This is Hill's Salle Privée roulette table which allows players to bet up to £500,000 per spin. It can be played on PC or also (pictured) on mobile devices including iPad. Straight-up bets of just £1 are also accepted.
Blackjack and Baccarat limits for high rollers
Limits at the Blackjack and Baccarat tables haven't seen the same increase as roulette…but they're still more than ample for most big players out there.
The Salle Privée blackjack table takes bets up to £10,000 (minimums down to £3 on WH BJ tables 1 and 7). The Salle Privée baccarat table has a limit maximum of £10,000 and minimum of £25.
Related pages at Livedealer.org:
https://www.livedealer.org/images/Livedealer-logo.png
0
0
LD
https://www.livedealer.org/images/Livedealer-logo.png
LD
2013-02-19 19:56:38
2013-02-19 19:56:38
William Hill VIPs: Roulette limits just got bigger