Back in 2011, in a post about some of the  biggest casino table game wins, reference was made to a man named Don Johnson and his now legendary Atlantic City winning streak.
That streak started in December 2010 and ended in April 2011. In that time he took over $4 million from Caesars, over $5 million from Borgata and almost $6 million from the Tropicana, for a total of just over $15 million.
All of it came playing blackjack.
When reports of this incredible series of wins first broke, not a lot was known about  Mr Johnson. He could have been the former star of Miami Vice for all I knew. But my first assumption would have been something like… a mega-rich whale type, who had a hot streak, betting hundreds of thousands a swing and who was just as likely to give it all back sooner or later to some casino somewhere (Kerry Packer style!).
As it turns out, this couldn't be further from the truth.
The truth, I just learned from an in-depth interview Johnson did with Bloomberg TV, is that he was not filthy rich (not beforehand anyway). Nor did he have one of the all-time lucky streaks.
Turns out there was nothing lucky about what he did at all. Turns out he was an advantage player who saw an opportunity to exploit the casinos and seized that opportunity with ruthless and methodical precision.
Atlantic Casinos Desperate for Big Players
The back story to Johnson's opportunity was the fiscal malaise of Atlantic City's casinos. Caught in the cross hairs of the GFC and competition from regional casinos, player numbers, revenues and profits in Atlantic City had been sliding pretty fast.
They were desperate for players. Particularly big (and mediocre) players. In their desperation they were willing to make some pretty big concessions (more on this later) to get these players in the door.
Enter Don Johnson
He was not unknown to the casinos, having been a regular at the blackjack tables for a few years. He turned pro as a gambler in 2003, but horses were his stock in trade. Blackjack was just a way to relax so his bets had been average in size and his results mixed. If the casinos had him profiled, they would likely have had him pegged as a low risk player.
What the casinos didn't know, is that for an extended period leading up to 2010 Johnson had sought coaching from some blackjack experts (yes, more MIT mathematicians) who helped him hone his advantage play technique and understanding of the maths underlying the game.
Negotiating the Terms of Play
This is the part of the story I found really quite remarkable. The key to Johnson's success was that he wasn't playing the same blackjack game that you or I would have been playing had we walked into the Borgata on the same day and pulled up a seat at one of their blackjack tables. Before even buying a chip he was able to negotiate the terms of play and the concessions the casinos were willing to give were pretty amazing.
As an example, before placing a bet at the Borgata, he had negotiated the following:
Free bets: $50,000 in opening free bets, plus free bets for every dealer mistake
Big limits: up to $75,000 per hand
Rebate: 20% rebate on all losses, no maximum!
Rule variations:
– dealer must stand soft 17
– player can double on any 2 cards
– player can split up to 4 hands
Combined with his knowledge of the game, he'd pretty much won before any cards had been dealt. As he put it, he was playing,
"the right game, the right odds, with the right discount policy"
Good luck getting this kind of deal at any casino now, no matter how desperate.
The dealer mistake free bets were interesting. Also part of the pre-game negotiation was agreement on the various hand gestures Johnson would use for various commands…hit, stand, double, split etc. They were purposely made confusing to read, adding to the likelihood that the dealer would  mess up. As if that wasn't hard enough on the poor dealer (with hundreds of thousands on the table at times), Johnson made sure there were always other distractions at the table, or as he puts it,
"Always a circus going on"
This circus often came in the form of multiple porn stars seated at the table, posing as his girlfriends!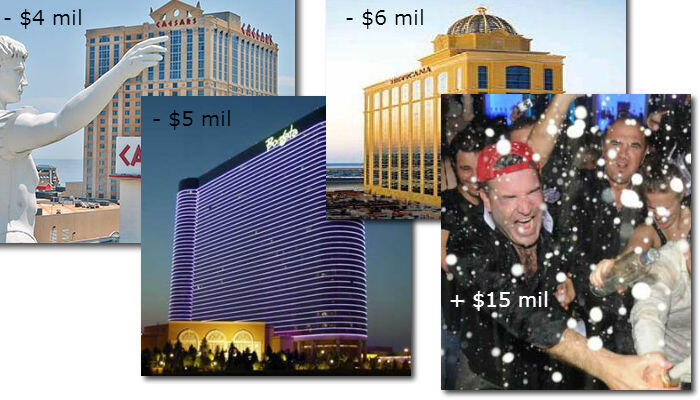 The rest as they say is history. The casinos lost $15 million at a time they could ill-afford to do so (profits have continued to slide since) and have no doubt tightened up their policy on player enticements, regardless of player reputation.
Johnson is now a blackjack advantage player legend, who will struggle to get blackjack seat at any casino in America. He also now holds the world record for the most expensive champagne bottle purchase…£120,000 for a magnum of Armand De Brignac Midas at One for One nightclub in Park Lane, London in 2011. From the pics it doesn't look like he drank much of it either!
A Tip from the Legend
His words, not mine (although I do recall saying something similar at some stage), if you're not an expert use a blackjack basic strategy card!
https://www.livedealer.org/dev/wp-content/uploads/2014/08/donjohnson-atlanticcity.jpg
400
700
LD
https://www.livedealer.org/images/Livedealer-logo.png
LD
2014-08-03 17:01:41
2018-07-22 17:14:09
How Don Johnson took down Atlantic City