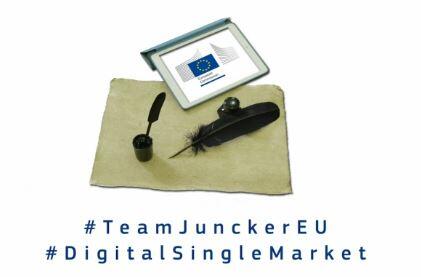 Yesterday the European Commission (EC) unveiled ambitious plans to create a digital single market for Europe, with the aim of generating an additional €415 billion in value and hundreds of thousands of jobs for the EU economy.
Broadly speaking, the aim is to remove existing regulatory walls and move from 28 national markets each with their own set of rules, to a single set of rules.
Not surprisingly the EGBA is quite enthusiastic about the plan, saying they  are, "looking forward to the concrete legislative proposals that will follow today's publication". Regulations applying to online  gambling from one EU country to the next are a mixed bag to say the least.
The EC have detailed their strategy to reach EU-wide digital utopia in a press release on their website. 16 key steps falling under 3 pillars that they say will be delivered by the end 2016.
Given it takes longer than this for most EU countries to implement their own laws, it's ambitious plan indeed. But the idea's a commendable one.
Here's a summary of what they plan.
Pillar 1: Better access to digital goods and services across Europe
Pillar one seems to contain the essential stuff…
rules to make cross-border e-commerce easier
to enforce consumer rules more rapidly and consistently
more efficient and affordable parcel delivery
(online casinos won't worry too much about this one)
end unjustified geo-blocking
(they'll be very happy if this one comes to fruition)
identify potential competition concerns affecting European e-commerce markets
a modern, more European copyright law
a review of the Satellite and Cable Directive
reduce the administrative burden businesses face from different VAT regimes
Pillar II: Creating the right conditions and a level playing field for digital networks and innovative services to flourish
Getting a little more vague here…
overhaul of EU telecoms rules
review the audiovisual media framework
comprehensively analyse the role of online platforms (search engines, social media, app stores, etc.)
reinforce trust and security in digital services, notably concerning the handling of personal data
propose a partnership with the industry on cybersecurity
 Pillar III: Maximising the growth potential of the digital economy
The warm and fuzzy stuff…
propose a 'European free flow of data initiative'
define priorities for standards and interoperability
support an inclusive digital society
The release ends with the bold statement:
"The Digital Single Market project team will deliver on these different actions by the end of 2016"
They'd better get cracking!
https://www.livedealer.org/dev/wp-content/uploads/2015/05/singlemarket.jpg
277
421
LD
https://www.livedealer.org/images/Livedealer-logo.png
LD
2015-05-07 13:02:19
2018-07-12 10:03:44
European Commission plans Digital Single Market