Emirates Airlines' in flight entertainment is pretty good. But when it was announced over the P.A. that Wi-Fi was available I immediately lost interest in browsing the movie menu.
Few hands of blackjack at 37,000 feet beckoned!
While the rather large man to my left coughed, sneezed, snorted and weezed; the kid to my right played tetris with way more gusto than necessary, and the one behind kept kicking my seat despite repeated glares, I relished the opportunity to be virtually transported away to a far more pleasant place. A table in Latvia. A smiling dealer and the chance to win a chunk of my airfare back.
Can't wait until the dealer asks what the weather here's like right now? 'Ummm, sunny and about minus 40 celsius I think".
Step 1: Get connected. Easy enough. Well done Emirates.
Step 2: Test the connection with a bit of casual surfing. It's slow but might still be OK.
Step 3: Play.
Unfortunately this is where the plan fell apart.
Seems Emirates don't want their passengers gambling while in flight. Visited a dozen or so live casinos and each time was met with the below blocked content message.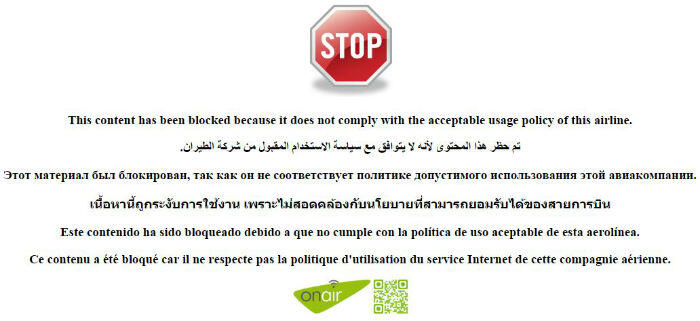 https://www.livedealer.org/dev/wp-content/uploads/2015/11/livedealersat3700feet.jpg
321
700
LD
https://www.livedealer.org/images/Livedealer-logo.png
LD
2015-11-11 04:28:49
2015-11-11 04:28:49
Live dealers at 37,000 feet