It's no wonder we're seeing £20,000+ bets on the live dealer tables more regularly these days.
Credit Suisse recently released their Global Wealth Report for 2017 (presenting a mid-2017 snapshot of wealth), confirming that the world is richer than it was the year before, and much of that wealth expansion occurred at the top end.
The report offers a comprehensive picture of global wealth (measured in USD) by segment and region. Now in its 8th edition, it also tracks how wealth has changed by segment and region over time. As with previous reports, the details provided in the latest edition on how much money we have, and who has it will surprise (and maybe disturb) you.
Below are some of the headline findings.
2000-2007 were the golden years of wealth expansion
Every year since the GFC continues to highlight that the years 2000 to 2007 were the golden years of growing wealth, and growing wealth equality. Average wealth per adult grew at 7% per year which is far better than the post GFC story, but the kicker during these years was that the bottom half of wealth holders did even better, growing at 12% per year.
Since 2007, it's been a story of growing wealth inequality.
From 2007 to 2016 total global wealth has increased 27% from USD 220 trillion to 280 trillion and 8.7 million new US dollar millionaires were minted. Yet in every region of the world except China, median wealth declined.
2017 a good year for the developed world
Overall, aggregate global wealth rose by USD 16.7 trillion to USD 280 trillion, up 6.4%. As the below graphic shows, Europe and North America lead the charge.
Change in wealth by region: Source Credit Suisse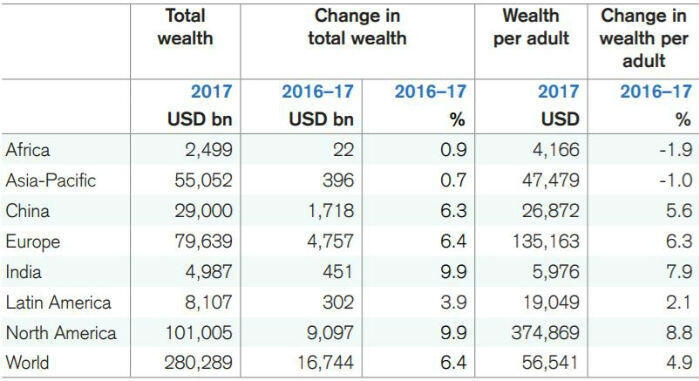 No change in the which countries are richest
When it comes to per capita wealth by country, there has been little change in order from last year's report.
Looking at average wealth per capita the top 3 are identical (in USDs)…
Switzerland (537,600)
Australia (402,600)
United States (388,600)
New Zealand (337,400)
Norway (320,500)
Denmark (281,500)
Belgium (278,100)
The United Kingdom (278,000)
Singapore (268,800)
France (263,400)
The top 3 in terms of median wealth per capita are also unchanged…
Switzerland (229,000)
Australia (95,400)
Belgium (161,000)
By median wealth measure the US comes in at 21st spot; highlighting wealth inequality there.
Wealth map: Source Credit Suisse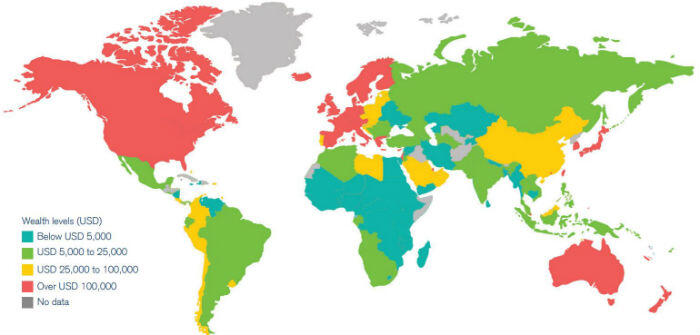 Wealth distribution
Here are the stats that always blow my mind when it comes to Credit's Wealth Reports.
If you have net assets worth…
over USD 3,582 you're in the wealthiest 50% of the world's citizens
over USD 76,754 then you're in the top 10%
over USD 770,368 then you're in the 1% club
The wealthiest 1% own 50.1% of all household wealth in the world. Their share of the wealth pie has been steadily increasing since 2009. By contrast, the poorest half of adults have seen their share fall, and now collectively own less than 1% of total wealth.
Explosion in millionaires and UHNWI's
In Credit's words,
"No other part of the wealth pyramid has been transformed as much since 2000 as the millionaire and ultra-high net worth individual (UHNWI) segment"
There are now 36 million USD millionaires in the world. There are as many millionaires in the world as there are people living in Canada!
There are almost 150,000 individuals worth USD 50 million or more.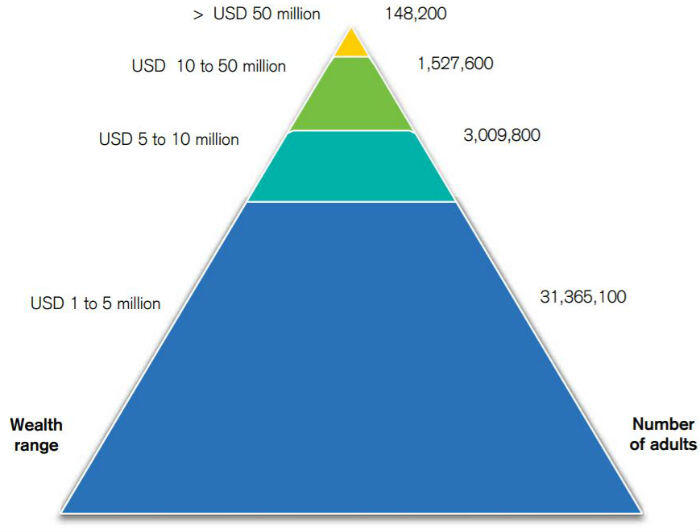 Most of them live in the United States with China one of the other big mover of the millennium to date.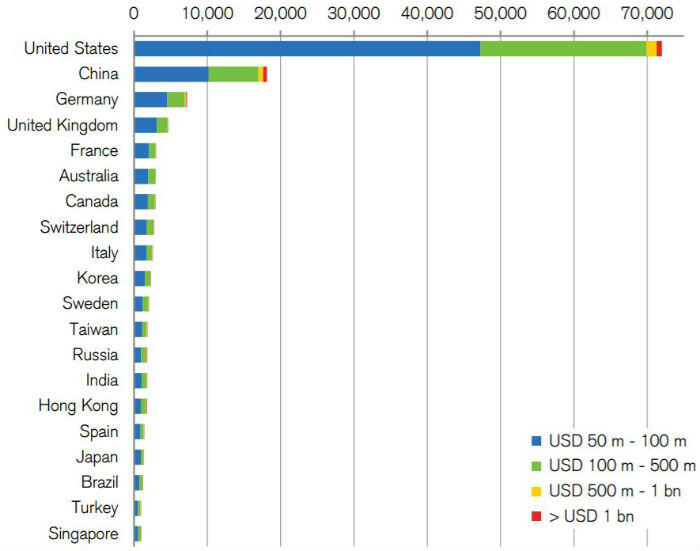 https://www.livedealer.org/dev/wp-content/uploads/2017/11/worldwealthlevels.jpg
335
700
LD
https://www.livedealer.org/images/Livedealer-logo.png
LD
2017-11-28 06:23:23
2018-07-26 16:04:34
The world got a lot richer in 2017