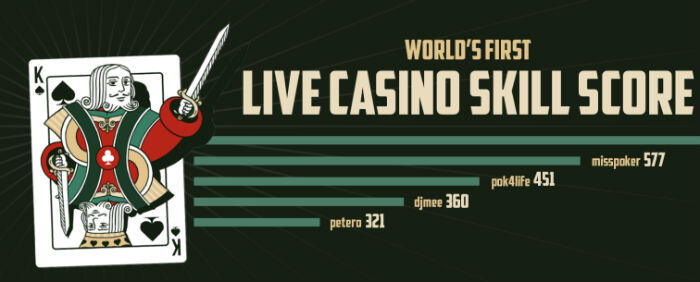 Here's something a little different from online casino Codeta.
They're presently running a tournament on their live tables in which the top 10 players will share in €2500. That's not the different part; indeed €2500 is a pretty pedestrian prize pool when in comes to live casino tournaments.
What is very different, is their chosen method of determining the top 10 players… Skill Score.
Yep, it's not about how much you turn over, how much you win, whether your name is drawn from a long list of qualifying players, what your equalized win value is, or for that matter anything else we've seen before. What they're trying to do is reward the players deemed most skilful on their live tables.
Key tournament t's and c's
For those interested in testing their score, here are the headline terms…
it runs from now until midnight (CET) Sunday, May 20;
only play on their live tables is counted in score calculations;
you'll need to play at least 30 rounds to qualify to have your score calculated;
the top 10 placed players, based on skill score, will share a €2500 prize pool as follows:
1st €625
2nd €500
3rd €375
4th €250
5th €200
6th €175
7th €150
8th €100
9th €75
10th €50
winnings credited to players accounts by 25 May;
they don't specify whether it's cash or bonus funds with wager terms attached which is disappointing.
Live Casino Skill Score
Skill score is calculated using the formula:
Skill Score = Big Wins x Dedicated Wins, where…

and

There's nothing in the formula to take into account dumb luck, but this would be difficult. I watched a player yesterday hit on 18 against a dealer's 7. They hit a 2, went on to win for their 3rd consecutive win. Wonder what their skill score would have been in the end? Then of course there are live games that don't require much skill other than table and initial bet selection (live roulette, live baccarat etc).
It's also hard to accurately mathematically account for optimum play combined with bad luck (over a short play period, which 30 rounds is).
I strongly suspect that the real aim of the exercise was not to identify the most skilled player, but rather to put forward a novel concept that gets casino sites like this one talking about it. Fair play…it worked.
Fun idea though.
Codeta's live tables…
As mentioned above, only Codeta live table play is included in this promo. As they put it…
"To promote pure skill, only live game results are measured."
Their tables will be quite familiar to most who play live online, as they are powered by Evolution Gaming.
https://www.livedealer.org/dev/wp-content/uploads/2018/05/skillscore1.jpg
176
250
LD
https://www.livedealer.org/images/Livedealer-logo.png
LD
2018-05-12 14:22:03
2018-05-12 14:22:03
What's your live casino skill score?