Leaderboard tournaments are pretty common at most of the big live dealer casinos.
Turnover is the classic metric: the more you stake, bet, wager, relative to all other player the higher up the leaderboard you go. Other measures are used also. Number of bets placed (irrespective of value), equalised wins, or various goals like the number of Blackjacks hit during the allotted period.
One consistency for all of these types of tournaments, is a leaderboard.
A leaderboard needs updating of course. Until recently, standard practice was an update every 24 hours. You'd have to wait until 5pm (for example) each day to see if you had moved higher up the board, or indeed remained on it.
This has all changed, at Unibet anyway, where leaderboards are now updated in real time. What's more, they're updated in realtime and presented in full view as you are playing your chosen live table.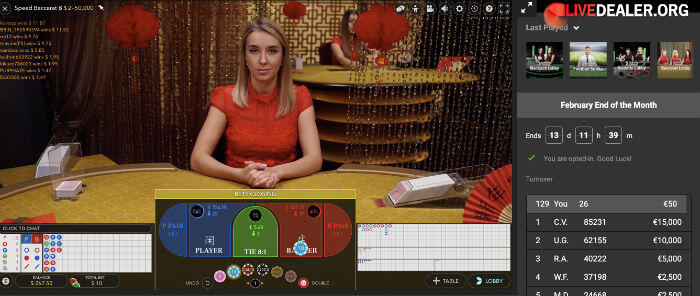 The screen grab above, is taken playing their Speed Baccarat table and you can see a live leaderboard bottom right of the game window.
Having just opted in to their February end of month €75,000 turnover tourney, I'm still way down the table, in 129th spot and on the bottom €50 prize range.
It didn't take too many bets to crack the top 100, and €150 prize range. The video below captures the moment this happens.
Pretty cool feature, from an offer transparency perspective.
But also one that will no doubt encourage some pretty fervent play from those players on the verge of cracking a higher prize tier towards the close of the tournament. Imagine being neck and neck for 2nd or 3rd position in this tourney late into its final evening? With a €5000 prize differential this could well lead to some aggressive betting.
But then, I guess encouraging players to play is what a casino is all about.
https://www.livedealer.org/dev/wp-content/uploads/2019/02/unibetlive1.jpg
219
350
LD
https://www.livedealer.org/images/Livedealer-logo.png
LD
2019-02-18 13:28:52
2019-02-18 13:28:52
Live table leaderboards; Real-time rankings