Figures just released by Portugal's Serviço de Regulação e Inspeção de Jogos ("SRIJ") have revealed a significant increase in online gambling activity during the lock down period.
Portugal's relatively small regulated iGaming industry includes 10 licenses to offer sports bets and 13 online casino licenses. A number of operators holding both.
These licenses have proved quite lucrative in the first half of 2020. In particular for casino games.
Compared with the first half of 2019, online casino gross gaming revenues (GGR), or net player losses, grew 74% to €83.7 million. Sports betting GGR was up a more modest 16%.
When it comes to total player wagers (ie value of bets placed win or lose) the figure for casino games increased to €2.29 billion – a proportionally similar increase to the GGR numbers. You'd expect this given the house margin would remain relatively stable for these games.
Sports betting stakes actually decreased slightly. Punters bet a little less, but lost more than in 2019. Bad bets rather than more bets. Perhaps less time to analyse the form with the kids screaming in their ears? Perhaps bets on unfamiliar sports rather than their usual leagues which were shut down?
Monthly total wager figures for casino games show a clear correlation with home confinement months.
January €305m (normal)
February €287m (normal)
March €382m (increasing)
April  €479m (spike)
May €468m (spike)
June €372m (returning to normal)
The fall in June suggests the increases won't be sustained. More a blip than a long term trend.
This contention is supported by the fact that GGR increases weren't due a spike in new players (which could sustain longer term increased activity). May saw 33,500 new customer registrations which was considerably less than in January (53,500) or February (43,900).
SRIJ's attributed the lockdown spike to the closure of traditional casinos.
"We can conclude that the closure of the casinos contributed to a significant increase in the respective volume of online gambling, which gradually stabilised, approaching the values ​​prior to [the novel coronavirus (Covid-19) pandemic"
They (SRIJ) didn't take any action to moderate online gambling behaviour during the extraordinary period, unlike some other regulators.
In Spain, Royal Decree-Law 11/2020 was passed on 31 March 2020, implementing a blanket ban on all online gambling advertising in that country. The ban wasn't lifted until 11 June.
JugarBien are yet to release their Q2 quarterly report. It will be interesting to see the effect, if any, the ban had on player numbers and spend.
UK Gambling Commission also took measures to temper any harmful growth in gambling activity during that time. No advertising ban, but rather additional guidance applying to licensees' social responsibility code.
Operators were required to more closely monitor any changes to customer playing habits. A couple of additions to the code were the requirements to:
Implement processes that ensure the continual monitoring of your customer base, identifying customers whose patterns of play, spend or behaviours have changed in the last few weeks
Stop bonus offers or promotions to customers displaying indicators of harm
Recent studies released by the Commission and YouGov suggest impacts in the UK were not as significant (certainly not compared to Portugal).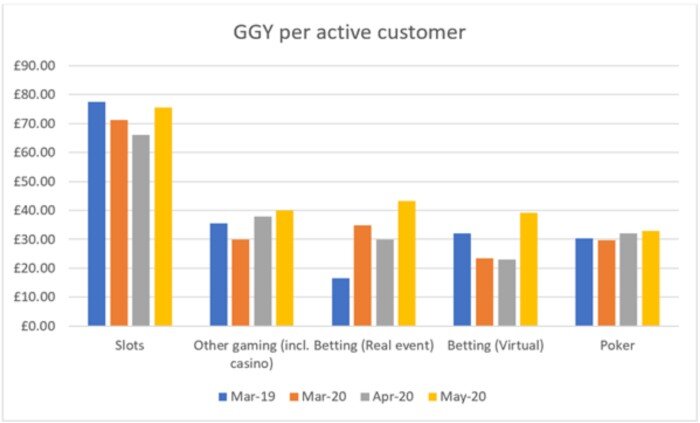 GGR per customer figures for March, April, May 2020, while trending up are not significantly higher than March 2019.
https://www.livedealer.org/dev/wp-content/uploads/2020/08/portugal2020H1.jpg
294
400
LD
https://www.livedealer.org/images/Livedealer-logo.png
LD
2020-08-25 11:58:20
2020-08-25 11:58:20
Portugal: big increase in first half net gambling