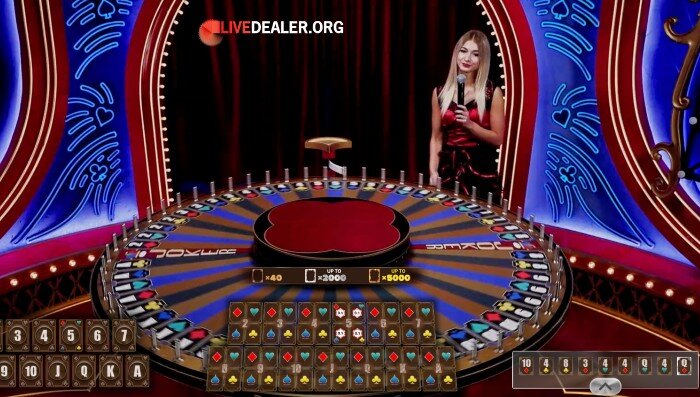 Playtech's latest live game show started taking bets last week. It's titled, The Greatest Cards Show but ironically doesn't involve a deck of playing cards at all.
Rather, it's a big wheel (horizontal). Cards are represented however, with each segment on the wheel labelled as one of the 52 playing cards, in order and grouped by number/picture as below. There's also 2 Joker segments placed opposite each other, for a total of 54 possible places the wheel can land on.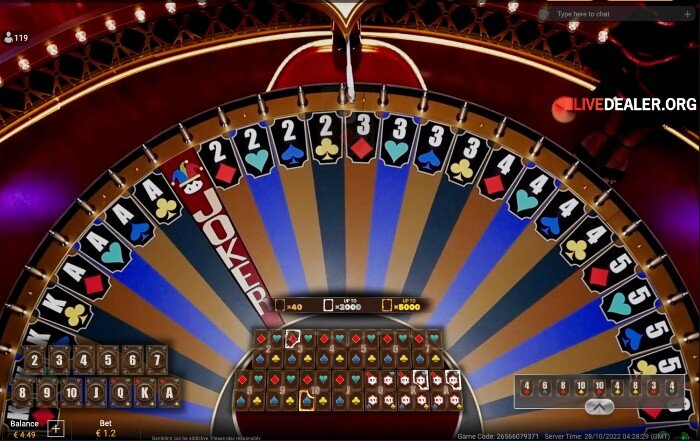 All you have to do is choose your segments. That is, which number and suit the wheel will land on.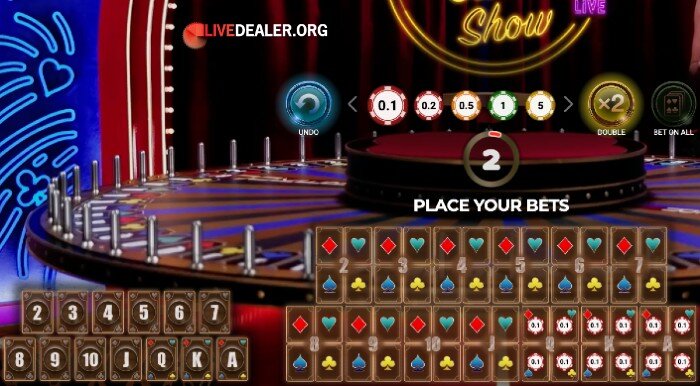 The bet selector lets you choose a specific suited number/picture (right).  Or you can choose a number/picture (left) which will select all suits (ie 4 positions and 4x you chosen chip value).
The presenter then spins the wheel (manually) and a winning pick will earn you a 39:1 (or 40x) payout.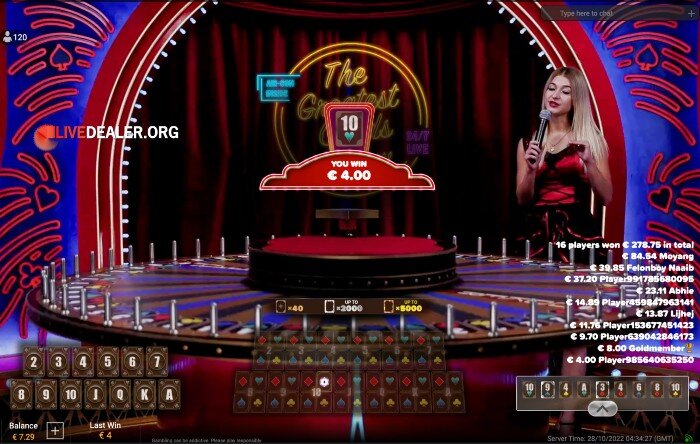 So 54 possible outcomes, and a 40x payout if you win. Doesn't take a maths genius to figure out this odds/payout setup makes for a pretty healthy house edge. But this is reduced a little with the bonus games and resulting multipliers that help narrow the house edge a little.
Boosted payouts
While a 40x payout is the most common winning outcome, The Greatest Cards Show does come with three bonus games that boost payouts, up to 5000x if you're lucky enough.
Spotlight and Light Show Bonus Rounds
Each round after bets close, a bunch of cards are chosen as silver or gold cards.
If the wheel comes to rest on a gold card (7

 in below round) a Light Show bonus game will commence, with all players betting on 7

 in the running to win up to 5,000x.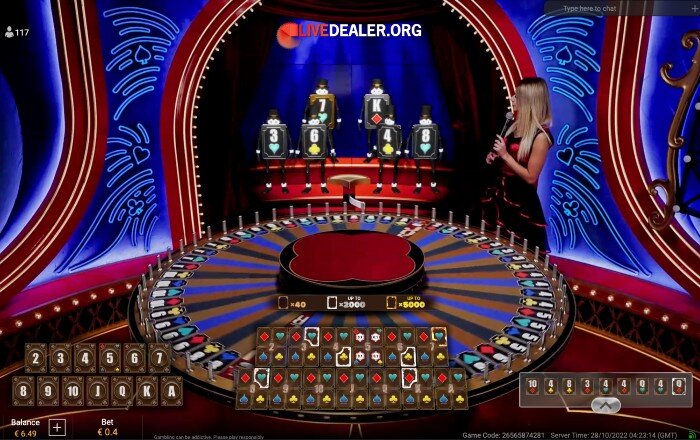 If the wheel comes to rest on a silver card a Spotlight bonus game will commence and those with a bet on this card stand to win a multiplier of 50x to 2,000x. It was 60x in the below Spotlight round.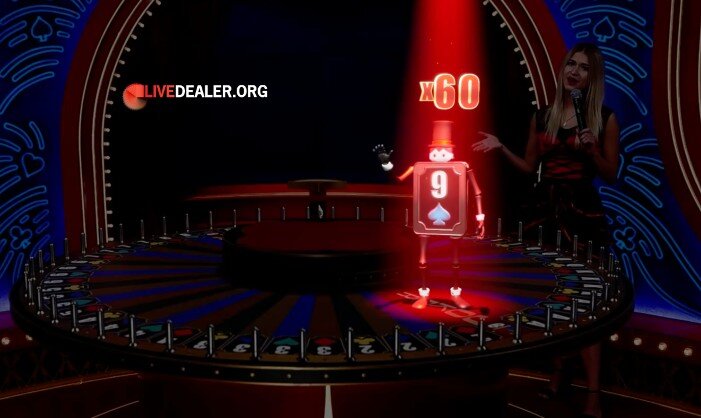 Joker Bonus Round
If the wheel comes to rest on one of the 2 Joker segments, a couple of things happen:
Bets remain in place, the wheel is spun again and winners of this spin will take part in the Joker bonus game.
Multipliers for 1st, 2nd, 3rd and 4th place applying to the bonus round are randomly chosen. 1,000x is the top 1st place multiplier.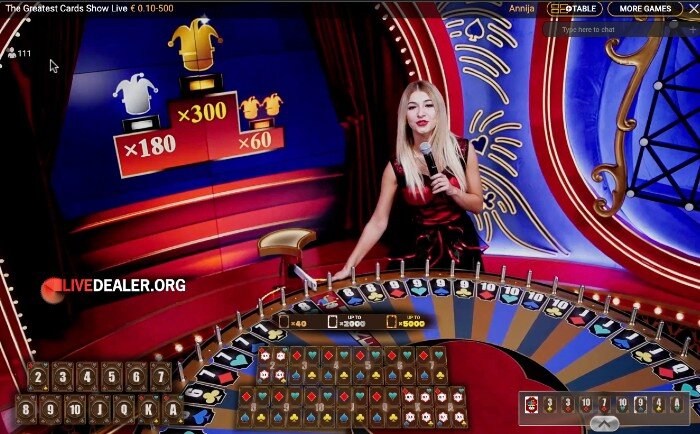 Players winning through the bonus game are presented with 4 coloured jokers and need to pick one. If you don't pick, one will be chosen for you.
The jokers then begin a duel (juggling, doing tricks etc) to decide 1st through 4th place and players' multipliers.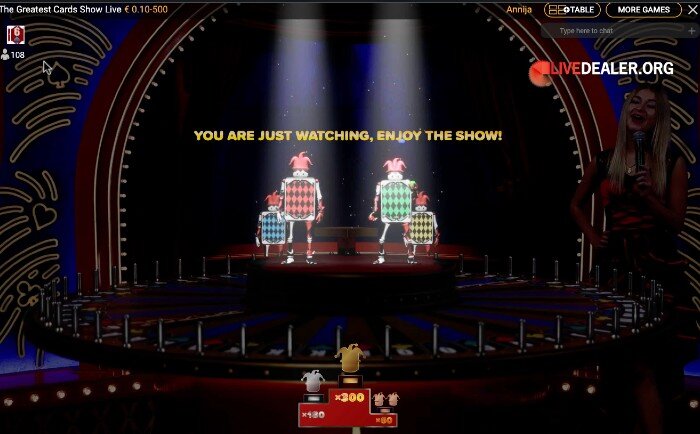 Theoretical Return
No skill. Big wheel. Animated bonus games. RNG determined multipliers. All the ingredients for a pretty low returning game. And so it is with an RTP of 96.67%.
Full House Rules
The above pretty much covers it all, but you can read the full house rules here.
Greatest Cards Show video.
https://www.livedealer.org/dev/wp-content/uploads/2022/10/GreatestCardShow-JokerRound.jpg
434
700
LD
https://www.livedealer.org/images/Livedealer-logo.png
LD
2022-10-31 05:13:28
2022-10-31 05:15:09
Playtech's Greatest Cards Show