We're getting to the pointy end of the world's biggest football tournament.
The pretenders are gone. The cream has risen to the top. This weekend's quarterfinal round promises some irresistible contests. Here's a look at what's coming through the eyes of someone who enjoys (once every 4 years) but knows very little about the game.
Netherlands v Argentina
The favourite: Argentina are favoured with the bookies, paying around 2.2 for a unit bet. You'll get around 3.6 for a Netherlands win.
It's a champion team, versus a team with an amazing champion. Netherlands were arguably more solid progressing through their group reasonably untroubled. Argentina had an early scare before eventually making it through and still don't seem to have reached top gear yet.
But Messi's ageing legs still have plenty of speed. His penetration on the dribble still makes opposition look silly at times. 3 goals so far, and plenty of opportunities created make him just so dangerous. He's a joy to watch and deserves a World Cup trophy. But as Clint Eastwood would say, deserve's got nothing to do with it.
Croatia v Brazil
The favourite: Brazil are strong odds-on favourites paying around 1.35 for a unit bet. Underdogs Croatia are paying 9s.
It's a testament to the brilliance of Brazil that Croatia, World Cup finalists in 2018, go into this match as the rankest of outsiders. They still have Luka Modrić, but at 37 he's past his peak. And what a peak he and his team are looking to climb.
Brazil dazzled against Korea, who before that game were starting to get a little excited about where they sat in the world game's pecking order. It was a reality check to be sure. 4-0 in the first half. Could have been 8-0. And although they took the foot off the gas in the second half, opportunities were still numerous for Brazil.
They have an embarrassment of riches all over the field – in attack particularly where Neymar is far from a standout. Richarlison does things with a football that make you scratch your head. And the entire team seems to be in sync. Just so entertaining to watch.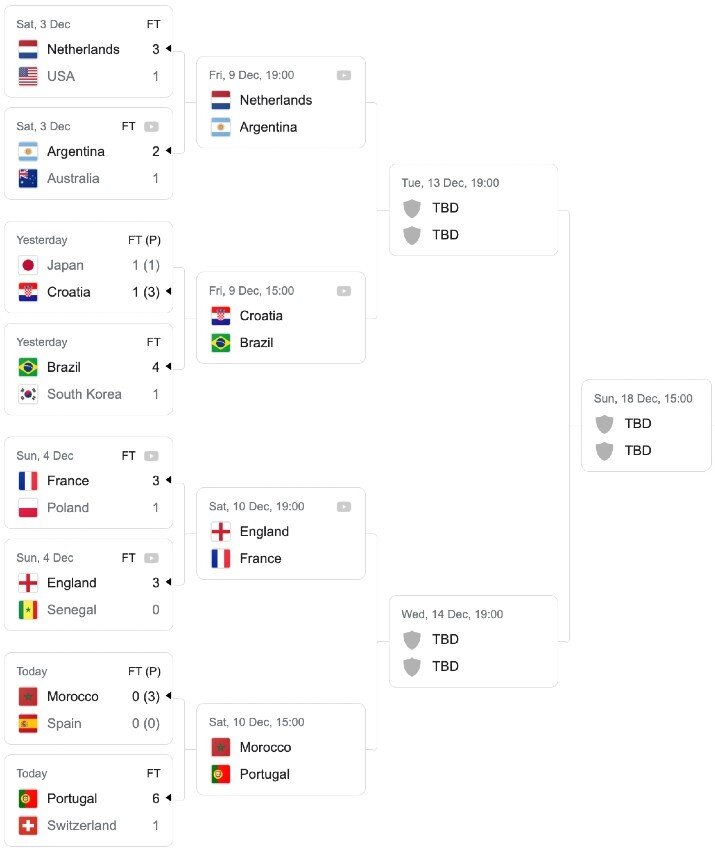 England v France
The favourite: France are favourites with the bookies, but not by much – France around 2.50, England at 3s.
What a game this will be. No clear favourite. So much history. Both teams boasting player quality and current form that have their fans truly believing this World Cup could be theirs.
England have been clinical to this point. Solid throughout the group stage and easily accounting for Senegal in the round of 16. They have youth and speed combined with the attacking class of the likes of Kane and Rashford. So far this has made for lots of scoring opportunities, a high proportion of them taken.
Meanwhile, France have this World Cup's biggest weapon – Kylian Mbappé. He's leading the golden boot and third in score assists. He looks like an under 18 playing under 10s. Too much speed, too much skill for any one defender and a challenge for 2 or 3. Ably assisted by the likes of Dembélé and Griezmann this French attack will score a lot.
England will have to score plenty to win.
Portugal v Morocco
The favourite: Portugal at 1.68. Morocco at 5.80.
Portugal have been sliding a little under the raider. The Ronaldo bench or starting line-up debate seems to have taken some of the oxygen away from their performances and tournament prospects in the early stages. But a 6-1 demolition of Switzerland has changed all that.
Even an Old Trafford style walk off by Ronaldo in this game wouldn't have distracted from the reality that Portugal (with Ronaldo on the bench) are potent. Ramos' striking ability is sublime. João Félix is a magician. And Ronaldo may yet have an impact off the bench.
https://www.livedealer.org/dev/wp-content/uploads/2022/12/richarlison.jpg
281
416
LD
https://www.livedealer.org/images/Livedealer-logo.png
LD
2022-12-07 02:33:11
2022-12-07 02:33:11
World Cup 2022 Business Time