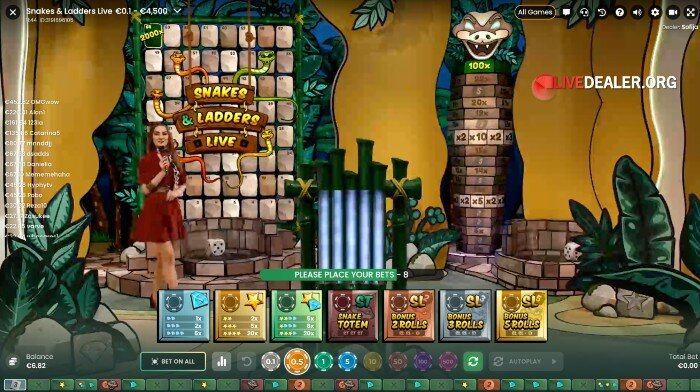 The flood of new game shows continues and Snakes & Ladder Live from Pragmatic Play is the latest cab off the rank.
It's a dice game primarily. You're picking the outcome of the shake of 4 die for either a fixed payout, or the chance to take part in one of two bonus games.
Below is your bet selector.

Fixed payout bet options and payouts are:
Diamond
– 2 Diamonds pays 1:1
– 3 Diamonds pays 2:1
– 4 Diamonds pays 5:1
Star
– 2 Stars pays 2:1
– 3 Stars pays 5:1
– 4 Stars pays 20:1
Diamond/Star combo
– 2 Diamonds + 2 Stars 5:1
– 3 Diamonds + 1 Star pays 8:1
– 1 Diamond + 3 Stars pays 20:1
After bets close, the dice in the first 4 cylinders (from left) shake and come to rest for the main game result. Possible results for each dice are: Diamond, Star, SL or ST.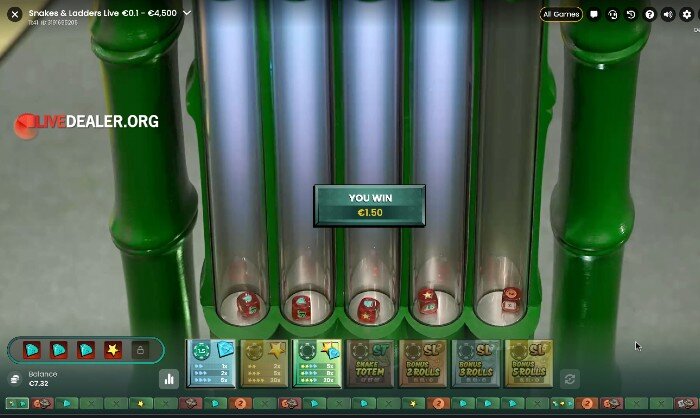 In the above case, 3 Diamonds wins a massive €1.50 from a €0.50 stake.
Snakes & Ladders Live Bonus Games
The dice can also trigger either the Snakes and Ladders (SL) or Snake Totem (ST) bonus game.
The Snakes & Ladders bonus game
2 or more SL symbols triggers the Snakes & Ladders bonus game. At this point, the 5th cylinder & dice come into play, to decide whether it's going to be a:
2 roll (or Bronze Snakes & Ladders game)
3 roll (or Silver Snakes & Ladders game)
5 roll (or Gold Snakes & Ladders game)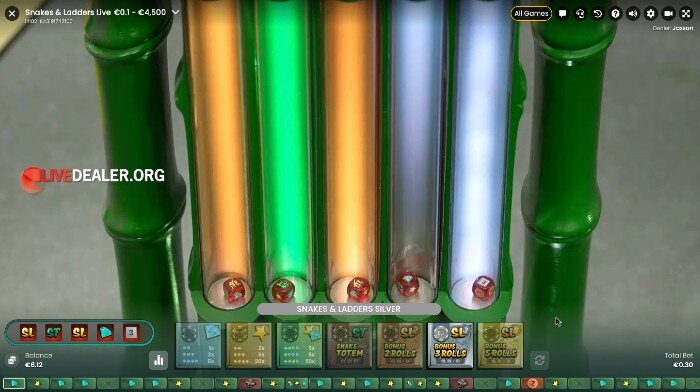 Above, 2 SL's from the first 4 dice triggered the 5th die roll, which yielded a 3 roll Silver Snakes & Ladders game. If you had a chip on this bet, you're in the game.
Nothing to do from here but watch as attention moves to a big snakes and ladders board and a giant conventionally numbered dice.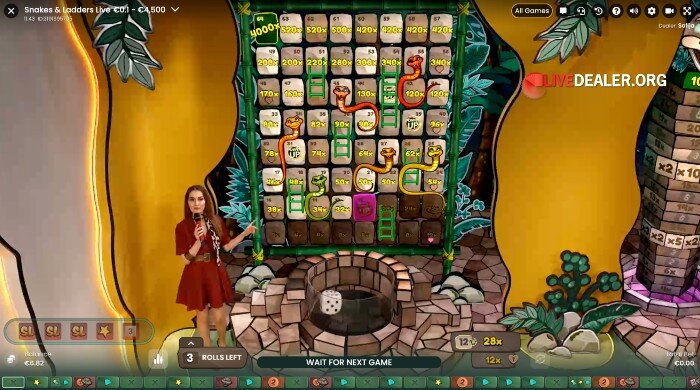 The further along the board you progress, the higher your bet multiplier. The giant dice, rolled 3, 5, or 5 times depending on the whether it's a Bronze, Silver or Gold game determines your progress (bonus rolls can be earned on the board also).
Land on a ladder and your progress is boosted. Land on a snake head and you go backwards. Just like the namesake board game.
The Snake Totem bonus game
This game is triggered if 3 or more ST's come up on the initial 4 die roll.
Pretty much the same concept as the Snakes & Ladders bonus game, but rather than zig zagging up a snakes and ladders board, it's a climb up a totem poll. Once again a giant dice decides how far you climb and how high the final bet multiplier is.
This game can also launch the Snakes and Ladders bonus game to decide your payout (as happened on recorded game below).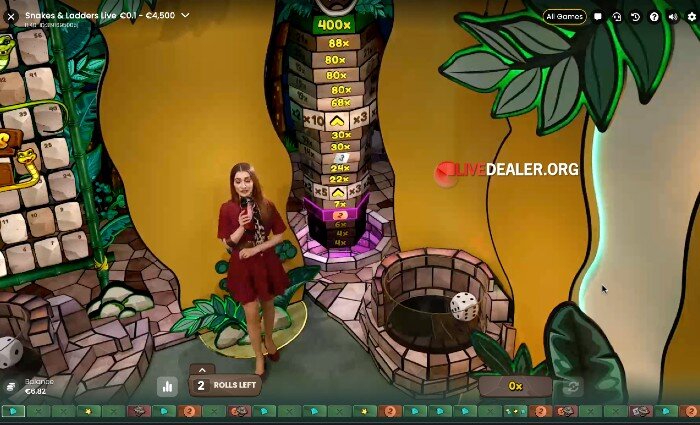 The maximum payout for both of the bonus games is 10,000 to 1.
Snakes & Ladders RTP
You're not likely to make your fortune playing this game. Sticking to the fixed payout Diamond, Star or combo bets will see you winning 96.30% of your total stakes back (long term). Returns on the bonus games are similar.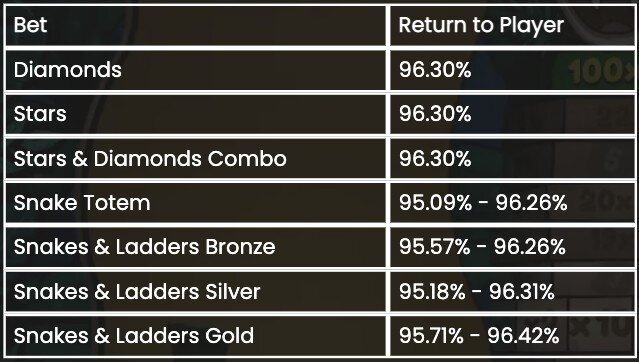 https://www.livedealer.org/dev/wp-content/uploads/2023/05/SnakesLadders.jpg
392
700
LD
https://www.livedealer.org/images/Livedealer-logo.png
LD
2023-05-22 07:11:19
2023-05-22 07:11:19
Snakes and Ladders Live from Pragmatic Play