Best returning casino games
20 October 2009, Staff writer
---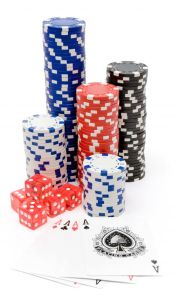 I always find it amazing to walk into a casino and to see how popular games like slots and keno are. These are amongst the worst returning of all casino games. Mind you, they are nowhere near as bad as perhaps the most widely played game of chance in the world - the lottery - which depending on where you live, offers returns ranging from awful to abysmal, but that's another story.
Casino gambling is a pursuit with one primary goal in mind; to win money from the house. Why then would anyone choose to play a game that is likely to lose $7 for every $100 you bet, when there are games that, played optimally have you surrendering, on the balance of probabilities, less than 50 cents for every $100 invested, or even gaining a house edge if you are an experienced advantage player.
Yes, some players do consistently beat casinos. Read the Bear Growls for some entertaining stories about the exploits of a Las Vegas based professional card counter, and the great lengths casinos go to to ensure players like him spend as little time on the their tables as possible. Or our series on advantage players - profiles of blackjack card counting legends who for many years plundered casinos around world playing blackjack.
I can only think that very few casino players actually understand the enormous variations in mathematical returns offered by the different casino games. All the better for the casinos I guess.
The more skill required, the greater the potential return
The above axiom isn't a bad rule of thumb to go by when trying to understand whether your chosen game offers a reasonable return or not. If you just need to push a button and wait to see if you win or lose - chances are you're being taken to the cleaners by the casino. If your game requires a degree of skill to be played optimally, and assuming you know how to play it optimally, then your returns are likely to be significantly better.
Here's some simple but compelling data taken from audited historical returns of some of the casinos listed on this site comparing actual returns generated from table games versus slot games.
| | | |
| --- | --- | --- |
| Casino | Audited RTP* table games (%) | Audited RTP* slots (%) |
| 32 Red | 99.04 | 95.96 |
| Royal Vegas | 99.24 | 95.56 |
| Lucky Nugget | 98.56 | 95.31 |
| Ladbrokes | 97.69 | 95.20 |
* RTP = Return to Player Rate. Calculated as total player wins divided by total player bets. Data used is June 09.
A couple of observations can be made here. The first is that the slots returns are remarkably similar across the different casinos, despite having been played by different players. This highlights the fact that slot game returns are programmed and cannot be influence by players (in the above case programmed by software licensor Microgaming). Terrestrially slot returns are prescribed by governing casino authorities and can be set far lower than 95%. Prescribed minimum slot returns in the order of 85% are not uncommon!
The second observation is that the table game returns, despite being significantly higher than the slots, include all table games (not all return well) and all players - experienced and novice. These are not returns from optimal play, but rather historical play from all player skill levels. Despite this, the difference in returns is significant.
A closer look at the table games
Just as table games, broadly speaking are a much better bet that the likes of slots and keno, within the list of table games returns (assuming optimal play) differ markedly.
Set out below are house edges for optimal play and typical Vegas rules for some of the major table games, as calculated by renowned casino game mathematician the Wizard of Odds.
| | |
| --- | --- |
| Game | House edge (%) |
| Blackjack | 0.28 |
| Baccarat | 1.06 |
| Craps | 1.36 |
| Pai Gow Poker | 1.46 |
| Roulette (European, single zero) | 2.70 |
| Red Dog | 2.80 |
| Caribbean Stud | 5.22 |
| Roulette (American, double zero) | 5.26 |
Applying to live casino play
Looking at the top of the above list (ie the best returning casino games), the good news is that games offered in live deal format are amongst the best returning casino games you will find. Blackjack, Baccarat and European Roulette are the common offerings at the live casinos listed on this site. While house the house rules applied may be slight variations from Vegas Strip rules applicable above, differences will be marginal.
Your job, is simply to play the games optimally.
---
Find out which games are offered where at our live casinos compared page