Live casinos and your internet connection speed
30 July 2009, Staff writer
---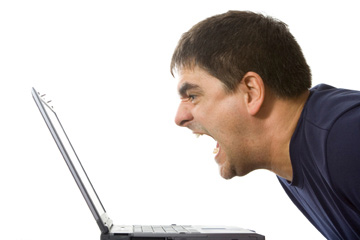 Why the need for a fast connection?
At the risk of pointing out the obvious, when you play at a live online casino you're taking a real time video stream from a dealer studio or terrestrial casino. This isn't like a YouTube video which loads and then plays, nor is it recorded vision - the vision here is live. That's a large amount of data flowing from the casino/platform provider's server to your PC in quick time, so for nice smooth vision you're going to need a reasonable bandwidth for the games to be playable.
Of course most platform providers boast that their video streaming and compression technologies are wonderful. But bottom line is that you still need a solid connection speed to support any of the current live offerings out there.
What type of connection do I need?
The type of connection you have isn't really the be all and end all consideration (with the exception of dial-up...if you're on a 56k modem or even ISDN forget live casino gaming). It's the speed of your connection regardless of type that is important. Different categories of broadband connection have wildly varying speeds...DSL is typically anywhere from 256 Kbps to 8 Mbps, cable ranges from 512 Kbps to 52 Mbps, satellite connections are typically around 400 kbps but can vary significantly and if you're on a wireless connection you'd know that these can fluctuate enormously from one hour to the next depending on network congestion.
So what you really need to do is find out how fast your connection is regardless of category, and this may be very different to the speed your ISP advertises your subscribed service at.
How do I check my connection speed?
There are a bunch of connection speed testing services that are pretty much instant and free. You simply visit their website and run a test on your PC which simply involves hitting their 'test speed' button. In seconds your exact download and upload speeds are tested and presented to you. Try speedtest.net. Search Google for "internet connection speed test" or the like to find dozens of others.
How fast is fast enough for live casino gaming?
Betfair, the well known online betting exchange offer live web-streaming of sporting events. As a guide, they recommend customers have at least a 450 kbps (download speed) to use their low quality service, and at least 750 kbps for their high quality videos. For viewing without constant buffering or freeze frames a 1 Mbps (mega bits per second) connection is recommended.
This probably isn't a bad guide for live casino games. Anything below 1 Mbps and you start to get annoying freeze frames and considerable lag between the actual deal on the video stream and that presented on the virtual graphic.
As a guide, the following live video screen recordings / demos offer examples of stream quality above and below the 1 Mbps mark.
Unibet live blackjack at
0.8 Mbps:
Bet365 live blackjack at
1.0 Mbps:
BetPhoenix blackjack at
1.3 Mbps:
Luck Live Blackjack at
1.6 Mbps: