Live baccarat from Bodog88
Live baccarat and Dragon Tiger, proprietary live games from Bodog88.
Available at:

Bodog88
Read house rules I Read review I Visit
---
Bodog88 pitch themselves heavily to the Asian playing market, so it's not surprising to find that they have a strong baccarat focus...which is readily evident when you take a look at their lobby.
At any given time there are 3 different baccarat dealers and four different limit tables to choose from...regular, high roller, VIP and private tables with limits increasing in that order.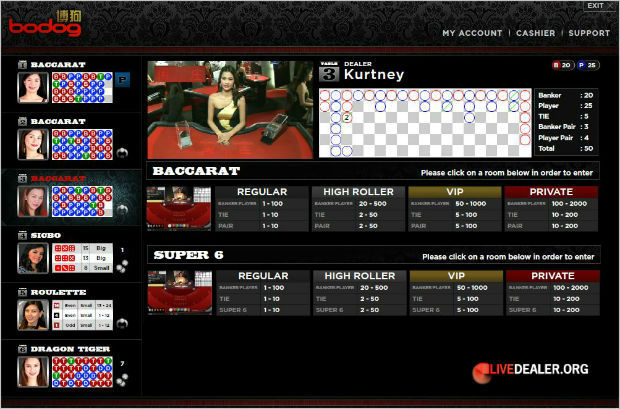 As well as standard baccarat there's Super Six and Dragon Tiger.
Interface playability
These are nice looking games that are easy to play and have all information you could want (roadmaps, limits, history, game rules) at hand. The video is small and NOT resizable. Play in full screen mode is NOT available which is a pity.
A feature we love is a display (bottom left of game interface) that shows you in real time what's happening on all other games in the casino. That is, results as they happen or a count-down to last bets if the game is between deals/spins/die throws.
Free play now offered
Bodog recently introduced practice mode enabling you to play with a registered, but unfunded account. Great way to trial the games before deciding whether to play for real money.
Bets & Payouts summary
Baccarat - Player (1:1), Banker (0.95:1), Tie (8:1), Pair (11:1) bets

Super Six Baccarat - Player (1:1), Banker (1:1) for all Banker wins except where Banker wins on 6 then payout is (0.5:1), Tie (8:1), Banker win on 6 pays (12:1) for Super Six bet

Dragon Tiger - Dragon (1:1), Tiger (1:1), Tie (8:1), Suit (3:1), Big/Small (1:1), Odd/Even (1:1)
For full rules of each game follow the house rules link above.
Features
- Browser play - no download required;
- History: Roadmaps provided;
- Table choice: Regular, High Roller, VIP, Private;
- Time between deals: 25 seconds;
- Variety of bet ranges: see baccarat limits page;
- Live updates on outcomes of other games/tables.


Bodog88 live baccarat

Pretty straight forward live baccarat game. Standard bets and payouts apply.

We love the display for real time updates on what's happening on other tables.

Bodog88 live Dragon Tiger

For those unfamiliar with Dragon Tiger, just know that it's quite possibly the simplest game you can play. Pick Dragon or Tiger, each get one card. Highest wins.

As with all Bodog88 games, results at other tables are displayed bottom left.

Bodog88 Super 6 baccarat

Banker wins pay 1:1 (instead of usual 0.95:1) unless banker wins with a score of 6 and then payout is only 0.5:1.

You can also take the Super 6 side bet - betting on a Banker 6 win.

This pays 12:1.

Player (1:1) and Tie (8:1) bets same as normal.