Live baccarat from Playtech's Asian dealer studio
(OLD VERSION)
Live baccarat from Playtech's Asian dealer room. Standard, mini, progressive, in-running and VIP baccarat all dealt from an 8-deck shoe with re-shuffle with approx. 2 decks left.
Available at:

Bet365
house rules | bet365 review | Visit

Dafabet
house rules | Dafabet review | Visit
---
Playtech's Asian studio live games platform has been recently upgraded. While the games offered (and house rules for those games) have not changed, the look and feel has changed enormously...for the better! If you want to compare yourself, check out their old-look live baccarat games here.
This is now arguably the best live baccarat platform online, having regard to game range and interface features and playability.
Video and audio quality are outstanding. The studio itself looks great and dealers are super-friendly and it has to be said...very attractive.
Baccarat variations
Where this offering has it over competing platforms, is game and table range. Browsing the baccarat menu you will find no less than 5 baccarat variations, each offering a large range of dealers, tables and bet limits to choose from. Variations currently offered are:
Standard baccarat - take your place at a 7-seat table.
Banker (0.95:1), (Player1:1) ,Tie (8:1) and pairs side bets offered.

Mini baccarat,
Bets as above, but on a single player/seat

Progressive baccarat,
In addition to standard bets, you have the option of taking the progressive jackpot side bet. You win the jackpot if the dealer deals suites Aces and 8's to both the Banker and Player hands.

In-running baccarat,
Read the full house rules if you want to get a good handle on this one. In a nutshell, in addition to the standard opening Banker, Player and Tie bets, there are betting rounds after the first card is dealt to the Player hand, and then again after the first card is dealt to the Banker. Payouts for these bets are calculated depending on the cards dealt.

And for the high rollers out there...

VIP baccarat.
Shuffle
New shoes are brought to the table machine-shuffled. A random card burn will then take place depending on the first card drawn (eg, if a 7 is drawn, 7 cards will be burned) before the deal commences.
A single card is burned prior to each betting round.
Features
- Many games: 5 variations to choose from, see below;
- Chat: with dealer audio...and yes these dealers are chatty!
- Browser play: no download required, you will need the Adobe Flash plug-in though;
- History: Big Road, Bead Road, Cockroach Road, Big Eye Boy;
- Table choice: Considerable table, dealer, bet limit range;
- Reasonable time between deals: 30 seconds;
- Variety of bet ranges: see baccarat limits page;
- Intuitive interface.
Video Demo
7 Seat baccarat
In addition to standard bets, optional side-bets inlude:
Perfect Pair (Banker or Player suited): 25 to 1

Either Pair (Banker or Player unsuited): 5 to 1

Small (only 4 cards in total dealt): 1.5 to 1

Big (5 or 6 cards in total dealt): 0.54 to 1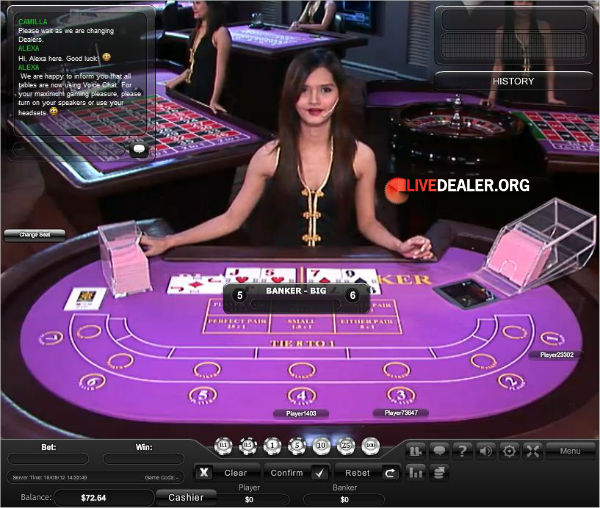 Mini baccarat
Same bets as above, just presented as on a single seat table.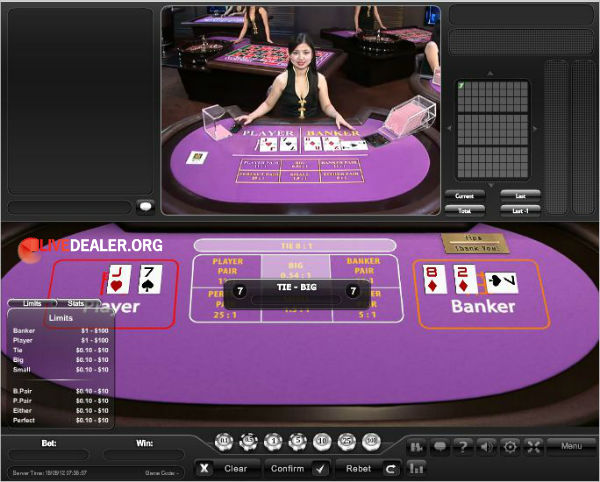 In-running baccarat
Betting rounds continue after the deal begins. Handicaps for Player and Banker bets are determined based on the cards on the table. The in-running bets are optional.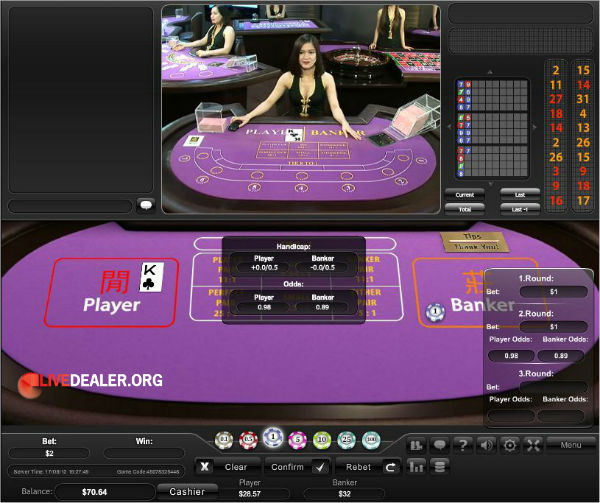 Progressive baccarat
If you take the progressive jackpot side bet and both the Player and Dealer hand are dealt suited Aces and 8's, then the jackpot is yours...and it gets very big. There are also fixed odds payouts for this side-bet as follows:
| | |
| --- | --- |
| Tie type: | Pays: |
| Player suited Ace+8 Banker matches | Jackpot |
| Player suited Ace+8 Banker suited Ace+8 | 10000x |
| Player & Banker Ace+8 | 1000x |
| Natural 9 | 25x |
| Natural 8 | 20x |
| Natural 7 | 15x |
| Natural 6 | 10x |