As is apparent above, Playtech offer many different look & feel baccarat tables.  Aside from the many ways the game is presented (different studio's, regular deals, speed deals, multi-camera angle squeeze tables, player controlled squeeze on the VIP tables etc) for the most part, and considering the main game only (Banker, Player, Tie bets), there are essentially 2 rule sets.
Punto Banco baccarat with regular payouts…
Banker win bet pays: 0.95:1 (even money less 5% house Vigorish)
Player win bet pays: 1:1
Tie bet pays: 8:1
No Commission baccarat with payouts…
Banker win for all values except 6 pays: 1:1
Banker win for all values except 6 pays: 0.5:1
Player bet pays: 1:1
Tie bet pays: 8:1
In all other respects (card values, third card rules etc) the games are the same.
Side bets
Playtech are big on side bets on their baccarat tables. Note the conventional wisdom with regard to side bets – avoid them…they often look attractive but offer horrible returns. Should you wish to indulge, most tables will offer:
Pairs side bets
Player Pair, Banker Pair, Either Pair, Perfect Pair
Big/Small side bets
Betting on total cards drawn. Big = 4. Small = 5 or 6
Egalite side bets
Betting on the specific value of a Tie.
Progressive jackpot side bets (on their Progressive Baccarat table only)
Side bet payouts are clearly displayed on the game UI, as in below screen grab. The Egalite payouts are in green (tie value 0 through 9) at bottom.

Return to player
Theoretical optimal return to player rate (Banker bet): 98.94%
RTP for all the other bets set out below.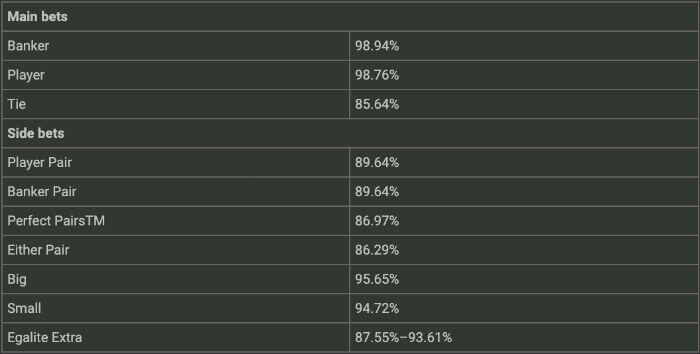 Our picks for where to play, and why
A good proportion of Playtech's live baccarat tables are streamed from their Asian dealer studios (Manila, Philippines). Makes sense really. After all this is a favorite game in Asian playing markets.
Point being, if you are a live baccarat enthusiast and are hunting for a casino to play at, you really want to  choose one that carries both Playtech's European and Asian studio tables. Here's the list…