Live roulette at Smart Live Casino
Live roulette streamed from Smart Live's London broadcast studio and available via web-cast, Freesat and SKY dedicated channels. Game is single zero (European) roulette.
Available at:

Smart Live Casino: Read review I Visit
---
Introduction
Smart Live offer a number live roulette versions. Rules and payouts are the same across all games, only presentation is different.
"Classic Live Roulette" and "Grand Roulette" , conducted by croupiers (or 'presenters' as the casino calls them).

"Auto Roulette" with air launched balls, choose from high or low limit wheels.

"Min Roulette" also auto ball launch with a spin every 45 seconds...touted as the fastest live roulette game online.
The automated wheel games are available for play via web/broad cast 24/7 and here the ball is launched under air power without need for a croupier - a bit like a roulette version of a lottery telecast that runs 24/7.
The croupier conducted game is currently available 9:00AM - 6:00AM (GMT) via web-cast, Freesat or SKY dedicated channels and looks very much like a game show broadcast...the casino actually calls its croupiers 'presenters' .
Play the below stream (live not recorded) to check if the live croupier game is on air... (removed)
Winners and other player bets
One nice feature of this game that sets it apart from other live roulette games (aside from the television broadcast aspect), is the ability to view all bets placed by other players during the 1 minute given to lay your bets. The interface allows you to scroll a list of all currently online players and view their bet choices for any given game.
Winners for each game are also displayed on the screen for all viewers to see after each game.
Free play
A great feature of this platform is the FREE PLAY option. You don't even need to register an account before playing for free here - guest players can get a feel for the game in free-play mode.
Features
- Free play option available;
- Browser play: play from your browser with no download required (Flash or Java versions available);
- Winners: game winners shown on screen after each game;
- Other player bets: view bets placed by other players;
- TV play: view broadcast on television (UK SKY, Freesat, Free view subscribers only);
- Time to lay bets between spins: 60 seconds;
- Bet range: see roulette limits page.

Recorded demonstration video clip


Place your bets - During the minute given to place your bets you can see how other players are betting.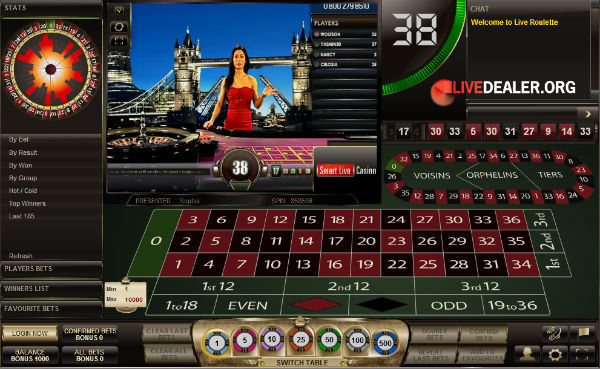 Presenter Sophia launching the ball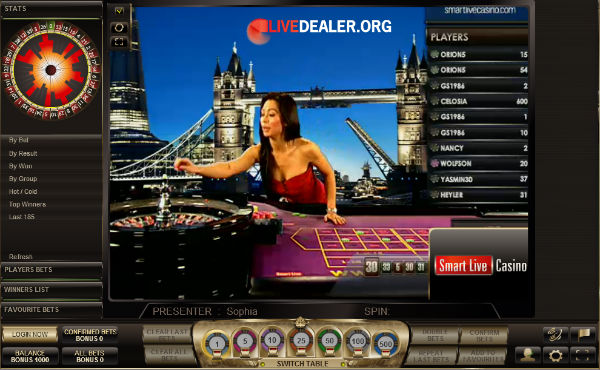 Another of the Smart Live Roulette presenters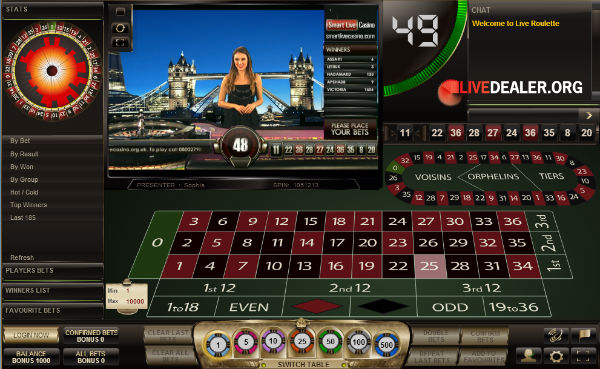 And the winner is - camera zoom during wheel spin and result.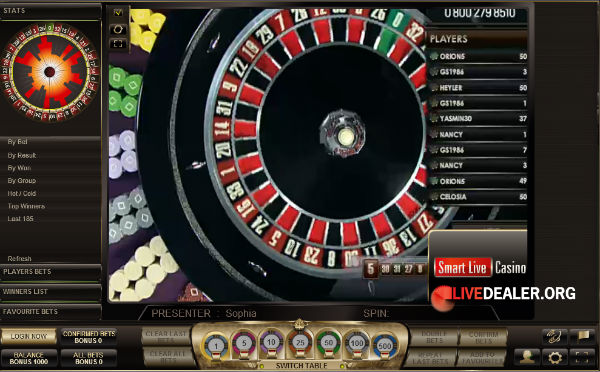 The auto wheels are available 24/7. The ball is air-jet launched