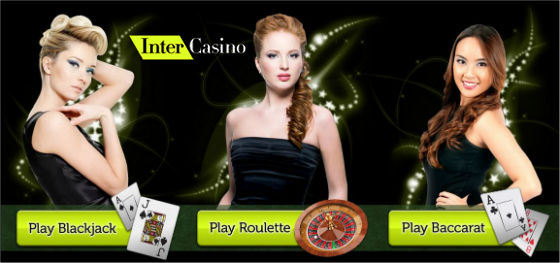 InterCasino have just added live dealers to their games suite.
Bit of surprise really. Not that they've added live dealers, but that it's taken them so long to do so.
InterCasino are one of online casino gambling's pioneers. They've been at it for longer than most (they claim the longest!), taking their first bets online back in 1996. Remember those days? If you had a 56k dial up connection you were the cool kid on the block. Looksmart, AltaVista or Yahoo were where you went to find a website. Google….what? A social network was a bunch of actual friends who you didn't tag or poke (for the most part)…you just shared a drink and had a chat with them. Mobile phones weren't that mobile and only birds tweeted.
If you wanted to play blackjack or roulette online you put your trust in a pretty average looking computer game that accepted your bets then rather clunkily simulated an outcome that you were assured was totally random. Your choices of casino were pretty limited…Intercasino, Casino on Net (part of the 888 group) and a bunch of Starnet Casinos. If you never came across anything to do with Starnet and their casinos then consider yourself all the richer for it!
So back to the present day. InterCasino have chosen the HoGaming/Chartwell (Amaya) collaboration as their live games supplier. These are the same games you play at Victor's Palace (BetVictor) or 138Sungame.  There are video demos of their blackjack, roulette and baccarat here.

Below is a game of blackjack at Victor's Palace. You'll find the same very pretty (but not overly interested) dealer as well as all of her colleagues at InterCasino.