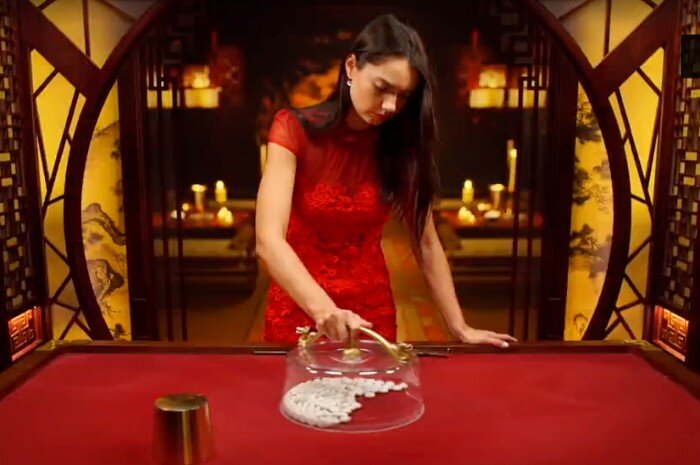 It is thought Fan Tan was being been played in China as far back as the third century. Thanks to Evolution and their just released Fan Tan Live, this ancient game can now be played online.
No cards. No dice. Outcomes are entirely based on a pile of little white beads (that could easily be mistaken for Mentos).
Fan Tan Live launched at Leo Vegas this week. No doubt it will pop up at other Evolution casinos in coming days.
The super quick and dirty goes like this…
a random number of beds are carved out from the total pile as bets close
beads are then removed from this selection in groups of 4 until…
only 1, 2, 3, or 4 final beads remain.
The remaining bead outcome is what you are betting on.
How to Play Fan Tan Live
The game begins with the opportunity to place your bets. 'Fan' bets (1, 2, 3, or 4) are the simple options, but other bets are offered on the default bet selector which is shown below. Switch to the advanced selector and even more options are available.
More on available bets below.
Meanwhile, as you ponder where to place your chips, the croupier (or "tán kún" as they would be traditionally known) swirls all the beds within what looks like a glass cake dome.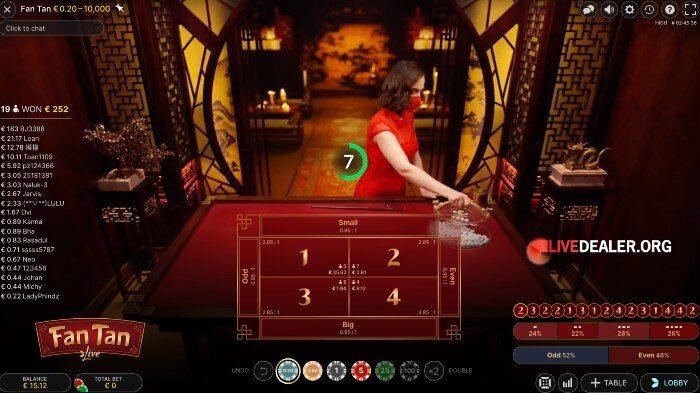 After bets close, the cake dome is lifted and a random selection of beads are carved out of the pile using a metal cup.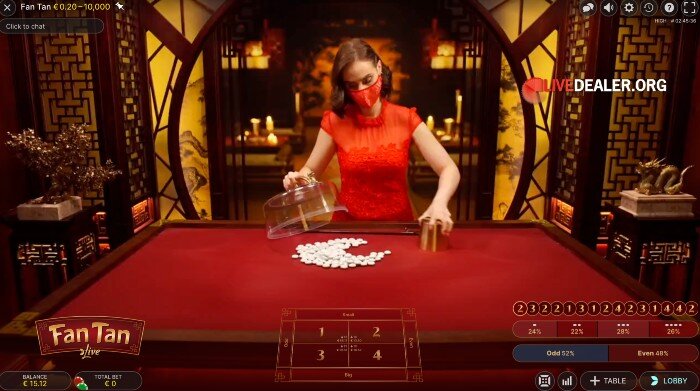 These are the beads that determine the final game outcome. They are rather theatrically spread across the table ready for sorting.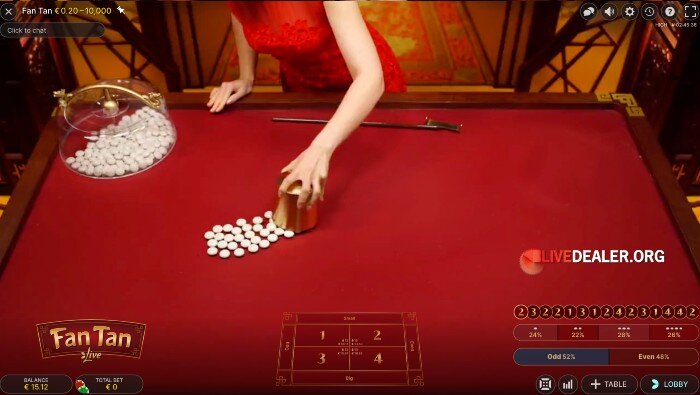 The sorting is done with a special bamboo stick designed to cradle the beads four at a time.
In turn, four bead groups are extracted from the pile and neatly lined up to the side of the table.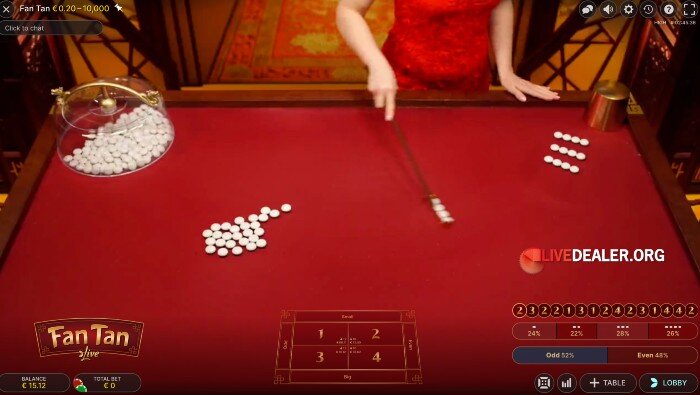 Eventually, 1, 2, 3 or 4 beads remain (2 for the below game).
Game over.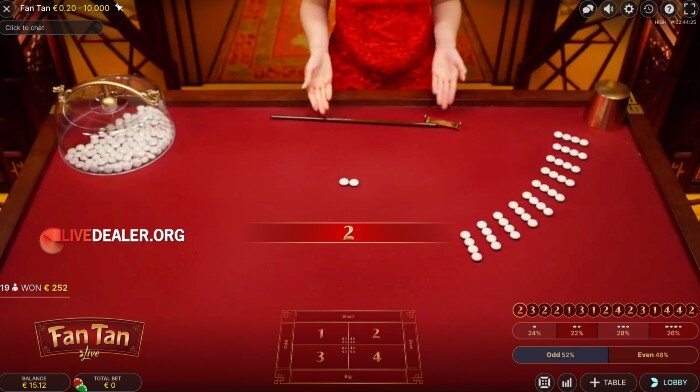 Fan Tan Live Bets and Payouts
Default bets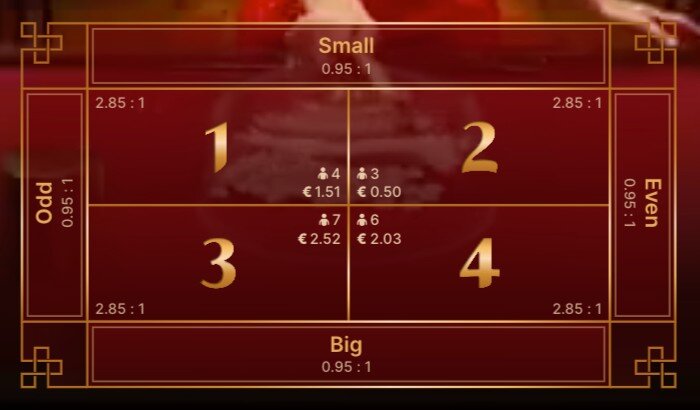 1, 2, 3, or 4: Also known as "Fan" bet. Win pays 2.85:1
Small (1 or 2), Big (3 or4). Win pays 0.95:1
Odd (1 or 3), Even (2, 4). Win pays 0.95:1
Advanced bets
A button bottom right of the game interface lets you switch to the advanced bet selector.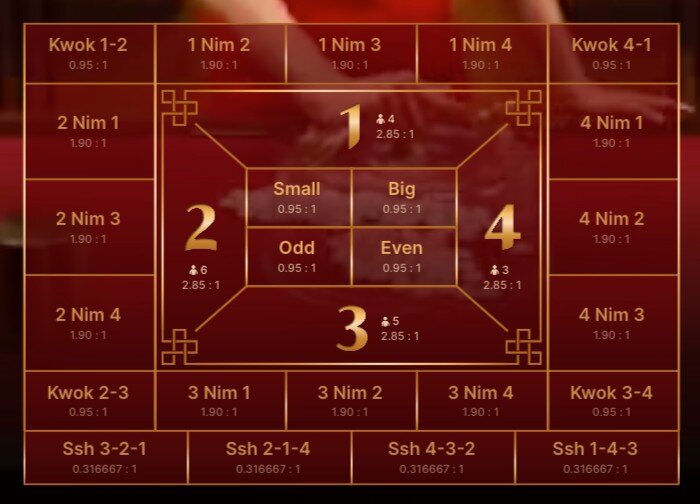 This selector lets you place any of the default bets, as well as a Nim, Kwok and Ssh bets.
Nim: Here you are choosing 2 numbers, a primary and secondary. If the primary number wins, payout is 0.9:1. If the secondary number results your bet is pushed.
Example: 2 Nim 4…2 beads pays 0.9:1. Bet pushes with 4 beads.
Kwok: Again you are choosing 2 numbers. If either number results, you win a 0.95:1 payout.
Example: Kwok 2-3…0.95:1 payout for either 2 or 3 beads.
Ssh: Here you are choosing 3 outcomes. If either of the 3 numbers result, you win a 0.316667:1 payout.
Fan Tan theoretical return
Just looking at the 0.95:1 payouts offered on the 50/50 chance bets: Big, Small, Odd, Even and Kwok you can see this isn't the best returning game.
Depending on your be selection, return to player is in the range 96.25% to 98.75%.
SSh is your optimal bet at 98.75%.
Full Fan Tan Live house rules
May be read here.
Fan Tan Live Video Recording
https://www.livedealer.org/dev/wp-content/uploads/2021/09/Evolution-fantan.jpg
465
700
LD
https://www.livedealer.org/images/Livedealer-logo.png
LD
2021-09-03 05:42:00
2021-09-03 05:42:00
Playing Fan Tan Live from Evolution