Arnold Snyder - Fighting for the rights of advantage players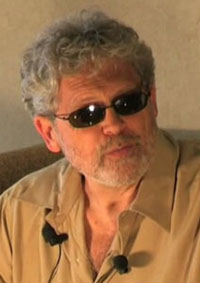 Arnold Snyder is one of the 7 foundation members of the Blackjack Hall of Fame and came to be known as the 'Bishop of Blackjack'. He terrorized casinos both at blackjack tables and then as an advocate for the rights of advantage/team players when casinos tried to impose legal sanctions on the rights of counters to play.
The importance of deck penetration
Arnold's analysis and subsequent books revealed to the wider blackjack playing world the importance of deck penetration in counting.
He also revolutionized (and demystified) the art of counting to some extent by coming up with radically simplified counting methods that didn't lose significant potential gain as against the far more complicated methods used by most professionals.
His Red Seven Count is so simple to understand and employ even the most mathematically challenged player would be able to use it with practice.
Fighting for the rights of advantage players
In 1994 Thomas Hyland, believed by many to one of the most successful blackjack counting team operators ever, was arrested after a very successful team play at the Casino Windsor, in Ontario Canada. A number of Las Vegas casinos, lead by Harrah's (who have an interest in the Windsor) convinced authorities to prosecute Hyland with the aim of establishing a precedent that counting and other advantage player techniques was illegal.
The court found in favor of Hyland, ruling that the conduct was not cheating, but merely the use of intelligent strategy. In handing down the decision, the presiding Judge referred repeatedly to the expert testimony of Arnold Snyder. Arnold went on to give expert testimony at subsequent cases involving casino attempts to prosecute advantage players, playing a not insignificant role in the preservation of the rights of blackjack advantage players in Canadian and U.S. casinos.
Passing on the wisdom
A prolific writer on all things blackjack, Arnold has shared his knowledge in a number of published books and his trade journal the Blackjack Forum which began in print in 1981 and is now also online. His books include:
The Blackjack Formula which exposed the importance of deck penetration to the world,

Big Book of Blackjack,

The Blackjack Shuffle-Trackers Cookbook,

The Blackjack Formula,

How to Beat the Internet Casinos and Poker Rooms
"Professional blackjack is a Darwinian survival-of-the-fittest world. Ultimately, your success will depend less on your bankroll than on your decisions. Whom are you going to trust? What do you really have to know?

Where will you rank in the gambling food chain?" - Arnold Snyder
---