Stanford Wong - the art of Wonging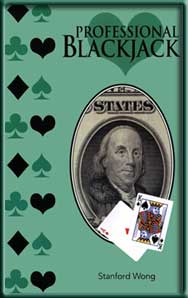 Another naturally gifted mathematician with a love of games and talent for identifying optimal playing strategy, Stanford Wong, (born John Ferguson - Stanford Wong is a pseudonym) was inducted into the Blackjack Hall of Fame in 2002 as one of only 7 foundation members.
Introduced to the possibilities of blackjack card counting after reading Edward Thorpe's Beat the Dealer, he was soon playing professionally and winning consistently at casinos around the world.
Teaching for free
Like many of blackjack's better known advantage players, Wong was an academic, with an MBA from Oregon State and a PHD in finance from Stanford (he took his pseudonym from his alma mater). Continued success at the Vegas blackjack tables however found him soon re-thinking his career path.
In 1976, seeking to devote more time to blackjack (which was earning considerably more money than his full time lecturing position at San Francisco State University), he negotiated a leave pass from all faculty meetings in return for a reduced salary - $1 for his last term.
Before long he gave the teaching away altogether and blackjack became his profession. Playing at casinos in Las Vegas as well as Korea, Macau, Indonesia and the Philippines - and making a very good living doing it.
Analyzing the game of Blackjack
When Ed Thorpe wrote Beat the Dealer, most casinos in America were dealing blackjack from a single deck, dealing 50 of the 52 cards, hitting soft 17's and allowing players to double any two cards. His counting methods were understandably devised to deal only with the game of the day. As casinos started to try and minimize the damage done by counters by adding multiple decks and rule variations, tweaks to optimal playing strategies needed in response.
A consummate student of the game, Wong devised counting methods to deal with the changes casinos were coming up with, as well as analyzing the mathematical returns attributable to each variation. His 'Blackjack Analyzer' software, initially created for his own use, became the first commercially available blackjack odds analysis program. He also published Professional Blackjack which grew from a handful of explanatory notes to players asking advice to a full blown book on counting and playing strategy.
No Mid-Shoe Entry
Ever been at a casino and seen the sign 'No Mid Shoe Entry' above a blackjack table? Plenty of casinos have them and they are there to prevent counters from 'Wonging'. Named for Stanley Wong, who made no secret of the fact that he refused to play negative decks, Wonging is the practice of watching a deal and only entering the game when the count is positive.
Wonging offers two very powerful benefits for the player. First, there is not bet spread and therefore counting bet pattern to betray your skills to the casino. You start playing a positive deck and can play aggressively from entry to the game. It's almost like the Big Player team approach, although you are the counter and big player all rolled into one.
Second, you are never playing a negative deck, wasting time with small bets until such time as the count is positive. I guess Stanley figured why mess around with any negative deck when I can play only positive shoes if I choose?
---