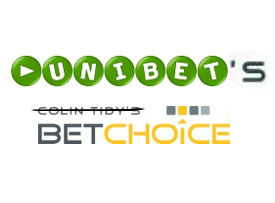 Colin Tidy's Betchoice is about to become Unibet's Betchoice.
Betchoice are a Northern Territory (Australia) based online wagering/sportsbetting business and news just out is that they've agreed to purchase terms with Unibet. If all goes to plan Unibet will be the new owners by mid 2012 at a cost of around $20 million – a big chunk of which will go to co-founder and current majority shareholder Mark Morrissey (Colin Tidy is the head bookie of the operation, not the owner as the logo suggests).  Betchoice will be then be re-branded to Unibet.
The acquisition gives Unibet a foothold into Australia's regulated online wagering market.  As CEO Henrik Tjarnstrom put it,
"This strategic acquisition gives Unibet immediate access to the regulated Australian market, which is currently open to sportsbetting and horse racing…the acquisition of Betchoice will provide Unibet with a platform to facilitate other gambling services and opportunities should market conditions continue to improve."
By 'continue to improve', Henrik is no doubt referring to the possibility of lawmakers extending online regulations to include casino games, which are currently not licensed. With plenty of strong anti-gambling sentiment and a current political push to place limits on terrestrial poker machine play, this could be a little optimistic.  But hey, you do never know when comes to politics.
What is more likely, in the short to medium term at least, is that Unibet Casino (including Unibet's live casino) will close it's doors to Australian players so as not to jeopardize the Unibet Group's newly acquired Australian wagering license, or be out of favour should online casino licenses come up for grabs.  This is what usually happens when one of the large European based operators acquires or applies for an Australian license – happened last year with bet365.
So if you're an Aussie currently enjoying the hospitality of Unibet live casino…enjoy it while it lasts!
https://www.livedealer.org/images/Livedealer-logo.png
0
0
LD
https://www.livedealer.org/images/Livedealer-logo.png
LD
2012-02-08 16:49:13
2012-02-08 16:49:13
Unibet enters Australian licensed online gambling market