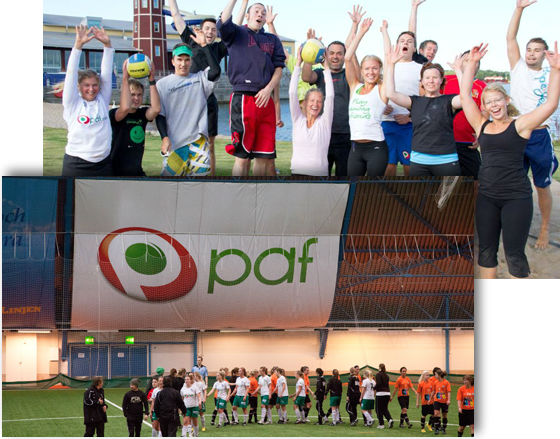 They look like a happy crew at Paf – that's their annual staff beach volleyball comp top right. And why wouldn't they be?  They probably think of themselves as modern day Robin Hoods…taking a little money from cashed up players and giving to the poor and needy.
Paf is a unique casino business in that it operates with the sole purpose of raising funds for various charities and non-profit associations in the Åland Islands. In case you hadn't heard of the Åland Islands (either), they're an autonomous, self governed region of Finland with a population of around 30,000 Swedish speaking residents.
Paf was founded  back in 1966 when a bunch of Åland based charity organizations got together and decided to co-ordinate their fund raising efforts through a single vehicle. They've been in the gaming caper for a while operating land based and floating casinos and more recently online with their betting site Paf.com.
Paf.com is licenced and controlled by the local Åland government with profit distributions to benefactors overseen by an independent allocation board. Those benefactors include:
Folkhälsan på Åland (Public Health on Åland)
Finland's Red Cross
Save the Children – Åland District
Ålands Sjöräddningssällskap (Åland's Lifeboat Association)
Ålands Ungdomsförbund (Åland's Youth Association)
Ålands Handikappförbund (Åland's Association for the Disabled)
Ålands Idrottsförbund (Åland's Youth Association)
Feeling warm and fuzzy inside yet?
If not, consider that since 1966 they have donated over €160 million to Åland charities. As CEO Anders Ingves puts it, "…when you win, you keep the money. When we win, our profit is used to improve lives."  Of course the the flip side to this is that when you win some poor handicapped child in Åland has to wait another year for their wheelchair…but don't let that play on your conscience.
What's all this got to do with LIVE CASINOS?
Simple. Some time in the next few weeks you'll be able to play live blackjack, roulette and baccarat at Paf, dealt by the beautiful dealers from Evolution Gaming. They're getting a dedicated, Paf branded live casino room that will contain a single roulette table and 2 blackjack tables. Paf players will also be able to play any of the live games on the general Evolution Gaming studio floor.
Good causes. Gorgeous dealers. Feel-good gaming is about to feel a little bit better I recon.
https://www.livedealer.org/images/Livedealer-logo.png
0
0
LD
https://www.livedealer.org/images/Livedealer-logo.png
LD
2012-03-21 01:12:12
2012-03-21 01:12:12
Paf: the feel good casino company