IMPORTANT UPDATE  – Approach Grand Parker with extreme caution (better yet, do not approach at all). Complaints have been numerous.
Check our US player friendly casinos page for better options.
When it comes to online casinos, new isn't necessarily a good thing.
Old (10+ years online) is generally better.
Very old (10+ years online, 80+ years on the high street) is probably best.
There's a very understandable player perception that new (and unknown) casinos can very inconveniently disappear into the thin air whence they came.
Throw into the mix the fact that a casino is owned and operated by a company incorporated in Curaçao, is licensed and "regulated" in Curaçao, and has one of those welcome bonus offers that has a whiff of too good to be true about it ($8,000 match bonus), and I'm now imagining some Ivan Block type character running the show from a grandiose plantation house surrounded by heavily armed, sinister looking security guards.
Grand Parker Casino was brought to my attention during the week and it fits the above description. Minus the bit about Ivan Block and his plantation house, hopefully!
Live dealers? Yes. US players welcome? Yes
While Americans will never have a problem finding RNG casinos they can play at (even locally licensed ones in some cases), finding live dealer casinos welcoming US players isn't quite so easy.
Grand Parker recently added live dealers, joining the still small but growing list of US friendly live casino options out there.
Which live dealer platform?
I've been told Grand Parker's live games are powered by TopGame who have been in the RNG space for quite a while now.
A visit to TopGame's website reveals that Live Dealers are indeed listed among the products they now offer.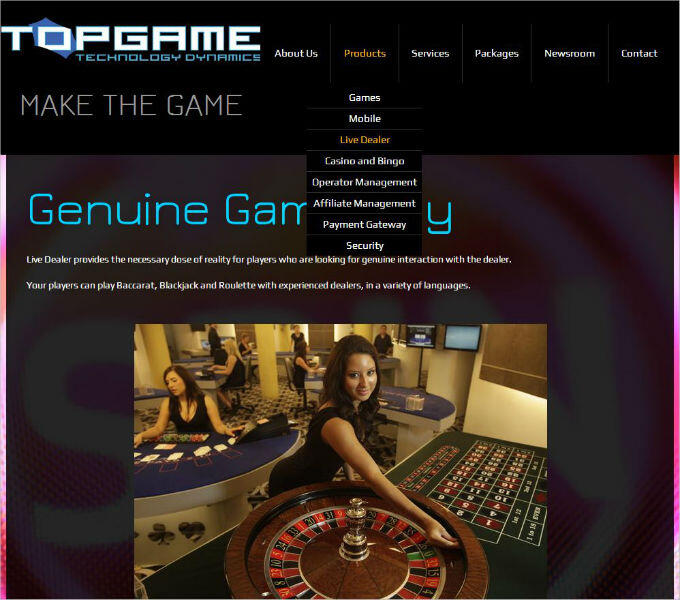 There's also a  news release on the site heralding the next big thing…

and explaining that,
…we now introduce the new LIVE DEALER integration 
Not sure exactly what integration involves, but I doubt that it includes operating a dealer studio and developing/delivering the game UI. I say this because the live dealer games they are integrating appear from the website pics to be Visionary iGaming's (Fairway Casino, Celtic Casino, 5Dimes Casino) and not TopGame's. Some kind of sub-license arrangement between ViG and TopGame perhaps?
Any shadow off doubt that this is the ViG studio disappeared after signing up at Grand Parker and playing the games. Chatty vivacious dealers, Costa Rican accents, loud music punctuated by the dealers clap-clapping in unison when a player tips and of course the same looking studio.
Tabbed game windows
Grand Parker offers live blackjack (7 seat), baccarat, and roulette (single zero). You can play these games from your browser with no need for a software download.
You can also open all three games at the same time, and switch from one table to the next by just clicking the game tabs. Word of warning though…if you have multiple tables/windows open you will get the audio from all tables until you figure out how to turn it off…3 voices, 3 versions of the same background music slightly out of sync etc.
Live blackjack at Grand Parker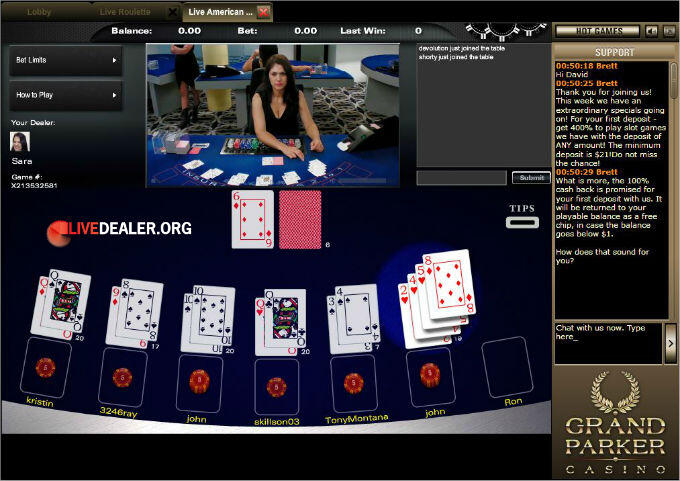 Live baccarat at Grand Parker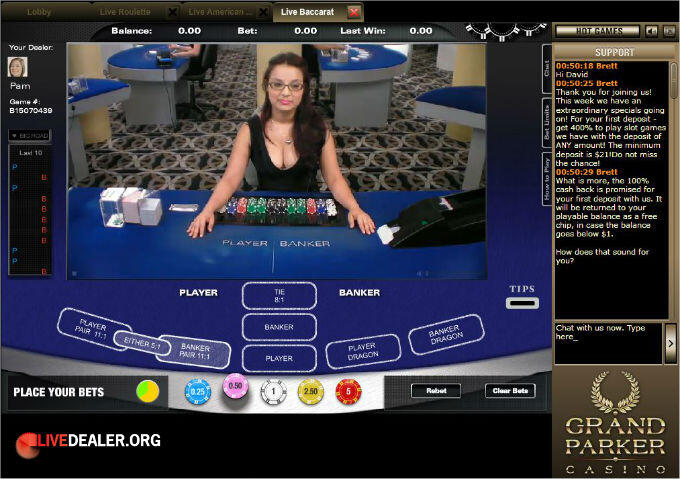 Live roulette at Grand Parker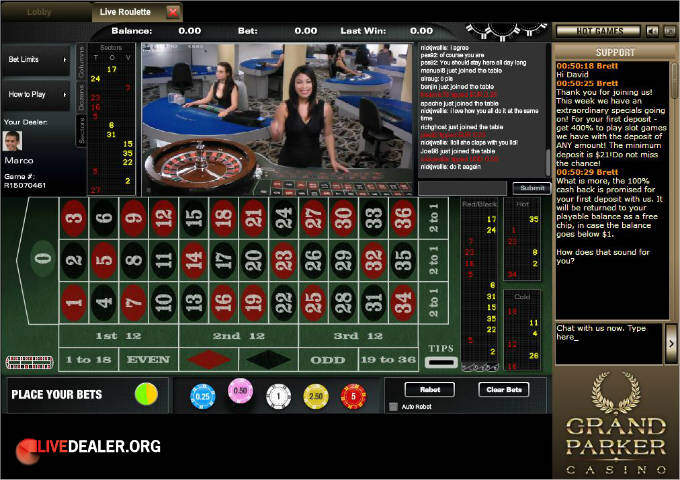 In conclusion…
If you live outside the US, there are definitely better live casino options for you. If you live in the US and are looking for a live dealer option, give them a go and let us know your thoughts.
https://www.livedealer.org/dev/wp-content/uploads/2014/03/topgame.jpg
600
680
LD
https://www.livedealer.org/images/Livedealer-logo.png
LD
2014-03-18 02:29:19
2018-07-12 10:03:52
Grand Parker: A new live casino option for US players