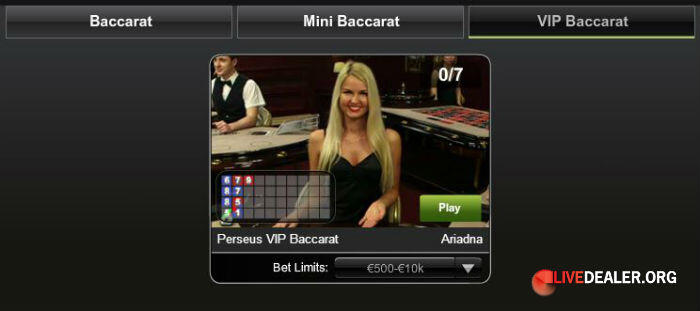 Playtech's new Euro studio VIP baccarat is their latest and greatest live game.
Perseus VIP Baccarat is what they call it and at time of writing it was being offered at Betfair and Ladbrokes. Presumably this list will grow in coming months.
So what's VIP about it?
Limits are high
The limits for a start, and that start is €500 or £250. Yep that's the smallest chip you can put on the table to be part of the action. Probably one of the reasons Ariadna (above) has no players at her table. In fact it took a week of regularly stalking this table before eventually finding an active player.
Maximums go up to €10,000.
You get to squeeze and peek at the cards
The game lets players remotely participate in the baccarat card squeeze/peek ritual.
The player with the highest 'Player' bet gets to squeeze and peek at cards dealt to the Player position. The highest staking Banker bet gets to squeeze and peek at cards dealt to the Banker position.
Obviously you can't reach into the game window and squeeze the cards yourself. Instead (assuming your're the highest staking player), you get to instruct dealers sitting left (Player position squeezer) and right (Banker position squeezer) of the table to do this for you using the Half Squeeze, Squeeze, Rotate, Toss buttons located under the card peek video viewer ('squeeze cam').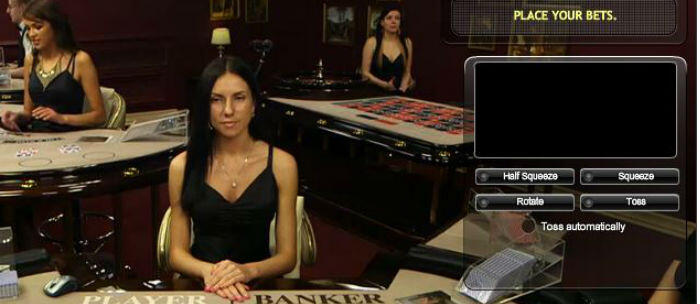 Couple of other buttons the guys at Playtech may want to add here to really give the table a Macau floor feel…stab, blow, slap, tear, and a range of verbals the dealer has to try and mimic…shriek, snort, growl, woohoo.
Now while the dealers/squeezers are doing as instructed by the highest staking players they (and only they) get a look at the card before other seated players via 'squeeze cam'.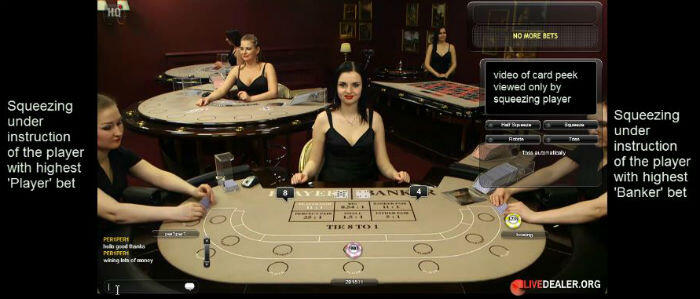 Below is a recording of a game. Unfortunately you don't get to see the squeeze cam video, as I wasn't the highest staking player. To be honest I wasn't a staking player at all (€500 is more than my combined Ladbrokes/Betfair balance at present).
https://www.livedealer.org/dev/wp-content/uploads/2015/03/vipbaccarat4.jpg
311
700
LD
https://www.livedealer.org/images/Livedealer-logo.png
LD
2015-03-12 18:31:54
2018-10-15 12:46:47
Playtech's new VIP live baccarat