The Credit Suisse Global Wealth Reports always make for fascinating (and slightly disturbing) reading. The 2016 edition is no exception.
The report provides a snapshot of worldwide wealth distribution.
If you're feeling poor, cheer up. After reading this report and you'll soon realise that in global terms you're actually quite rich. In fact, you may find that you're so comparatively wealthy, that you'll be ashamed of yourself for feeling poor in the first place.
How the other half live
If you have net assets of USD 744,400 or more in 2016 you're among the wealthiest 1% in the world. A net worth of $71,600 puts you in the top 10%. A staggeringly low $2,220 makes you one of the wealthiest half of world citizens. Make no mistake; you are part of the other half.
The global median wealth figure of $2,220 represents a substantial drop from the 2015 report ($3,210). Largely due a strengthening US dollar relative to developing nation currencies during 2016, but also continuing a clear trend over the last decade.
Globally median wealth continues to fall post GFC, reversing the pre GFC trend (2000 to 2008) when it increased every year. In contrast, the top percentile's share of the global wealth pie fell from 2000 until the GFC, and has risen ever since.
The post GFC world continues to be one of rising wealth inequality.

The top 1% now own 50.8% of global wealth. The bottom 50% collectively own less than 1% of total wealth.
If you think that sounds a little lopsided, consider the below.
Charity organization Oxfam have extrapolated the Credit Suisse data further in an article on their website, to estimate that the wealthiest 8 men in the world have as much wealth as the poorest half of the world's population (approximately 3.6 billion people).
Those men are : Bill Gates ($US75 billion, Microsoft); Amancio Ortega ($US67 billion, Zara); Warren Buffett ($US60.8 billion, Berkshire Hathaway); Carlos Slim Helu ($US50 billion, Telecom); Jeff Bezos ($US45.2 billion, Amazon); Mark Zuckerberg ($US44.6 billion, Facebook); Larry Ellison ($US43.6 billion, Oracle); and Michael Bloomberg ($US40 billion, Bloomberg LP).
In January 2014 Oxfam published a similar headline grabbing analysis off the back of Credit Suisse's 2013 Global Wealth Report, claiming the 85 richest people had the same wealth as half the world's poorest. We've moved on a long way from there!
Not sure Oxfam's math is spot on by the way. Total global wealth (per Credit Suisse) is $256 trillion. The poorest half own about 1% of that (per Credit Suisse) which makes $2.56 trillion or $2,560 billion which is a lot more than Gates and friends combined ($426 billion using above figures).
The ultra wealthy
Lots more millionaires. Lost more multi-millionaires. Lots more billionaires. As the Credit report puts it:
"No other segments of the wealth pyramid have experienced as great a transformation this century as the millionaire and ultra high net worth (UHNW) segments. The number of millionaires has increased by 155%, while the number of UHNW individuals has risen by 216%."
Ultra High Net Worth is defined as wealth above $50 million. Here's where they are.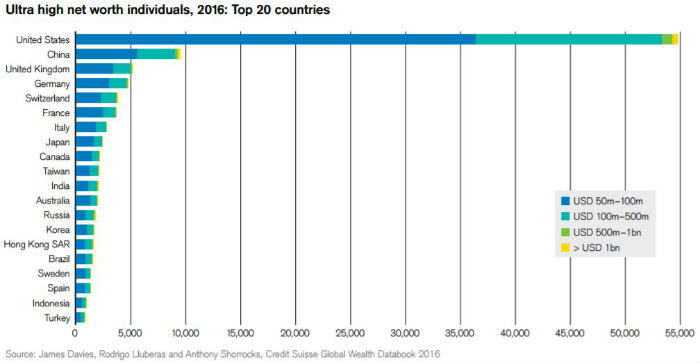 Wealth of Nations
When it comes to per capita wealth, Switzerland tops the rich list.
Average wealth per capita ($000s):
Swiss: 562
Australia: 376
US: 354
The UK suffered the biggest fall in this category, with citizens there worth on average $33,000 less than in 2015 due to Brexit effects.
Median wealth per capita ($000s):
Swiss: 244
Australia: 163
Belgium 155
In median terms, the US comes in at only 23rd place ($45,000), highlighting significant wealth inequality there by developed world standards considering their average figure and number of UHNW individuals.
Number of millionaires (000s):
US 13,554
Japan 2,826 (19% yen/USD appreciation during year provided a boost here)
UK 2,631
Number of billionaires:
US: 582
China: 244
Russia: 96
Despite being number three on the billionaires list, Russia's median per capita wealth is only $991.  The richest 1% of the population controls 75% of total wealth there making them the wealth inequality champions. Guess those oligarchs aren't that keen on sharing it around .
https://www.livedealer.org/dev/wp-content/uploads/2017/01/mw.jpg
296
300
LD
https://www.livedealer.org/images/Livedealer-logo.png
LD
2017-01-17 06:09:23
2018-09-07 17:06:31
Credit says the rich still getting richer