Leo Vegas have launched a bunch of enhancements to their mobile casino, many of them focused on their mobile live games.
The new features are exclusive to LeoVegas. They are not provider developments available across a number of casinos. Indeed, Leo Vegas have applied the new features across the full (and large) range of tables and platforms that they offer in their mobile casino, all of them aimed at making it easier for players to select and play their favourite live tables on their phones or tablets.
The folk at Leo Vegas are pretty excited with what they've managed to achieve here, and understandably so.  Certainly won't do their claims to being the King of Mobile any harm.
Here are some of the key enhancements.
For mobile live blackjack players….
A raft of new real time data is now presented in the lobby:
Dynamic updates of minimum and maximum stakes;
Seat availability;
Hands per player allowed ( VIP aimed feature) .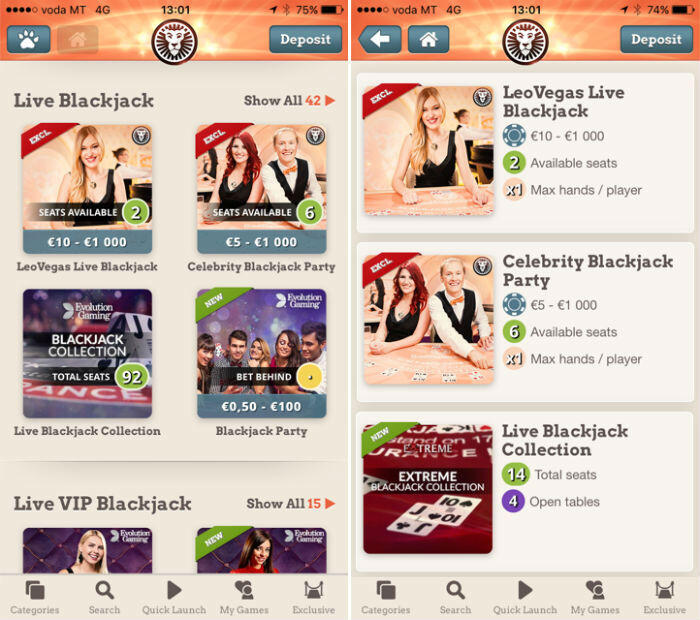 ————————————————
For mobile live roulette players…
Roulette fans get table limits and real time data also in the form of latest roulette numbers. Tables opening later are also presented.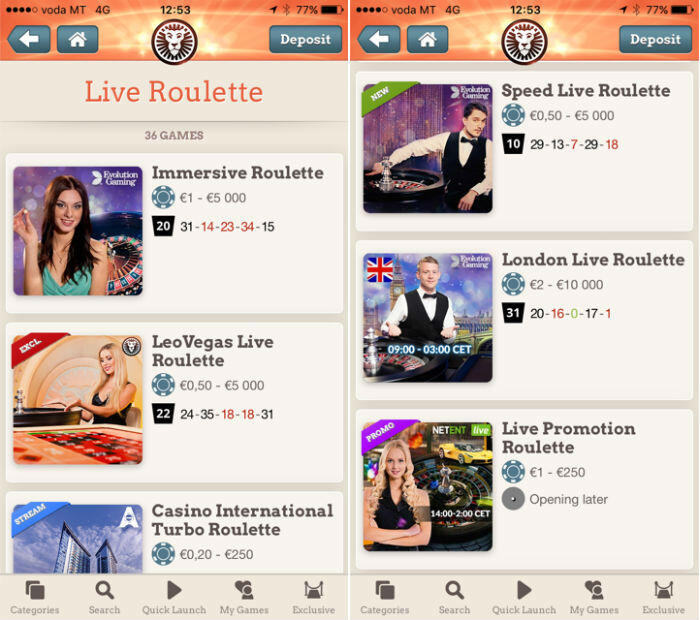 ————————————————
Across the board…
Then there's a long list of enhancements across all game categories. While playing any of the Evolution Gaming tables, you can now make a deposit without leaving your seat.  Favourite and latest played tables are quickly accessible via My Games and Quick Launch features.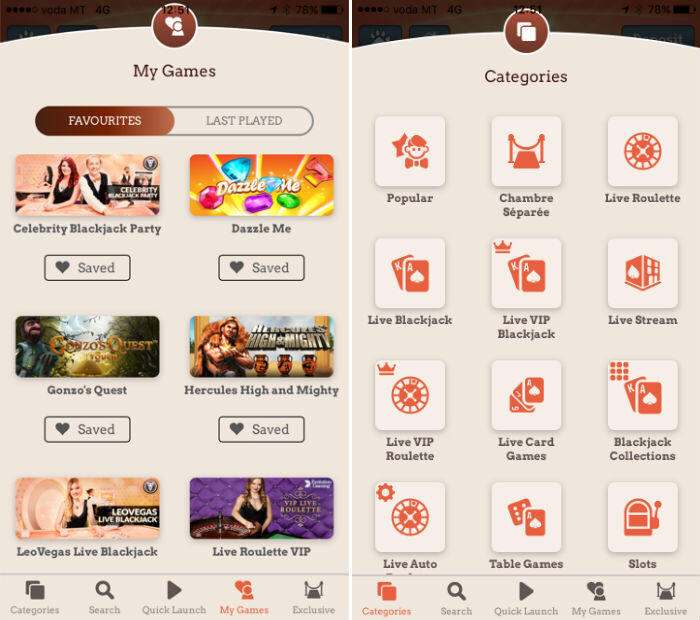 And maintaining ease of navigation around what is now a very large list of available tables has obviously been front of mind with thumb-optimised access to a slick bottom nav provided.
Here's a summary of the major enhancements.
Real time data display in the Live Casino Lobby on mobile;
Bottom Navigation available in Portrait Mode;
Dynamic updates of Min/Max Stakes;
Dynamic updates of BJ Seat Availability combined with the relevant command for user;
Dynamic updates of Hands Per Player Allowed ( VIP aimed feature);
Dynamic updates of Latest Roulette Numbers;
Implementation of Net Ent, Extreme Live Gaming and Ezugi APIs;
Ability to indicate tables 'Opening Later';
Seamless and continuous data update without the need for page refresh;
New set of tools assisting in their game choice process…Quick Launch, Favourites, Last Played;
Ability to fully utilize multi-provider strategy by maximizing the visibility of seats available on various tables;
New Categories in the Game Lobby,
e.g. VIP BlackJack, BlackJack Collections and over 40+ new games available via Direct Game Launch
Video demo of enhancements…
The guys at Leo Vegas have put together a nice video demo of their live for mobile enhancements.
Well done Leo Vegas!
https://www.livedealer.org/dev/wp-content/uploads/2017/05/leovegas-moble-liveblackjack.jpg
620
700
LD
https://www.livedealer.org/images/Livedealer-logo.png
LD
2017-05-12 10:53:53
2018-07-12 10:03:29
Leo Vegas enhances mobile live casino