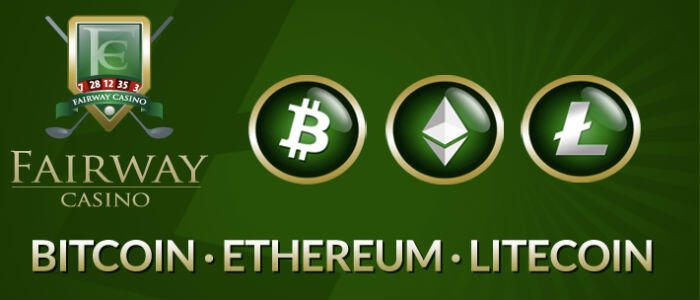 Fairway Casino have jumped aboard the cryptocurrency bandwagon in a big way. They now accept Bitcoin, Ethereum and Litecoin deposits and withdrawals.
Bitcoin you will be familiar with; unless you've just woken from a 3 year coma, in which case you can catch up on Bitcoin here. One crucial update to that post…the value of a single Bitcoin has since risen from $142 to around $2,500, and it tends to move around $100 per day.
Ethereum is the new darling of the cryptocurrency world, predicted by some crypto-geeks to soon overtake Bitcoin and become the dominant digital currency. The value of an Ether coin rocketed from $10 in January this year to $400 in June before correcting to $200. Good ride for some, rather painful for others.
As for Litecoin, if you'd heard of this one before today you already know more about it than me.
Anyway, if you possess any of these magical little digital currencies, you can now use them for deposits and withdrawals at Fairway.
If you don't have any and feel the need to join the crypto revolution, you can buy them with fiat currency at an online exchange like Kraken (word of warning though, getting your account verified to the level required to purchase cryptocurrency using regular currency takes 4-6 weeks presently). If you have a friend looking to offload some Bitcoin etc, you only need to get a digital wallet (bread works well) which takes minutes to get up and running and you are ready to hold, receive and send almost instantly. Of course you'll still need to get your Kraken account verified to exchange your coins for old-fashioned currency.
Confused?
Welcome to the club.
https://www.livedealer.org/dev/wp-content/uploads/2017/07/crypto.jpg
300
700
LD
https://www.livedealer.org/images/Livedealer-logo.png
LD
2017-07-27 15:09:36
2018-07-26 16:44:43
Bitcoin, Ethereum, Litecoin now at Fairway