Barely a week into 2018, the UK Gambling Commission ("the Commission") have come out of their corner swinging hard.
They've written to all online casino operators to let them know that following a recently undertaken compliance assessment, 17 are now under investigation and 5 of them may face a license review.
The letter, dated 4 January, advises that a number of operators are still falling well short of their obligations in two key areas:
 Anti-Money Laundering (AML) regulations, and
Social Responsibility provisions.
On the AML front, the Commission found that for a number of operators there was a, 'lack of evidence of ongoing monitoring of customer accounts', that is required under the regulations.
When in comes to social responsibility, the (SR) code stipulates that, 'licensees must put into effect policies and procedures for customer interactions where they have concerns that a customer's behaviour may indicate problem gambling'.
During their assessment the Commission reviewed a large number of customer accounts identifying potential signs of problem gambling but in many cases this behaviour did not trigger a customer interaction.
From the Commission's Strategy 2018-2021 doc…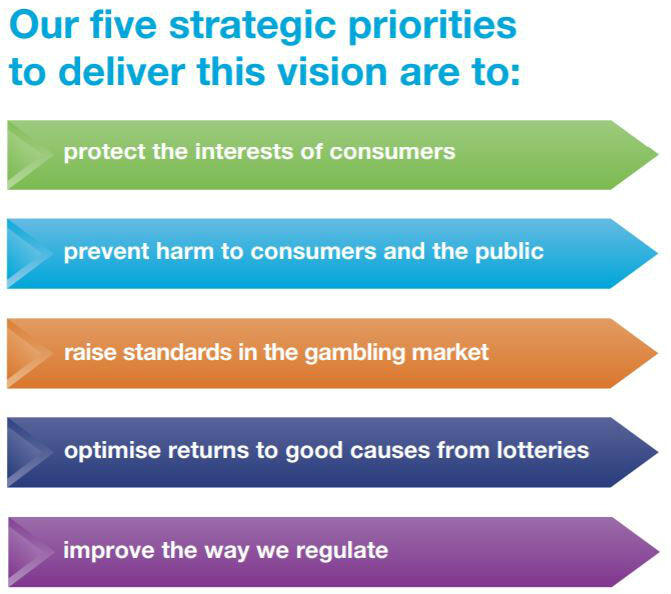 The Commission's intent to take breach of AML and SR obligations seriously were made clear during 2017 when 888 were put under license review, before being slapped with a £7.8 million fine for their indiscretions. It looks like this won't be the last big fine we'll see in this area.
At the risk of pointing out the obvious, SR obligations are completely counter to operators' profit aspirations so this will be an ongoing battle between the Commission and operators. It's kind of like having a big jar full of cookies and telling a fat kid the rule is: only 1 cookie allowed per day. A cookie jar compliance assessment at week's end will likely reveal numerous breaches; perhaps even a need to take away cookie privileges altogether!
Tough task indeed. But the Commission seem determined.
In the worlds of Gambling Commission CEO, Sarah Harrison:
"As the online sector continues to grow, and now accounts for a third of the British gambling market, it is right that we maintain a sharp focus on online gambling."
https://www.livedealer.org/dev/wp-content/uploads/2018/01/gcom.jpg
594
671
LD
https://www.livedealer.org/images/Livedealer-logo.png
LD
2018-01-08 04:35:41
2018-01-08 04:35:41
Gambling Commission investigating 17 online operators