One of Las Vegas' newer casino resorts, The Cosmopolitan, opened its doors back in December 2010.
The Cosmopolitan of Las Vegas is a $3.9 billion project sitting smack bang on the Strip. It's twin towers, the Boulevard and the Chelsea, each stand 603 feet tall and together boast over 3,000 rooms.
Residing on 4 of the top 5 floors of the Boulevard Tower are 21 penthouse suites that didn't exist when the property opened back in 2010. The Boulevard Penthouses didn't start housing guests until 2017, and still today you won't find any details of these suites or how you can rent them on the Cosmopolitan's website.
That's because you can't.
The only way you get to stay in one of these suites is by invitation. Those who make the invite list, the VVIP subset of casino's VIP player list, have free access whenever they want. Well, when I say free…there's no room tariff; but there's certainly an expectation of high stakes play (or a healthy history thereof) in The Reserve.
The Reserve is a private gaming salon on the Boulevard's 75th floor. It's also an invite only affair with a minimum session buy-in of $1 million.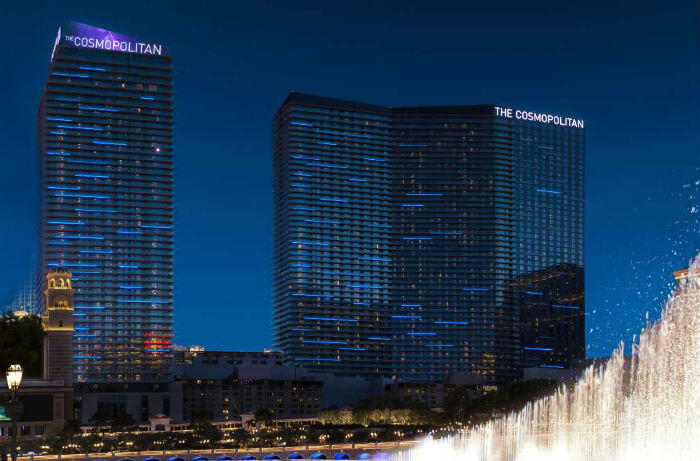 Just the right amount of wrong
Just the right amount of wrong is the tag line the Cosmopolitan's marketing heads use. Pretty apt for a casino that has positioned itself to cater to the often peculiar whims of the world's highest of high rollers.
Or as chief marketing head Leslie Sadovia puts it, "It's a judgment-free zone. People can come and behave in an extreme manner, and we're not telling them not to."
Makes you wonder what sort of extreme behaviour a fly on the wall would see on the top floors of the Boulevard. Well thanks to a recent article in the Washington Post, contributed by a former butler at the Cosmopolitan, we can get some idea.
So how wrong?
Boulevard Penthouses come with personal butlers. They also come with hosts who take care of all the guests gaming needs. But it's the butlers it seems who get a little more of an insight into what goes on behind closed penthouse doors.
Take for example the butlers who have to pack up a guest's luggage while that guest is having sex (with someone else, not the butler). It's a regular checkout ritual for this particular guest, who also happens to be an NBA star.
Or how about a billionaire guest who decided it would be funny to buy the Cosmopolitan out of their entire stock of champagne. A multi-million dollar joke, just because they could. Hilarious?
There was once a request for a monkey dressed in a butler's outfit to greet penthouse visitors.
Zoo animals generally are a common request…tigers especially for guests wanting to re-enact that scene from the Hangover. These are denied on animal cruelty grounds. Some extreme behaviour isn't enabled.
One of the Boulevard Penthouses. No tigers in this bathroom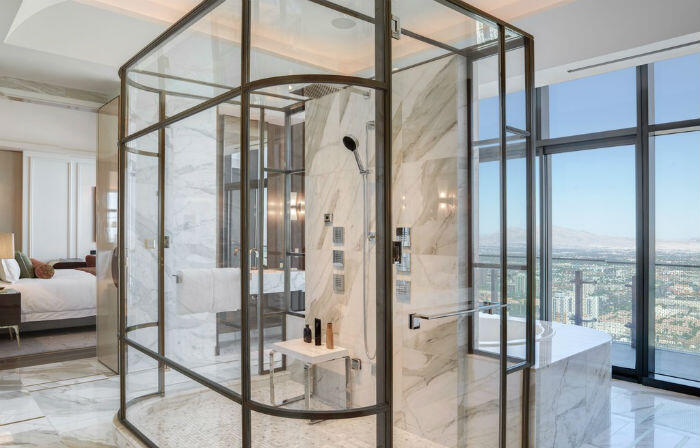 Superstitions of High Rollers
We know gamblers, high rollers in particular and high rollers of Asian origin particularly in particular, are a superstitious lot. Of course the casinos knows this also. This is one of the reasons why there is a 75th floor in a building which physically comprises 51 floors.
There are quite a few numbers that don't exist on the elevator button panels, including 40 through 49 given 4 is bad luck (the Aria has no floors in the 40s either). Presumably 14, 24, 34 etc are all missing as well.
The Cosmopolitan does it's part to put superstitious guests' minds at ease. But quite a few feel the need to go that extra yard.
Like a guest who filled all water basins in his room to the brim, and insisted they remained that way for the duration of his stay.
A few have been known scatter pierced oranges and lemons around their rooms – a strategy thought to release good luck. Of course for the strategy to work the fruit has to remain scatted for the entire stay, even if that stay is long enough to turn it all rotten.
A common must-do in order to prolong a streak of good luck – dispose of nothing, no matter how insignificant while that streak lasts. Crumped paper, ash in an ash tray, chewing gum. Nothing goes until the streak is completely over.
The Washington Post piece, tells of a player whose wife (clearly not aware of the rules) had thrown a used plastic wrapper in a bin, which had then been emptied. The player had his butler try retrieve the wrapper from the hotel's garbage.
High Stakes in The Reserve
I guess if I was playing for the stakes these people do, I'd be inclined to look for any possible advantage, no matter how ridiculous.
As mentioned above, buy-in at The Reserve starts at $1 million. Clients ready to gamble more than $2 million only need to tell their host as much and The Reserve will be opened (of not already open), set up with that client's preferred games and fully staffed in under half an hour.
Baccarat is game that sees the majority of turnover.
How's this for a large session? A single player, playing 2 baccarat tables simultaneously betting $300,000 per hand on each. Even allowing for card bending, stabbing, and whatever else he was no doubt doing, the rate of play was around a hand a minute for each table. That's $600,000 wagered every 60 seconds. Just under $40 million staked per hour.
The biggest single session win witnessed by one of the Reserve's managers: $6 million on the European roulette table (seems Mr Baccarat above wasn't so lucky). Far less than the $30 million that same manager had witnessed while in the employ of another casino.
With high stakes come some pretty high tips. Rather than giving a simple tip, it's common practice for clients in the Reserve to pledge winnings to a dealer. Something like, a grand on red … if it comes up, $2k is yours.
The largest bet of this kind to date was a $150,000 bet which, had it won, would have seen the dealer end their shift with a $300,000 tip (the bet lost, but still).
Unsurprisingly, becoming a dealer in the Reserve is a pretty sought after gig!
https://www.livedealer.org/dev/wp-content/uploads/2018/09/cosmopolitan.jpg
461
700
LD
https://www.livedealer.org/images/Livedealer-logo.png
LD
2018-09-12 18:05:39
2018-09-12 18:12:14
Vegas' highest of high rollers: needs, wants, superstitions