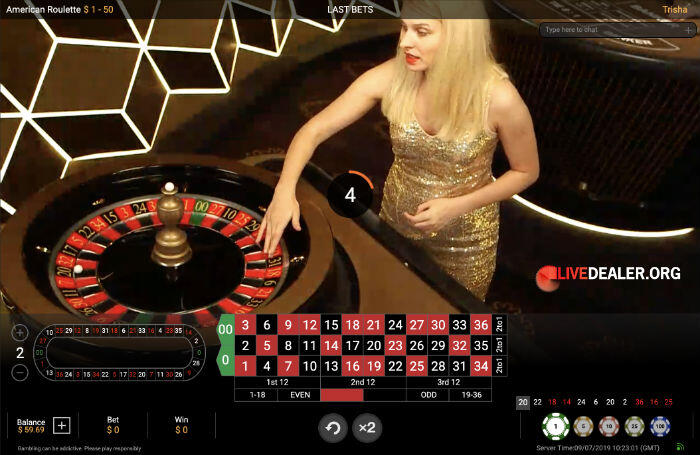 Live American Roulette is one of a bunch of new tables Playtech have launched in recent days.
It comes adorned in all the gold trappings of their Grand tables in the Riga studio. In fact, it's pretty much the Grand Roulette table with an extra (00) pocket on the wheel and bet position on the table.
Two green pockets on the wheel: 0 & 00…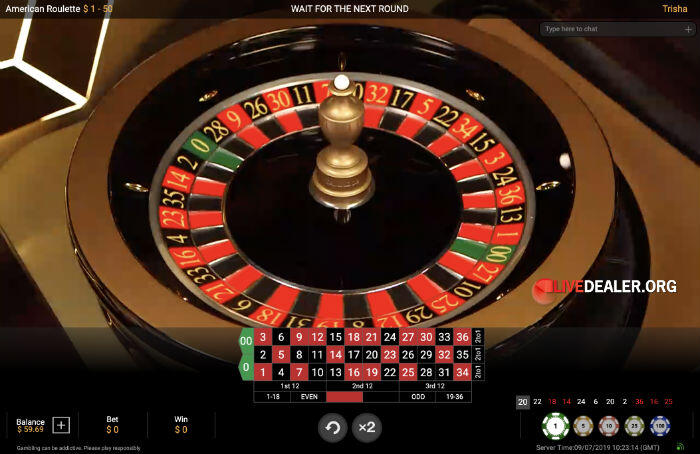 Aesthetically not a big change. Financially a massive change. More on that in the bets, payouts and returns section below.
The number order on the wheel is also different. This doesn't effect your returns, but will impact your usual neighbours bets. For example, 0 and 32 aren't neighbours on the American wheel as they are on the European/French wheels.
The most positive of spins
I did enjoy Playtech's spin on American Roulette which greets you when you first open the table.
Welcome to American Roulette! This game features a "00" bet position, opening up new bet combinations.

They're not wrong. You can now bet on 00. You can also use the racetrack to take neighbours bet selections including 00. You can include the 00 bet in any other chosen bet combination. None of which you could do on any of their European or French roulette tables.
But for any possible bet you choose on this table, theoretical returns will less than the same bet on a European table.
Reality: American Roulette Rules, Bets, Payouts
Standard roulette bet options and payouts apply on this table. These are clearly indicated on the game UI.

The same payouts apply on European and French tables. The big difference though is the number of possible outcomes each spin, which are:
38 on American Roulette (1 to 36, 0 & 00)
37 on European Roulette (1 to 36, 0)
Same payouts, more possible outcomes, equals inferior returns…
94.74% on Playtech's American Roulette table versus
97.3% on their European Roulette tables.
You can read more about roulette return to player considerations here.
The key takeaway here (as for Evolution Gaming's American Roulette table), is don't play this table.
You're likely to win more money, or rather lose less money playing Playtech's other roulette tables.
Where to Play Playtech's American Roulette
If you are determined to help the casino's bottom line, you can play Playtech's live American Roulette table now at bet356. By month's end it will no doubt be available at most Playtech live casinos.
Some Video Action…
https://www.livedealer.org/dev/wp-content/uploads/2019/07/Playtech-American-Roulete-wheel.jpg
454
700
LD
https://www.livedealer.org/images/Livedealer-logo.png
LD
2019-07-09 12:50:42
2019-07-09 12:52:00
Playtech adds Live American Roulette table