Playtech have a new live table – Bet On Poker. In fact, they actually have a new live game category – "Bet On".
At time of writing this category is already occupied by a couple of tables. Bet On Poker and the also just-released Bet On Baccarat. Presumably more Bet On titles are on there way.
The 'Bet On' game concept is not a new one. Betgames.tv pioneered it. And yes, there is a Betgames Bet On Poker table that has been running for over five years now.
The Bet On concept is simple. Take a familiar game and offer house calculated payouts on a range of possible deal outcomes. Multiple betting opportunities may be afforded during the course of the deal, and payouts are automatically recalculated by the house to reflect the cards on the table.
How to Play Bet On Poker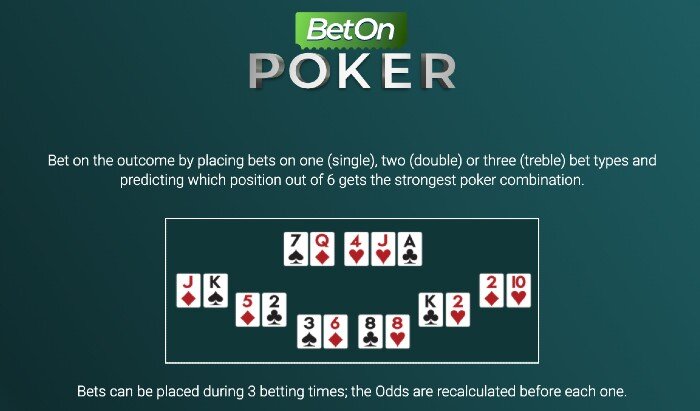 The above instructional page that is presented as the game loads gives you the quick and dirty. Watch one betting round and you'll pretty much have the hang of it.
The dealer deals 6 face-up hands of poker, Texas Hold'em style. The deal is from a single deck.
Before, and during this deal you can bet on a range of outcomes.
There are 3 opportunities to bet:
before the deal commences
after the pocket cards are dealt
after the flop is dealt.
There are 3 categories of bet you can take:
Main Bets
Combinations
Suits & Colours
Payouts for any of these bet options (you can take as many as you like) are presented at each of the bet opportunities.
The Main Bets
Here you're betting on which of the 6 hands will win (ie best pocket + community card hand using normal poker rankings).
The pre-deal opening payout is 5.29x. House edge is plain to see here (6 possible outcomes, 6x would be the zero house edge payout).

After the pockets are dealt, the payouts adjust. In the below example, Hand 1 with a suited KQ is the odds on favourite, and the payout now reflects this.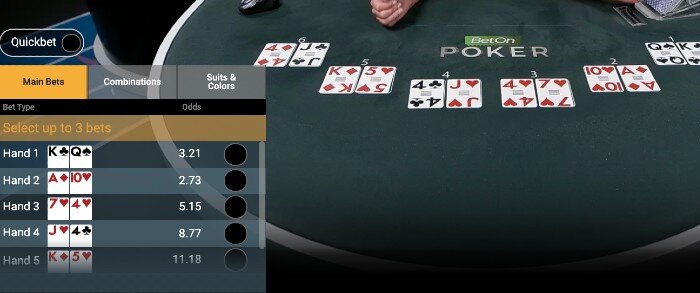 After the flop you can take more Main Bets, with house recalculated payouts.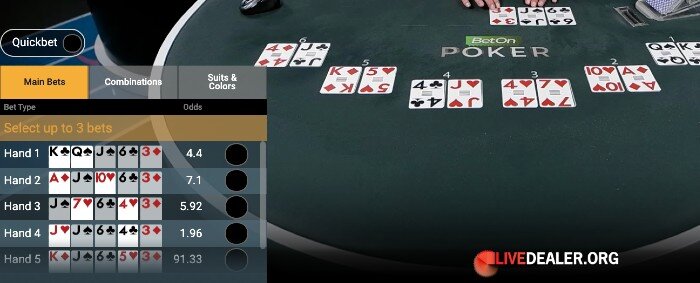 Combination Bets
Here you are betting on the whether any of the hands will achieve a specific poker hand rank – Straight Flush, Straight, Flush etc.
Here are your opening payouts.

Again, they adjust as the deal progresses.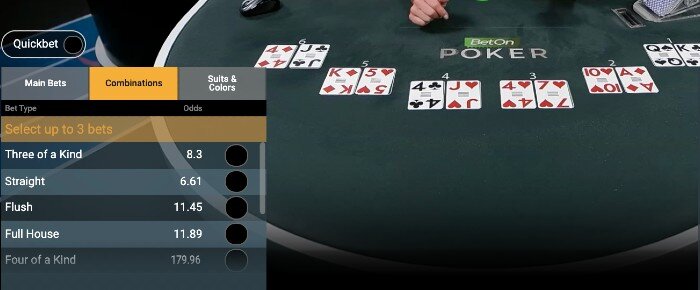 As outcomes become impossible (eg Flush), they become locked.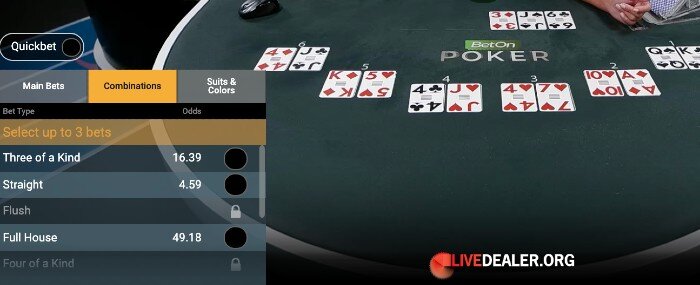 Suits & Colors Bets
These are a hodge podge of possible deal outcomes you can also bet on. You can see some of the examples below.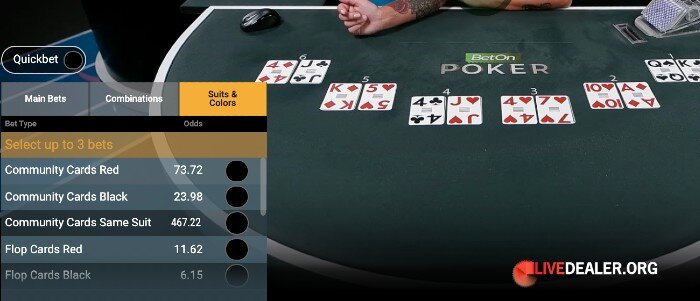 Multibets
In addition to the above single bets, you can take multibets. Here you are betting on multiple outcomes all occurring.
For a Double, you want both of 2 outcomes occurring. A Treble is a bet that all three chosen outcomes occur.
Your Bet Slip
Each of the betting rounds you can take up to 3 bets on each of the categories. That's up to (3 x 3 x 3 =) 27 possible bets for a single deal. And that's before Doubles and Trebles are considered.
Of course you don't have to bet manically. Just the one or two bets per deal is certainly the calmer approach.
Which ever your choice all bets are recorded and displayed on a bet slip, bottom right of screen.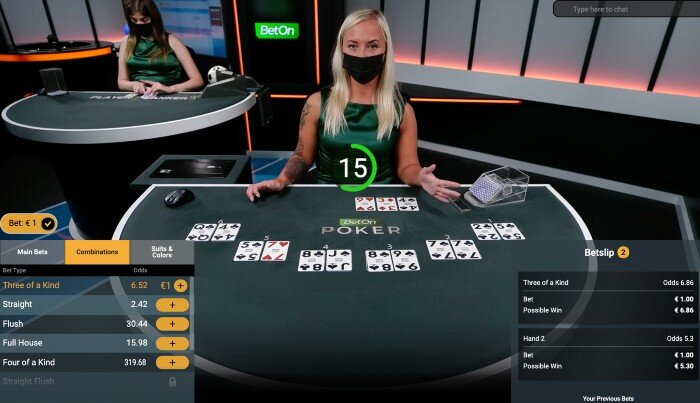 In this game, my Betslip shows 2 bets. The Main Bet on hand 2 ends up winning…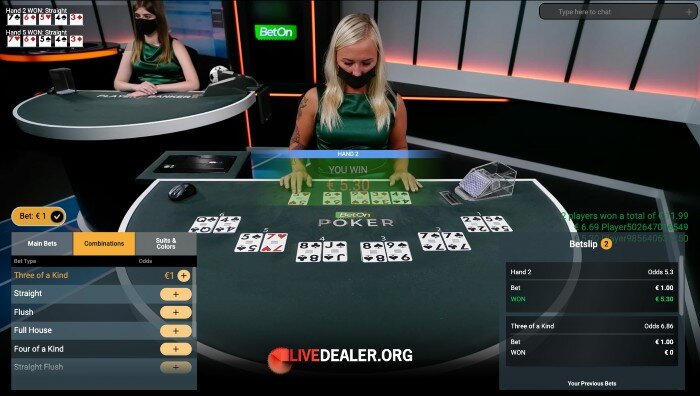 As an aside, here's a Straight Flush that came out on the flop. You don't see that every day. The right Combination bet (which I didn't have) would have reaped a handy 613x payout!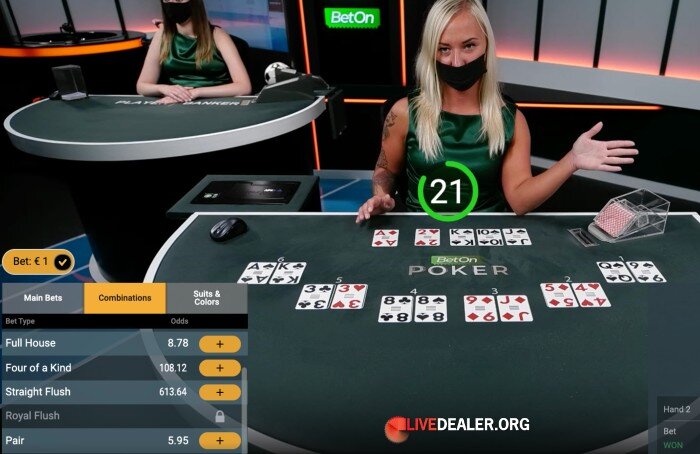 Full House Rules
In case you're interested, may be read here.
Return to Player
You'd expect a game with house calculated payouts and little skill involved to have a pretty fat house edge. Bet On Poker does. Theoretical return is in the range 95.25% to 96%.
Here's a quick game recording
Where can you play Bet On Poker?
This game was played at Leo Vegas. No doubt most of the big brands carrying Paytech live tables will offer it in due course.
https://www.livedealer.org/dev/wp-content/uploads/2021/07/betonpoker-straightflush.jpg
454
700
LD
https://www.livedealer.org/images/Livedealer-logo.png
LD
2021-07-01 02:48:06
2021-07-01 02:48:06
Bet on Poker from Playtech