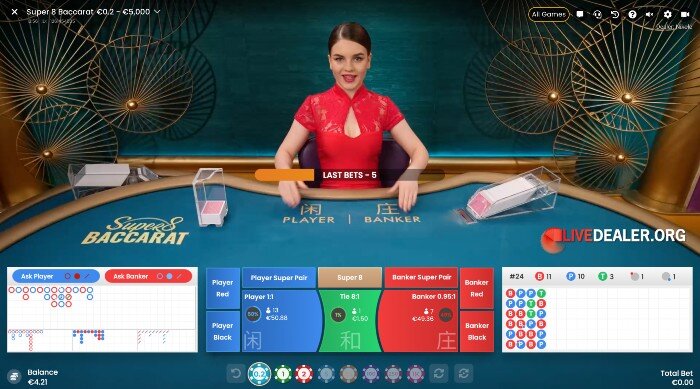 Pragmatic Play have added to their already substantial selection of live baccarat tables with their just launched Super 8 Baccarat.
It's a beautifully presented table, as we've come to expect from Pragmatic. Nice backdrop. Intuitive betting controls and easy access to all essential information: bets, payouts and the like. Audio and video are as clear as you're going to find.
Whats is Super 8 Baccarat?
You may have come across Super 6 (or No Commission) Baccarat? It's a baccarat version with payouts on the main game slightly tweaked. Rather than the regular:
Player win: 1:1
Banker win: 0.95:1
Super 6 pays:
Player win 1:1
Banker win: 1:1 (unless Banker wins with value 6, then 0.5:1)
Usually accompanying the tweaked main game payout is a Super 6 side bet, paying anything from 12:1 to 15:1 (depending on where you play), for a Banker 6 win.
Pragmatic's new Super 8 Baccarat is even simpler. The main game is identical to regular baccarat. Same payouts, same 3rd card rulers etc. The Super 8 part simply refers to a new side bet that is offered.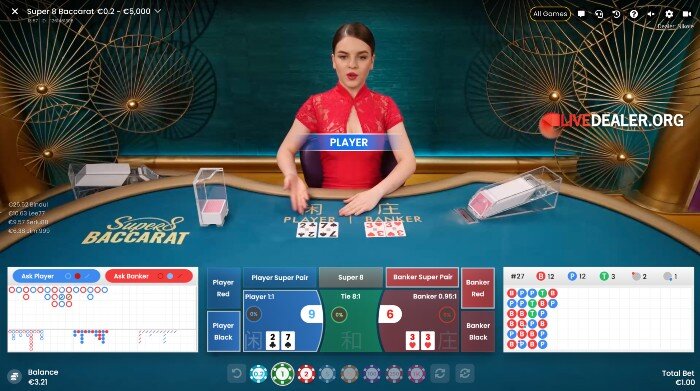 The enlarged bet panel shows the Super 8 side bet, front and square. It also clearly shows regular payouts on the Player (1:1), Banker (0.95:1) and Tie  (8:1) bets.
It also presents a bunch of other side bets.

The Side Bets
These are all simply bets on various card combinations dealt to the Player or Banker positions. These can be taken along with, or in the absence of a bet on the main game.
The side bets and accompanying payouts are all clearly set out in a drop-down top left of the game window, captured below. They don't really bear further explanation.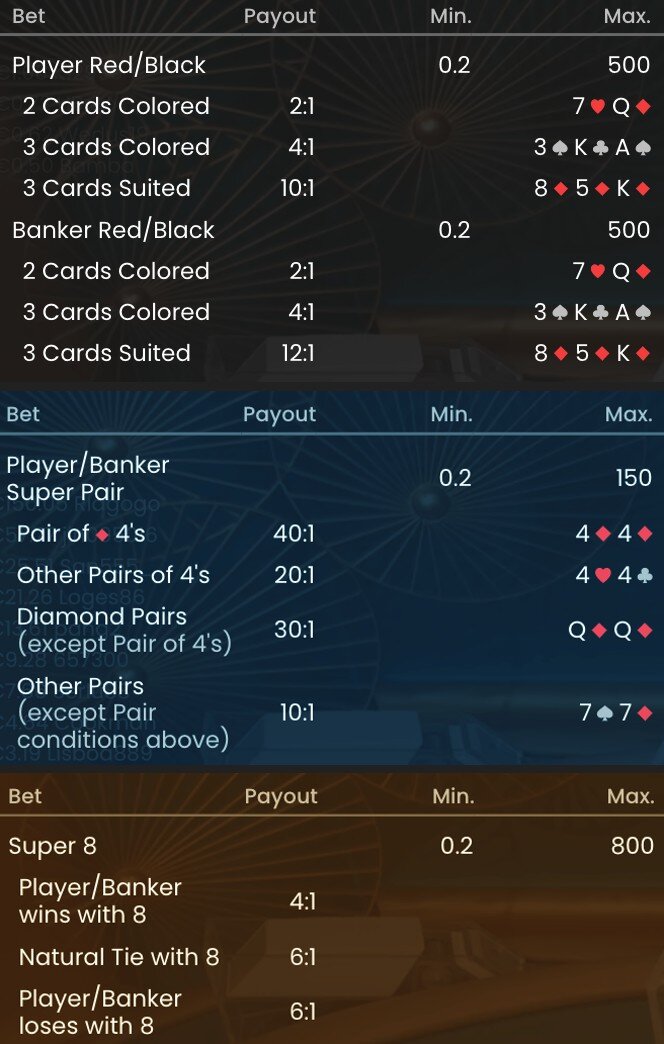 The Super 8 Side Bet
The last of them is the Super 8 side bet. Also pretty straightforward, but given it's the bet that the game is name after I may as well elaborate.
Here you are betting of either a Player, Banker or Tie with a  value of 8. It's a single bet with a payout of either 4:1 or 6:1 depending on the type of 8 value outcome.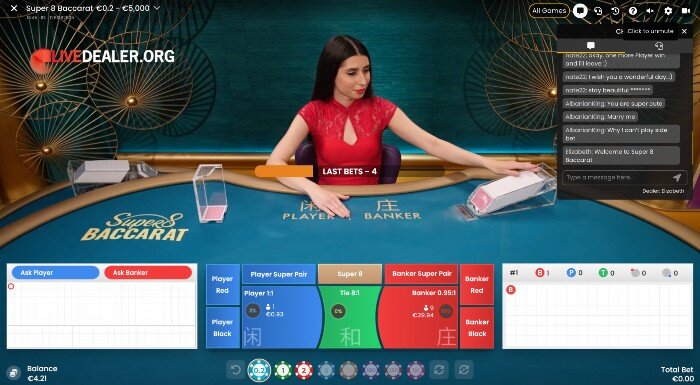 Side bets disabled deep into shoe
This is a curious little rule. Side bets are disabled after a set number of rounds dealt for each shoe, as follows:
Super 8 and Red/Black side bets: after 30 rounds
Super Pairs side bets: after 50 rounds
The deal is from an 8 deck shoe (416 cards), reshuffled mid(ish) shoe. Assuming approximately 5 cards coming out per round, you'll lose your Super 8 and Red/Black side bets around 150 cards in (likely before cut card). Super Pairs are disabled around 250 cards in which is a depth unlikely to be reached anyway.
Intriguing rule.
But doesn't change the fact that any of these side bets are a poor option from a return to player perspective!
https://www.livedealer.org/dev/wp-content/uploads/2022/06/Super8Baccarat-placebets.jpg
389
700
LD
https://www.livedealer.org/images/Livedealer-logo.png
LD
2022-06-06 06:09:48
2022-06-06 06:11:47
Super 8 Baccarat Live from Pragmatic Play