Authentic Gaming have entered the game show fray with 7's on Fire leveraging game IP from parent company Light & Wonder.
7's on Fire can be thought of as a roulette/slots hybrid with 2 main bet categories: bets on RNG generated symbols, and/or roulette number bets with outcomes determined by an auto ball launched single zero roulette wheel.
It's up and running at at casinos carrying Authentic's live games. The below round was played at 888 casino.
Betting Symbols
Betting symbols, you're trying to pick which symbols will appear in the lucky symbols area.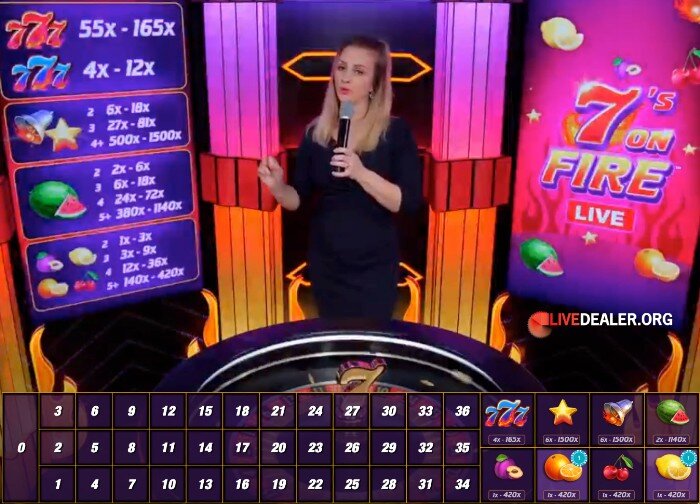 This area could be thought of as a single line, 6 (or 7) reel slot, sitting just above the roulette numbers. The more your chosen symbol(s) appear, the bigger your payout. A pay table displays during betting time (as shown above), but isn't up long enough to study it closely.
Symbol Payouts
Here's another look at the pay table…
Lucky Symbol
Frequency
Payout
(base)
Payout
(with 3x multiplier)
777 Gold
only 1 possible
55x
155x
777
only 1 possible
4x
12x
Bell/Star
2
3
4+
6x
27x
500x
18x
81x
1500x
Watermelon
2
3
4
5+
2x
6x
24x
380x
6x
18x
72x
1140x
Lemon/Cherry/
Orange/Plum
2
3
4
5+
1x
3x
12x
140x
3x
9x
36x
420x
In this round, a bet on Orange and the appearance of 3 Oranges wins a 3x payout.

If you're betting symbols, the multiplier numbers appearing with the symbols are irrelevant – they come into play when betting numbers (this is a tad confusing!).
Symbol Multipliers
Shortly after the symbols appear, they are allocated a roulette number, and positioned on the table accordingly. Should the ball drop on a number with a symbol, any paying symbol bets are multiplied 3x.

Had an Orange been allocated to 34 (rather than either of 15, 18 or 26) the 3x payout would have become 9x.
Top possible symbol payout is a multiplied Bell or Star at 1,500x.
Betting Numbers
This is a dumbed down version of roulette, with multipliers thrown into the mix.
The only possible bets are Straight Up numbers, 0 through 36. No Outside bets. No Splits or Corners.
The base payout for a win is a miserly 12:1 (or 13x). Below is a €1.30 collect from a €0.10 bet on number 9.

12:1 is a far cry from European Roulette's 35:1. But making up for this terrible base payout is the fact that symbol multipliers are in play each round. Here's where those multiplier numbers presented with the symbols come in.
Number Multipliers
If a symbol has been allocated to your chosen number, a Straight Up win pays the value of the symbol's multiplier rather than 12:1. As below where a 50x Plum was allocated to winning number 6. Top possible multiplier is 777x.

Confused? So you should be. It takes a few rounds to get the hang of which multipliers apply when. But eventually things become somewhat clearer.
And then, just when you think you have your head around it all, from time to time up pops another random multiplier – the End of Game Bonus!

7's on Fire optimal bets and return to player
Would you believe the numbers bet actually has a theoretical return of 98% – better than European Roulette. That's the figure claimed in the game's published house rules anyway.
Doesn't seem possible given the 12:1 base payout and how few multipliers are in play each round. But I guess we'll just have to take Authentic's word for it.
Here are all RTP's by bet type.
| Bet | Return to Player |
| --- | --- |
| Roulette numbers | 98.00% |
| 777 | 97.32% |
| Bell/Star | 97.22% |
| Watermelon | 97.17% |
| Lemon/Cherry/Orange/Plum | 97.14% |
https://www.livedealer.org/dev/wp-content/uploads/2023/09/7sonFire-randommultiplier.jpg
413
700
LD
https://www.livedealer.org/images/Livedealer-logo.png
LD
2023-09-25 00:19:27
2023-09-25 00:23:05
7's On Fire from Authentic Gaming