Lightning Lotto from Evolution started taking bets this week.
It's a 6 number ball drawn lotto game letting players buy from 1 up to 500 tickets each round. Being a part of Evolution's Lightning franchise of games, it also comes with random multipliers thrown in for good measure.
Lightning Lotto is not Evolution's first ball drawn lotto type game. Mega Ball (September 2021) and Monopoly Big Baller (August 2022) have been running for some time now. In recent months we've also seen Mega Fire Blaze Lucky Ball from Playtech and Vegas Bonus Bonanza from Pragmatic Play.
This is fast a growing live game show sub-category. Clearly players are enjoying their live lottery games.
How to Play Lightning Lotto
If you've ever bought a lotto ticket, you'll easily get the hang of this game after a couple of rounds. It's actually more akin to a classic lottery than some of the other live ball drop games.
Buying tickets
You begin by buying your 6-number tickets. You can buy in bundles of 1, 25, 50 or 100. You can buy up to 5 bundles during the allotted betting time allowing for the purchase of up to 500 tickets each round.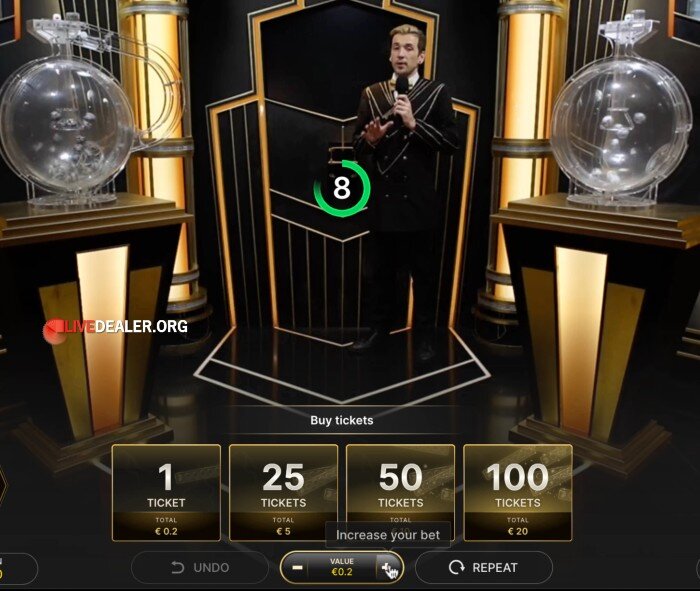 You also get to choose the per-ticket value of each bundle: €0.10 minimum, €10 maximum.
In the example game round, we've purchased 26 tickets (1+25 bundle) all valued at the minimum €0.10 per ticket.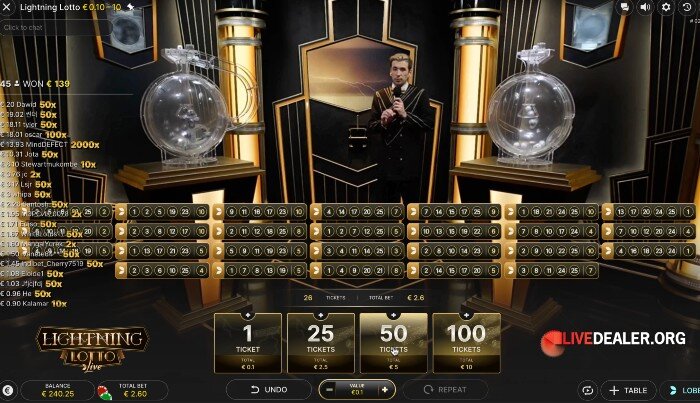 Next, the lightning round reveals either one or two Lightning numbers.

This round we had two Lightning numbers: 11 and 18. Any tickets containing these numbers are assigned a random multiplier (2x to 10x per Lightning number – 20x is the max per ticket multiplier).

Nothing to do now but watch the ball drop, which is conducted as follows:
the first 5 balls drawn from the first ball machine containing 25 balls, and
the sixth ball drawn from the second (power ball) machine which holds 10 balls.
As the balls come out any matching numbers on your tickets are daubed. The more matches on a ticket, the bigger its payout as follows:
3 matches: 2x
4 matches: 50x
5 matches: 500x
6 matches: 5,000x
These base payouts are increased if the ticket has a lightning multiplier applied.

During the course of the draw your highest paying tickets are highlighted.

Per Ticket Bet Limits and Payouts
The per ticket payout ranges below reflect the base payout for matches, and a Lightning multiplier up to 20x.

For example, 6 matches has a base payout of 5,000x. A 20x multiplier increases this to 100,000x!
By the way,  the odds of 6 matches with the top multiplier is one in 5.6 billion!
Even if you buy 500 tickets you're only a 1 in 2.2 million shot at a top prize ticket.
Payout limit consideration
There's another issue to keep in mind with this game's payouts. They are limited to €500,000 per round.
A large sum to be sure. But in the absence of a limit, the top payout on a €10 ticket purchase would be €1 million. So on the off chance (very, very, very off) you hit the top prize on a €10 ticket purchase you're being dudded to the tune to €500,000.
To avoid this disappointment (and the theoretical return impacts) stick to ticket values of €5 or less.
Theoretical Return to Player
Lightning Lotto is a game show. What's more it's a lottery type game show with no skill involved whatsoever. Experience tells us not to expect good returns on a game like this.
And so it is, with an optimal RTP of 96.08%. The optimal bet is a single ticket of minimum value.
Where to Play Lightning Lotto
Any Evolution powered live casino should have this game by now. The above round was play at 888 Live Casino.
https://www.livedealer.org/dev/wp-content/uploads/2023/09/LightningLotto-ticketvalue.jpg
591
700
LD
https://www.livedealer.org/images/Livedealer-logo.png
LD
2023-09-21 06:47:44
2023-09-21 06:47:44
Lightning Lotto Live from Evolution