The United States has its bible and rust belts, Australia has the wheat belt, Africa the bean belt and India the Hindi belt.
Now Canada has the online casino belt.
It's not quite fitted just yet.  There are a couple more notches to be added but it does look very much like every one of Canada's US-bordering provinces from East to West will have government operated online casinos within the next few years.  One is already up, a couple more are fait accomplis and the rest are going through the research, consideration and PR spin mode that seems to proceed finally going ahead with a politically contentious undertaking like net gaming.
The belt is closing…
British Columbia was the first domino to fall with the launch last month of the BCLC run PlayNow online casino.
The Ontario government declared their hand soon after with concrete plans announced by Ontario Lottery and Gaming chairman Paul Godfrey to get an online casino up and running by 2012.
Quebec has been quietly beavering away and will launch a service initially offering online poker and sports betting as early as September this year!  According to Loto-Québec CEO Alain Cousineau, their product will offer locals an alternative to operators that are, "illegal, unregulated and often of doubtful integrity." He went on to tell CBC Canada that, "This is a way for us to channel the gaming offering in a controlled circuit and environment whose integrity will be beyond reproach."
Not wanting to miss out on the party the smaller provinces have indicated they will likely follow suite…
Saskatchewan's Minister for Gaming, Ken Cheveldayoff told CBC his government was "very interested" in entering the online gambling space following Ontario's announcement. It is something they are, "cautiously looking at" he said.
Alberta's government has, "definitely been researching and monitoring online gaming for a number of years."  So says Alberta Gaming and Liquor Commission spokesperson Lynn Hutchings-Mah.  She also noted that traditional gaming revenues in the province had declined 15% since the GFC took hold so additional sources would be welcomed.
Manitoba has been mulling the online gambling question since April.  Back then Minister for Lotteries Steve Ashton told Winnipeg News :
"We're looking at it. No decision has been made yet, but I anticipate a decision sometime over the next few months,"
This may not sound overly conclusive, but when you consider what's transpired since April you'd forgive Manitoba for getting swept up in the stampede mentality that seems to have gripped their neighboring provinces.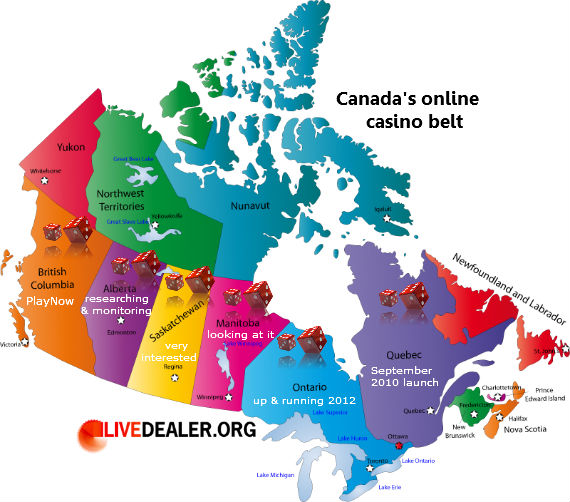 Why the sudden change of policy?
The online casino industry isn't new.  It's actually deep into its second decade so you'd be forgiven for wondering why, after 15 or 16 years Canadian governments have all of a sudden, with the unison of a Beach Boys harmony, become so hot on net gambling?
The answer lies in one word, or rather acronym…GFC.
Nothing moderates the political moral compass more than a bit of fiscal pain.
https://www.livedealer.org/images/Livedealer-logo.png
0
0
LD
https://www.livedealer.org/images/Livedealer-logo.png
LD
2010-08-16 19:16:16
2018-09-07 14:28:22
Canada's online casino belt