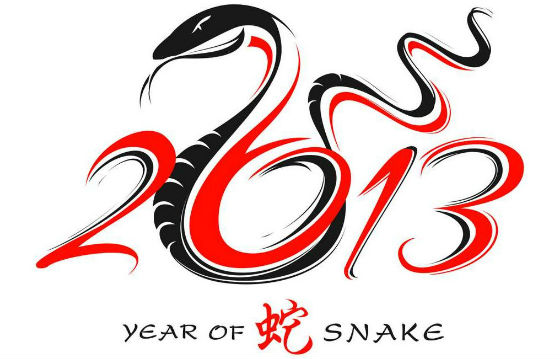 February 9 marks the last day of the Year of the Water Dragon. On February 10, 2013 well over a billion people around the world will celebrate the Chinese New Year and welcome the Year of the Water Snake.
If you're superstitious and place any stock in the Chinese Zodiac (Shēngxiāo) you'll be wanting to know whether the Water Snake will bring good fortune. The Dragon came with great promises of prosperity along with a warning of unpredictability (the Shēngxiāo fine print), and my personal experiences at the live casino tables during the Dragon's watch probably saw more of the latter.
I'd like the Snake to be considerably kinder…not a trait normally associated with serpents but perhaps the experts on these matters have a different view!
Will the Water Snake bring good luck?
According to the Feng Shui masters there's both good and bad news to report here (not that they're hedging their bets).
Lets start with the good news.
It seems the Water Snake is wise and has a tendency to approach problems rationally and logically. She (yes the Yin Water Snake is a female…more on that later) has the ability to read a complicated situation quickly and take action in a controlled and calculated manner. All wonderful characteristics to be armed with at a VIP blackjack table!
There was a general consensus that she is very astute when it comes to handling money. Lucky too. In fact some experts went as far as to say that the Water Dragon always seems to have money flowing its way.  This does sound great but it also raises concern when you try and reconcile how this money flow thing applies to you and the casino at the same time!
That's not the only worry. The Water Snake loves to take risks, which combined with an inclination to be greedy is a sure fired recipe for chasing losses and/or not knowing when to quit while you're ahead. Also, like the Dragon the Snake comes with an element of unexpected change and instability which to some extent contradicts the claims of logic and control above.
Question is what's more prevalent…the logic and control or the unexpected change and instability? Remembering the snake is a woman, I know what I' d be betting on.
https://www.livedealer.org/images/Livedealer-logo.png
0
0
LD
https://www.livedealer.org/images/Livedealer-logo.png
LD
2013-02-05 18:49:37
2013-02-05 18:49:37
Goodbye Water Dragon, Welcome Water Snake