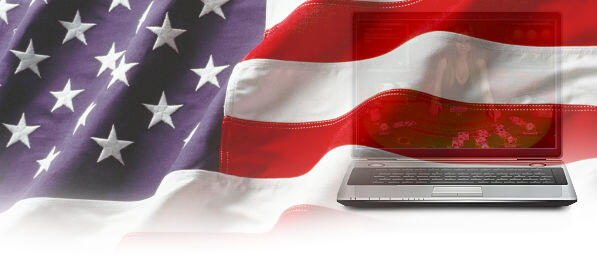 New legislation has been introduced at a federal level in the United States which, if passed, will restore the longstanding (pre 2011) interpretation of the Wire Wager Act to include (and therefore ban) online casino games.
The Restoration of America's Wire Act (H.R. 4301) was introduced Wednesday by Congressman Jason Chaffetz (R-UT) and U.S. Senator Lindsey Graham (R-SC).
Back in 2011, the US Department of Justice (DOJ) changed its stance on the Wire Wager Act, limiting its application to online sports betting and not casino games. Following the change, Delaware , New Jersey and Nevada wasted little time in getting intrastate online gambling laws/regulations up and running and plenty of other states are tipped to follow suit. This is clearly a situation that Chaffetz, Graham and the man standing in the background poking them with a big stick, Sheldon Adelson, are not happy with.
Graham described the DOJ's 2011 decision as,
"…another example of the Holder Justice Department and Obama Administration ignoring the law"
According to Chaffetz,
"The DOJ opened the door for massive change in policy without significant public input. These fundamental changes need to go through Congress. By restoring the original interpretation of the Wire Act, we are putting the genie back in the bottle and allowing for an open debate to take place"
Adelson isn't really standing that far in the background. According to a New York Times article, HR 4301 was originally drafted by one of his lobbyists. I guess co-authoring legislation is one of the perks that comes with being the biggest private donor to the Republican party ($100 million in 2012). And technically speaking, he doesn't seem to be doing much standing either. Most recent pics of him have him whizzing from one power meeting to the next on his mobility scooter, no-doubt rattling the nerves of all those with skin in the online gambling game.
The bill will have strong opposition. A lot of it coming from members of the American Gaming Association who have backed the push for a locally regulated industry. Caesars already have a bunch of online casinos up and running in New Jersey and are depending on online growth to boost their business (they don't have a bunch of Asian casinos making truckloads of cash like LV Sands does)
With strongly opposing views within their membership, the AGA is apparently being forced to sit on its hands and watch the fight from the sidelines.  The New York Times reported that,
"Mr. Adelson threatened to withdraw from the organization if it continued to back expanded online  gambling"
An unnamed casino executive described the situation in these terms,
"They are now like Switzerland. They have been ordered to stay neutral"
There are concerns that with clear battle lines drawn, and plenty of fire power on both sides this fight could see America's casino industry, terrestrial and online, do real damage to itself.
There's usually a lot going on in the US  when it comes to online gambling. This year may just be a little busier than most.
https://www.livedealer.org/dev/wp-content/uploads/2014/03/usnetgambling.jpg
256
597
LD
https://www.livedealer.org/images/Livedealer-logo.png
LD
2014-03-28 04:21:26
2018-05-28 17:25:56
A Man, his Mobility Scooter, & New Moves to Ban US Online Casinos