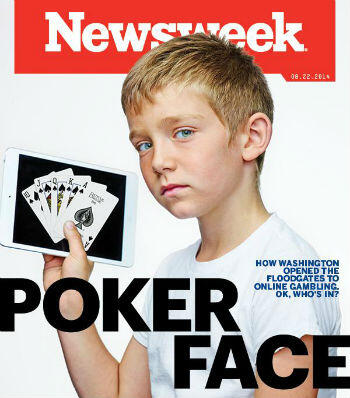 There was an article published in Newsweek the other day written by a lady named Leah McGrath Goodman and titled, How Washington Opened the Floodgates to Online Poker, Dealing Parents a Bad Hand.

In case you did't glean from the article's title, or its accompanying image, it's a very one-sided piece. Extraordinarily one-sided actually, and in at least one key respect glaringly inaccurate for someone whose bio claims she's an award-winning investigative journalist.
It opens with a 2007 quote from the FBI's Leslie Bryant:
"You can go to Vegas. You can go to Atlantic City. You can go to a racetrack. You can go to those places and gamble legally. But don't do it online. It's against the law."
It closes with Goodman's own words:
"Under the terms of the 2012 post-Seitz settlement, the DOJ is still returning money to defrauded customers of Full Tilt Poker—including Americans who had money in their Full Tilt Poker accounts on Black Friday, even though at the time those people should have known it was illegal to gamble online in the U.S. Turns out their bet paid off."
Book-ended by two completely incorrect assertions that the act of (a US citizen) gambling online is illegal. This has never been the case. The first can be excused – this is Mr Bryant's woopsy. The second…all on the author I'm afraid.
The legality of offering an online gambling service to Americans is a very different question to the legality of Americans using that service as a customer.
In 2011 the US Department of Justice ("DOJ") and FBI went in all guns blazing against PokerStars, Full Tilt Poker and Absolute Poker with the infamous Black Friday raids. Charges were laid against company executives, bank accounts were frozen, databases, software and client lists were all seized and payment processor Ira Rubin was sentenced to three years in prison.
Was a single player charged? No.
Far from it, authorities went to great lengths to try and make sure player's funds were returned to them.
Now, don't you think if there was any possibility that online play was illegal, that the DOJ and FBI while possessing three of the largest online poker customer databases would have considered charging at least one player? Perhaps a high profile name (of which there would have been plenty) to send a message to John Q. Public not to gamble online? They couldn't. As Professor I Nelson Rose put it back then,
'they can't go after players …there is no federal crime of making illegal bets'
Now that the DOJ has opined that the Wire Wager Act doesn't prohibit online casino or poker games there's no longer any question as to whether there's a federal crime in offering these services either. It's just up to the states to decide whether or not they want to join the likes of New Jersey, Delaware and Nevada in regulating/licensing casino websites.  Then they'll have to live with the fact that the majority of players going all-in online appear to be six year olds (who are unusually sad considering they're holding a Royal Flush!)
Not much balance in the article either. Many comments, quotes and opinions from online gambling opponents. Not a single word from any proponents. I was taught by my year 7 English teacher Mrs Hildebrande that it's always a good idea to include at least one opposing view in an opinion piece so that it doesn't seem completely biased.
The above gripes aside it is an interesting read that has certainly provoked a lot of discussion! I found the section about The Office of Legal Counsel and Virginia Seitz (the attorney who issued the game-changing DOJ opinion) particularly interesting.
https://www.livedealer.org/dev/wp-content/uploads/2014/08/newsweek.jpg
398
350
LD
https://www.livedealer.org/images/Livedealer-logo.png
LD
2014-08-18 12:01:16
2014-08-18 12:10:19
Newsweek partisan piece on US online gambling