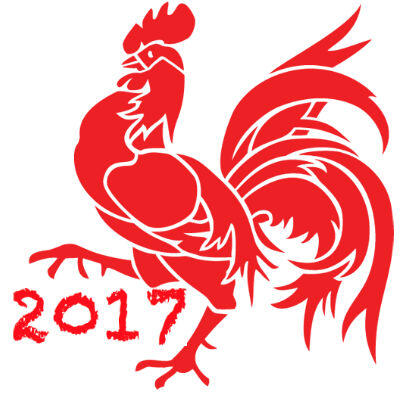 On 27 January we say goodbye to the Year of the Monkey. On 28 January 2017 we welcome the Year of the Rooster – a Fire Rooster according to the Chinese zodiac (or Shēngxiāo).
All very good. But what does this mean, if anything, for your fortunes on the live tables during the year?
Roosters beware
If you were born in a Rooster year (Chinese lunar years 2005, 1993, 1981, 1969, 1957, 1945…) the news isn't good.
Just as a Monkey year is always bad luck for Monkeys, a Goat year bad for Goats and so on, Roosters are in for a tough time until the next Chinese New Year on February 15 2018.
Rabbits (1999, 1987, 1975, 1963, 1951…) are in also for a rough trot also apparently, so should tread (or hop) carefully.
This bad luck can be mitigated to some extent by doing your best not to offend Tai Sui (the 'God of Age Star').
Bit of good news here. Seems he's not as sensitive as most people seem to be in these times of political correctness. Wearing red, wearing jade and facing the right direction (see below) is enough to remain in Tai Sui's good graces.
On the topic of rabbits, but completely unrelated to to the Shēngxiāo, there's a sage piece of advice about whether or not a rabbit's foot will bring good luck:
"Trust in the rabbits foot if you will, but remember it didn't work for the rabbit"
What about the rest of us?
If you're an Ox (1997, 1985, 1973, 1961…), Snake (2001, 1989, 1977, 1965, 1953…) or Dragon (2000, 1988, 1976, 1964, 1952…) 2017 is your year to go large. Owing to some special compatibility with the Rooster, lady luck will shine down on you, so don't be scared to attack with confidence on those high limit tables.
Irrespective of your sign, the experts seem to be in agreement that:
lucky numbers will be 5, 7, and 8;
lucky flowers are gladiola, impatiens, cockscomb (wonder if we'll see any of these pop up in table decoration arrangements?);
lucky colors are golden, brown, brownish yellow, yellow (2016's newly introduced tables are on the money here);
lucky directions are South and Southeast so perhaps face this way when placing large bets;
lucky days are the 4th and 26th of any Chinese lunar month;
lucky months are the 2nd, 5th, and 11th Chinese lunar months.
and:
unlucky numbers will be 1, 3, and 9;
unlucky colors are white, green (roulette zero bet is out);
unlucky directions are North and East (be precise with your lucky Southeast);
Those wanting to go that extra yard can play during their signs' lucky hour (or 2 hours, GMT):
23:00 – 00:59: 子 Rat
01:00 – 02:59: 丑 Ox
03:00 – 04:59: 寅 Tiger
05:00 – 06:59: 卯 Rabbit
07:00 – 08:59: 辰 Dragon
09:00 – 10:59: 巳 Snake
11:00 – 12:59: 午 Horse
13:00 – 14:59: 未 Goat
15:00 – 16:59: 申 Monkey
17:00 – 18:59: 酉 Rooster
19:00 – 20:59: 戌 Dog
21:00 – 22:59: 亥 Pig
Hopefully this places you well for a prosperous 2017. Kunghei fatchoy and Jínián jíxiáng!
https://www.livedealer.org/dev/wp-content/uploads/2017/01/rooster.jpg
395
400
LD
https://www.livedealer.org/images/Livedealer-logo.png
LD
2017-01-22 23:59:56
2017-01-23 00:01:13
Good or bad luck in the Year of the Rooster?