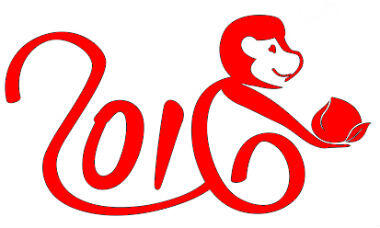 Next week we say goodbye to the Year of the Goat, and hello to the Year of the Monkey.
It's Chinese new year on February 8 and according to the Shēngxiāo, from then until January 27 2017, we are in a Fire Monkey year.
What does this mean for your and your fortunes on the live tables during 2016? Let's be honest; probably not a great deal. After all, the Chinese Zodiac is superstition, not science.
But even hardened of skeptics can find themselves buying into superstition at times.
If you walked under a ladder, tripped over a black cat, falling to break the mirror you held in your left hand, and spilling the entire bag of salt you had just purchased from the corner store and held in your right hand on a Friday the 13th, would you feel up to hitting the Diamond VIP tables as soon as you arrived back home? Not sure I would.
It never hurts to know a little about those things we don't fully understand, and which others say can effect our future fortunes. Trouble with the Chinese Zodiac however, and particularly the year of the Fire Monkey, is that there doesn't seem to be a much consistency in what those others are saying.
According to one website (Wiki), lucky numbers in a Monkey year are 1, 7, 8.  Unlucky numbers are 2, 5, 9. ChinaHighlights.com tells us that 4 and 9 are the go to numbers and 2 and 7 are to be avoided.
Depending on who you want to believe, the Fire Monkey is either:
clever, sharp, mercurial, and entertaining; or
ambitious and adventurous, but irritable; or
likely to generate strong wind when coupled with another monkey (??); or
flamboyant and charmingly friendly but prone to recklessness.
There is one consistent warning. If you are are born in a Monkey year (1932, 1944, 1956, 1968, 1980, 1992, 2004) this will not be your year. The Year of the Monkey is bad luck for Monkeys. Perhaps stick to the low limit tables and opt in to as many loss back offers as you can find.
If you are born in a Rat (1924, 1936, 1948, 1960, 1972, 1984, 1996), Dragon (1940, 1952, 1964, 1976, 1988) or Snake (1953, 1965, 1977, 1989, 2001) year, then 2016 will be a lucky year, so go nuts (responsibly).
Wondering what the lucky times of the day will be from 8 February? One expert on the subject says that success is more likely during the following times:
'Rat hour's from 11 pm to 1 am;
'Dragon hours' from  7 to 9 am; and
'Snake hours' from 9 to 11 am.
She doesn't specify time zone, or whether you apply your time or the studio time (eg Latvia) so be careful with this one.
Regardless of what you believe, hope 2016 brings goof fortune, and Gong Hei Fat Choi!
https://www.livedealer.org/dev/wp-content/uploads/2016/02/2106.jpg
228
380
LD
https://www.livedealer.org/images/Livedealer-logo.png
LD
2016-02-01 18:40:29
2016-02-01 18:40:29
Making money in the Year of the Monkey