The latest baccarat table from Playtech has just made an appearance.
They call it Golden Baccarat, and it is indeed gold. But then most recently introduced live baccarat tables have a distinctly golden hue to them, so this table doesn't really distinguish itself from the pack when it comes to look and feel.
It does however distinguish itself when it comes to the way in which the cards are dealt.
Now, it has to be said that baccarat players are a peculiar lot when it comes to the way in which their cards are presented on the table. Providers, to their credit, seem to be doing their best to cater the range of player preferences with a growing list of deal nuances on offer…
regular deals;
speed deals;
dealer controlled squeezes;
(all) player controlled squeezes;
(highest staking) player controlled squeezes.
Golden Baccarat adds another method of dealing the cards to this list. The funny thing is…as for all the above deals there is absolutely no difference to game outcomes.
A shoe dealt the Golden Baccarat way will have the identical road map to a shoe dealt the regular way.
Peculiar indeed.
The Golden Baccarat deal
The deal on the Golden Baccarat table begins with 6 cards being drawn from the shoe, all face down:
2 to the Player position;
2 to the Banker position;
2 additional cards…these are the Player/Banker 3rd cards, if required according to usual 3rd card rules.
The Banker/Player cards are then revealed. If needed, the additional cards are applied to the Banker and/or Player hands.
If not, these card(s) are simply used in the next deal, as if they were being drawn from the shoe.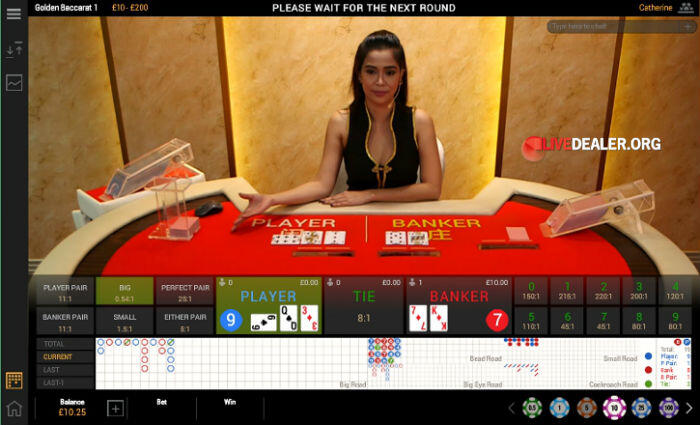 Bets, payouts, side bets, car values and 3rd card rules are all the same as the other Playtech live baccarat tables.
Some video action…
Where can you play Golden Baccarat?
It's available now at casinos carrying Playtech's Asian studio tables, like bet365 and Betfair.
https://www.livedealer.org/images/Livedealer-logo.png
0
0
LD
https://www.livedealer.org/images/Livedealer-logo.png
LD
2017-10-18 00:38:43
2018-10-15 14:16:04
Golden Baccarat. It's not just gold