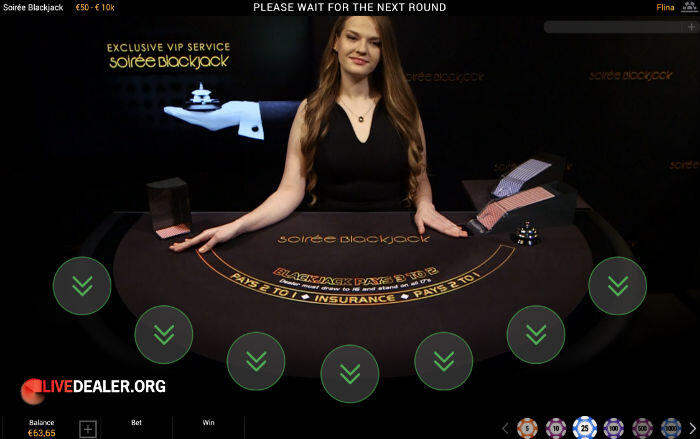 New VIP tables seem all the rage at the moment and Soirée Blackjack is Playtech´s latest and greatest.
High rollers can splash some serious cash on this table, with maximum bets per seat up to €£10,000. Although they will likely have company (possibly poor company like me), as not only are minimums quite reasonable but also the table is only open peak times (at time of writing from 5pm CET). Additionally, anyone can open the table and view the action without placing a bet.
Soirée Blackjack is not quite as exclusive as Evolution´s Salon Privé tables which you´ll need a €£ 6,000+ balance to open. I opened Soirée Blackjack with a mere €63.65 in my Paddy Power account.
Needless to say it was a short game at €50 minimum bets, but long enough thanks to a beautifully concise explanation from live dealer Flina, to get the low down on a couple of nifty features of this table, aimed at catering to players used to VIP gaming service.
1. You can request a dealer change, or extend the session of the present dealer (as I may have done if my €63.65 had lasted longer than 1minute).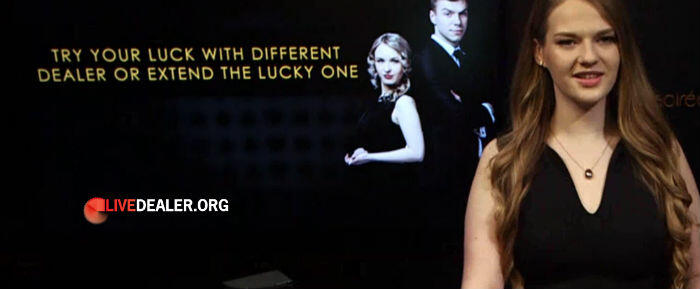 2. You can request a shoe change and shuffle. You´ll note in the top pick that there is a spare shoe ready to go at the request of a player.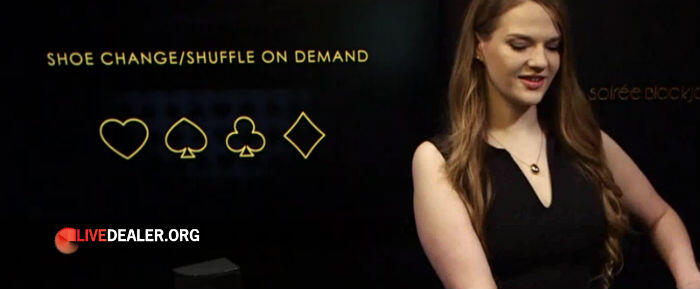 Now, obviously there are limitations on how often such requests can be made, and by whom. Playtech aren´t  about to have their dealers playing musical chairs at the whim of all players.
In terms of time limitations, I defer to Flina´s word for word explanation…
"We remind you (dealer players), as a vip service we provide your choice to recommend card change or dealer change once every half hour, so if you´d like to we can arrange that of course with our host´s help."
As to the question of whom can make such requests…the answer is not all players seated at the table. You need a sufficient balance to wield this power. Can´t say for certain what that magic number is, but only that I was clearly short of it…

Soirée Blackjack is a worthy addition to our list of high stakes live blackjack tables.
https://www.livedealer.org/dev/wp-content/uploads/2018/03/soireeblackjack.jpg
439
700
LD
https://www.livedealer.org/images/Livedealer-logo.png
LD
2018-03-15 17:51:12
2018-07-22 16:23:24
Playing Playtech´s Soirée Blackjack